It's the final quarter in 2022, and while the year is nicely winding down, I do know there are still many wins in it for you. And to make sure that I do my own best to help you where I can, I am hosting 3 virtual parties to which I am inviting you specially. Expect your invites monthly until the end of the Year, and this particular blog has the invite for October.
We are calling it 'The Spoken WORD Partaaaaaay with Eziaha'
Shalom Shalom to you my Darling!
Excited to be rolling with you today. My sincere prayer for you right now is that you are getting the results that your life and assignments demand/deserve, without compromising the things that matter to you.

That is really what the Blessing of God does… It causes us to get rich results without sorrow.
That is my reality and yours in Jesus name, amen,
So, like I said, it is PARTY time, and I cannot wait to host you to an amazing 2 hours where we will be, on a solid foundation of scripture, be talking about
Crafting powerful CONFESSIONS
Framing bible-based MANTRAS
Asking yourself brain-rewiring LOFTY QUESTIONS
And yes,
MEDITATE on 'these things'
I find that some of us Believers are not fully leveraging the POWER of WORDS and sometimes we even find ourselves confessing and speaking like the world.
Words kill, words give life;

they're ei­ther poi­son or fruit—you choose.

Proverbs 18:21(MSG)
I have written about confessions here and here and even here
still I wanna do even more to help you start and sustain winning with your words as a Believer.
So on Wednesday, October 26, 2022, from 8pm to 10pm, I will be teaching you all my best strategies to creating all 4.

If you know me, one of my strengths is breaking stuff down to very practical models. This is because I don't just teach what I read in a book, googled online and copied and pasted, nah, I teach truths I have practiced and have excelled at, so as you leave the session, you will not only be fed with truth, you will also be armed with tools. So with truth and tools, you can actually start IMMEDIATELY to create and customize the right words for your season that can help you win.
I hope to see you there.
You can sign up by filling out this form and details will be sent to you.
The meeting recording will NOT be shared so if you cannot join us LIVE, then that is it.
And hey, if you have friends that need to learn these, be a good friend and share with them. Family too.
Post to your social media family too.
See you soon?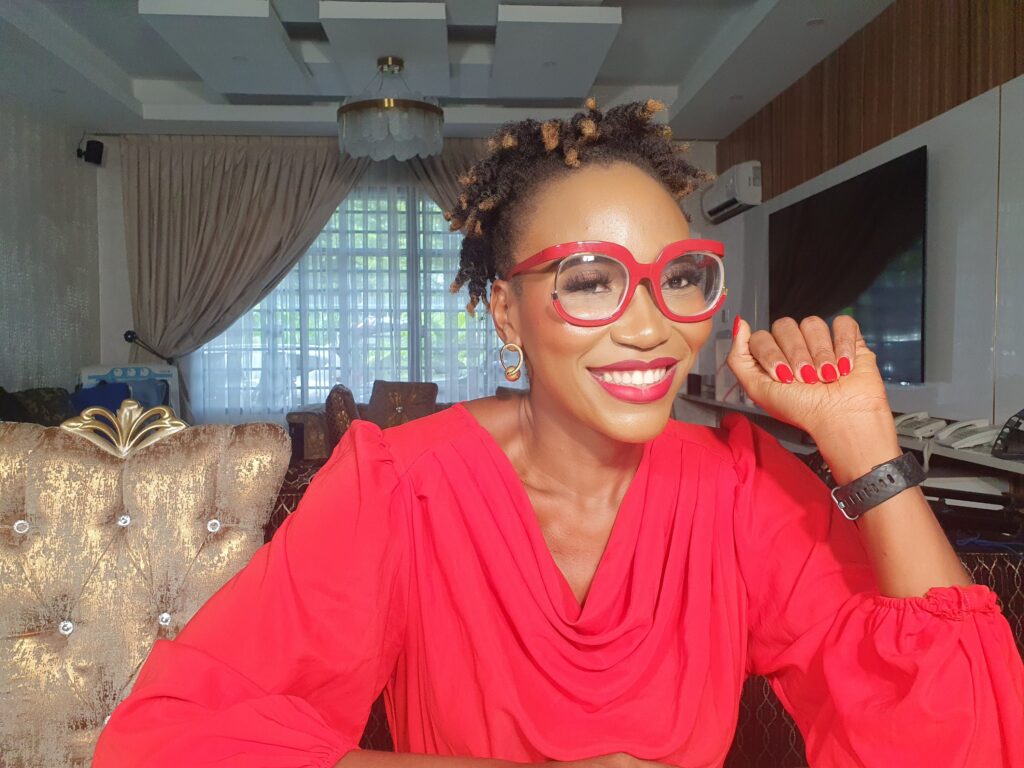 Your Discipline&Strategy Queen
Eziaha
P.S
The date and details for the remaining 2 parties will be shared after the first. But as a teaser, one will be on JOURNALLING and the second on SHABBAT-REST, and yes both will be FREE!!!
P.P.S
Have you see my Latest YouTube video? Go here
P.P.P.S
Have you heard about BUH-BYE STOCK CUBES? my 6 weeks LIVE COOKING SESSION?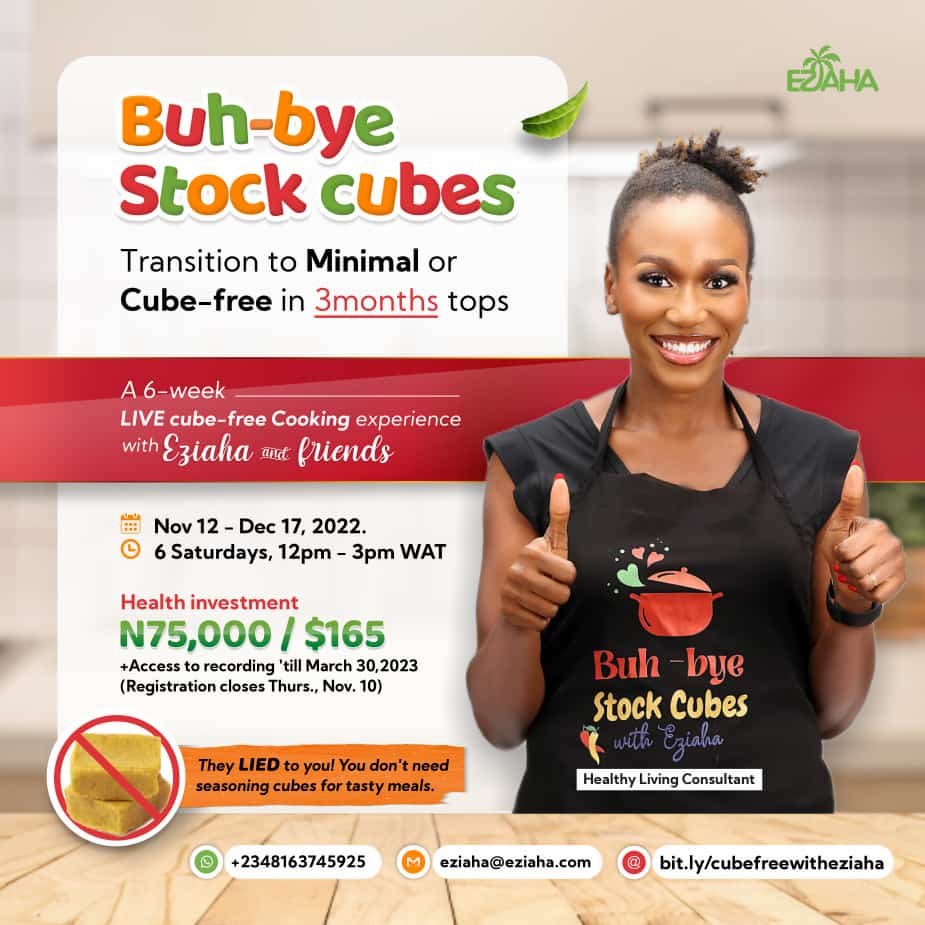 You really are the ONLY ONE LEFT!!! And that's not cool. Will you come with me as I teach you the many tips, skills, and get involved in cooking that have NOTHING to do with seasoning cubes? I am your plug to cube-free living.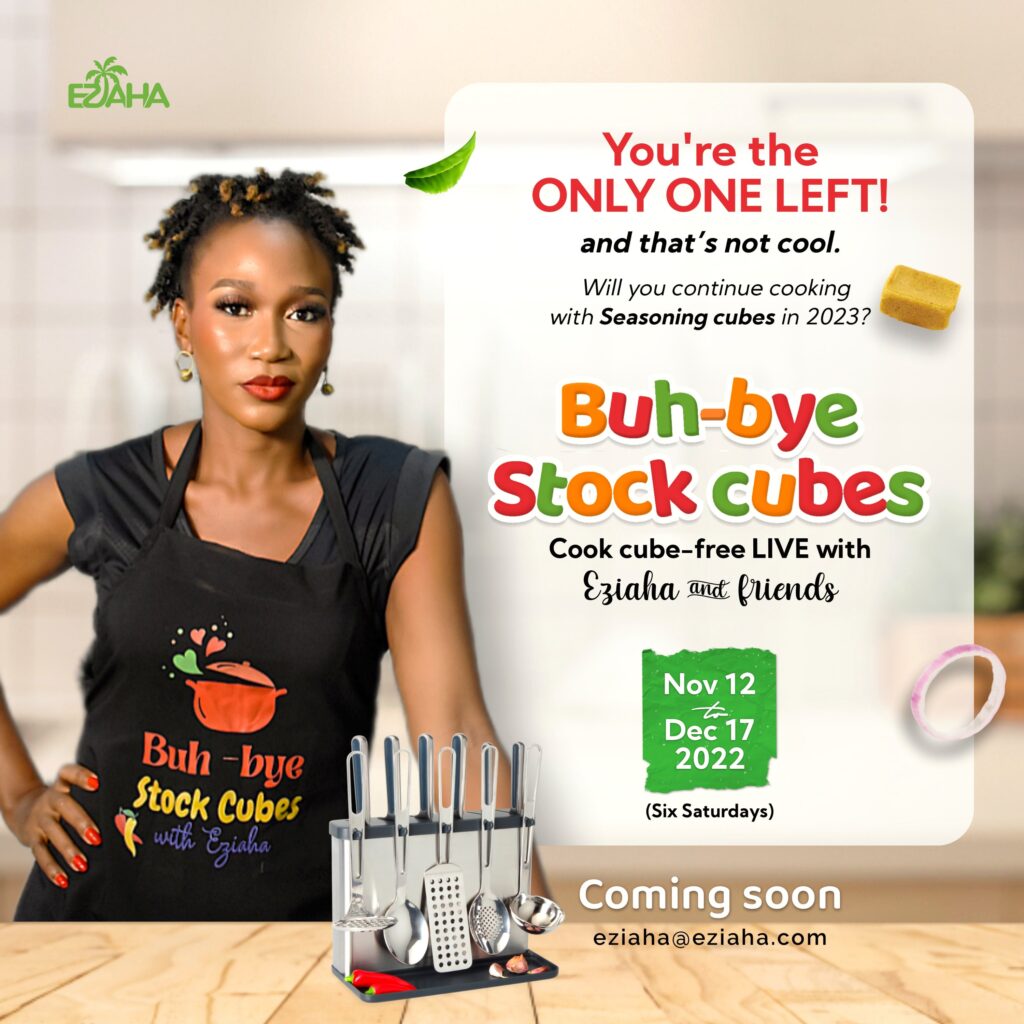 Are ready to transition into cube free living?
You can register for Buh-bye stock cubes here.
You can also Register by paying directly to:
0328799715
CoachE'Squad Ltd
GTBank
And send an email of confirmation to eziaha@eziaha.com.
I look forward to welcoming you to my kitchen as we cook cube free.