Hey guys
Well since Dubai is no Jesus, safe to say Dubai is the Antichrist lol. How can a City just WORK? Well, I guess that is what happens when you have been in Nigeria all your life? Your brain is sort of wired to how things don't work, so when you see what should be the norm, you are swooned.
Right now though, almost 24hours in this city and my brain has reset. I expect things to work. Tell me how I will cope when I get back to Naija? Ayyyy, amen for no complaining in Jesus name, amen
I must say though; it feels surreal to be here. This is my first trip outside Nigeria. I had applied for a UK visa say 12 or 13 years ago and was denied, then an America visa about 5 years ago, same, and then another American visa September last year, and was denied again (blogged on it here).
After that, a friend said to go to Dubai or SA or something so I don't just have a virgin passport even if I have to apply again. Yes, that was a huge motivation for me, but I also wanted to expose my kids to the world from a young age, so with both as motivation, but more for my kids, I decided to go to Dubai. Started planning this trip since last year per my dates and with prayers but the real financial commitment began about a month ago.
Seeing the fruit of all my plans come to life exactly as I planned it is surreal. Daily, I will TRY to blog about my day, first because I want to have a written account of this dream, second because I hope it helps anyone who needs help doing Dubai from Nigeria with kids, because we as Nigerians are not good with reviews and documentation.
Thanks to all the many foreign blogs I pored over as I planned, I have saved a lot of money and am maximising the experience, so this is me paying it forward. Finally, I also want to get an opportunity to share this trip with as much of my family and friends as possible on a larger scale as opposed to one on one chats. I think this is really what kinda makes us not fully enjoy our vacation… we want to keep up with everyone, post pictures on all our social media sites, engage and all, but I know I want to fully immerse in this world here, so aside my husband who gets all, or as much as I can possibly give, this blog will help keep everyone interested up to speed. My messages are bursting at the seams from all over, but I am really pacing myself.
Ok let's start officially lol…
Hello Dubai: Departure, Arrival and Day 1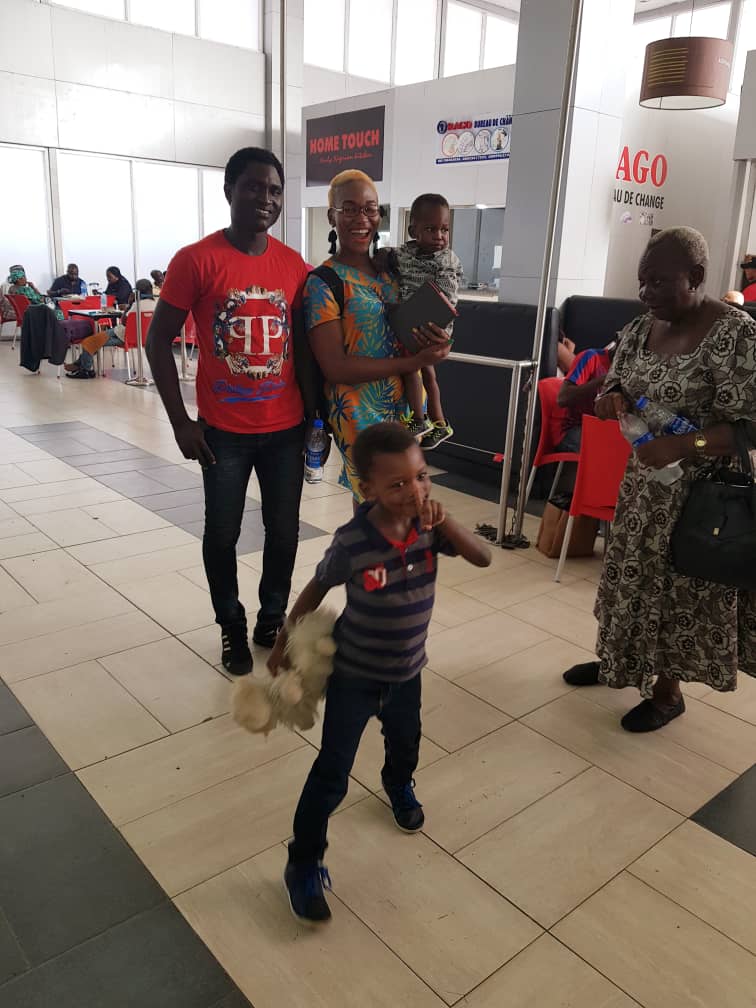 I decided on a direct flight because I was travelling alone with two boys. Layovers and connecting flights would have killed me, even though they were cheaper. Plus, I wanted an EXPERIENCE. It was my first time biko, and I didn't want cabu cabu in the skies lol. If I even had money, I would have done business class haaaa but hey, Emirates Economy is like business class abeg. So, I booked an Emirates flight for Monday April 7, for 6.10pm. At the end of this series, I MAY do a proper finance and budget post for the trip so if you are going, you have an idea. KingDaveed and I paid almost the same thing (ah it pained me lol), but ElJohn paid like 2percent lol since he is a lap passenger. I think his was 20k only.
I got to the airport at past 3, with 2 boxes, one big one small, but as a Nigerian, I had an extra bag just in case I had excess luggage in the big box, and I did, so I just removed about 5kg into the travel bag I had. That left me with 3 luggage checkedin, and a hand luggage which was hubby's laptop bag. I packed like I had kids… EXTRA OF EVERYTHING. I thought ahead to even the possibility of even if I can't do any major washing, we won't run out. My hubby and help were with me at the airport (please note that in the International airport, they don't let you in if you are not travelling, but my help could come in cos hey, two kids, and hubby after parkingthe car just kinda breezed in lol).
Having them as help made the checking in easier. I planned to change money in Dubai but at least first, I needed some money to spend before I change so I changed 10800 to 100AED at the airport (yes ladies and gentlemen, our currency is CRAZY).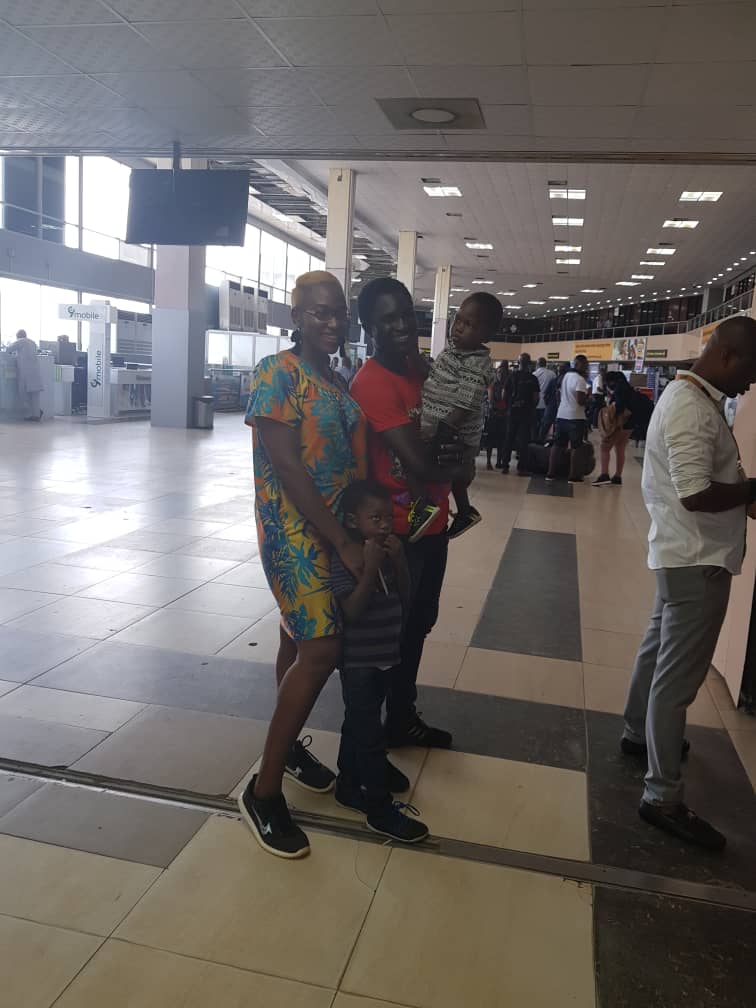 We also went to eat, and then somehow, I became late. Rushing, which I had planned against, was what I had to do at the last minute, but thankfully, I was fast tracked through it all, so I was on the first-class lane instead. Plus, did I mention I had been praying for favour all through? It really worked.
Finally sha, was in the aircraft a few minutes to departure and THANKFULLY, Emirates not only gave me front row seat, meaning I had PLENTY leg room in front, I also had an empty seat beside me so it meant we had three seats. The fourth guy was gracious sef and helped me a lot with ElJohn. My kids were EXTRA 100million billion percent on this trip sha… Kai. Thank God I had also been praying for Grace and strength so frankly, I didn't have any melt down or moment of overwhelm. I just took it all in stride without being frazzled.
Plus, Emirate crew are DA BOMB. SO gracious and were always willing to come through to assist, and so were some of the passengers. When they finally slept (also purposely booked an over night flight), I could see road.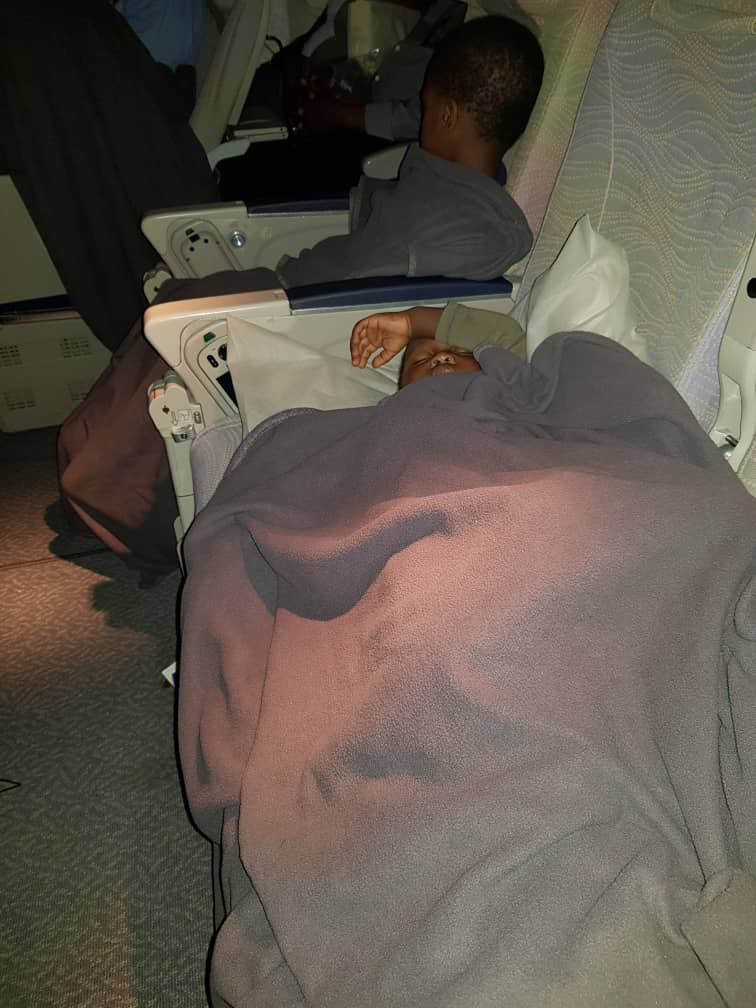 Anyways before then, they watched cartoons, ate a lot (oh Emirates food is DA BOMB even for kids) especially as the food and drinks seemed like they didn't stop flowing lol.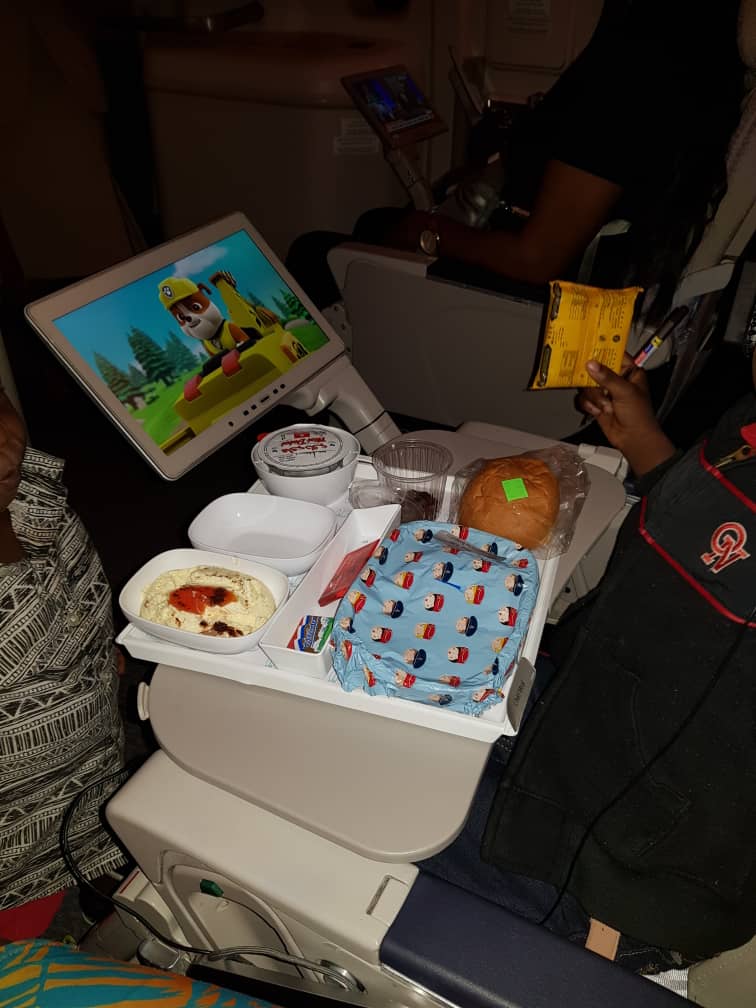 There was also plenty wee-wee time (imagine all 3 of us cramping into the tiny toilet cubicle ahhhhh lol), then they also got kids activity pack full of fun stuff for the kids and a cute blanket for ElJohn (which sorry, didn't work cos that flight was COLD so I had to use the adult one for him.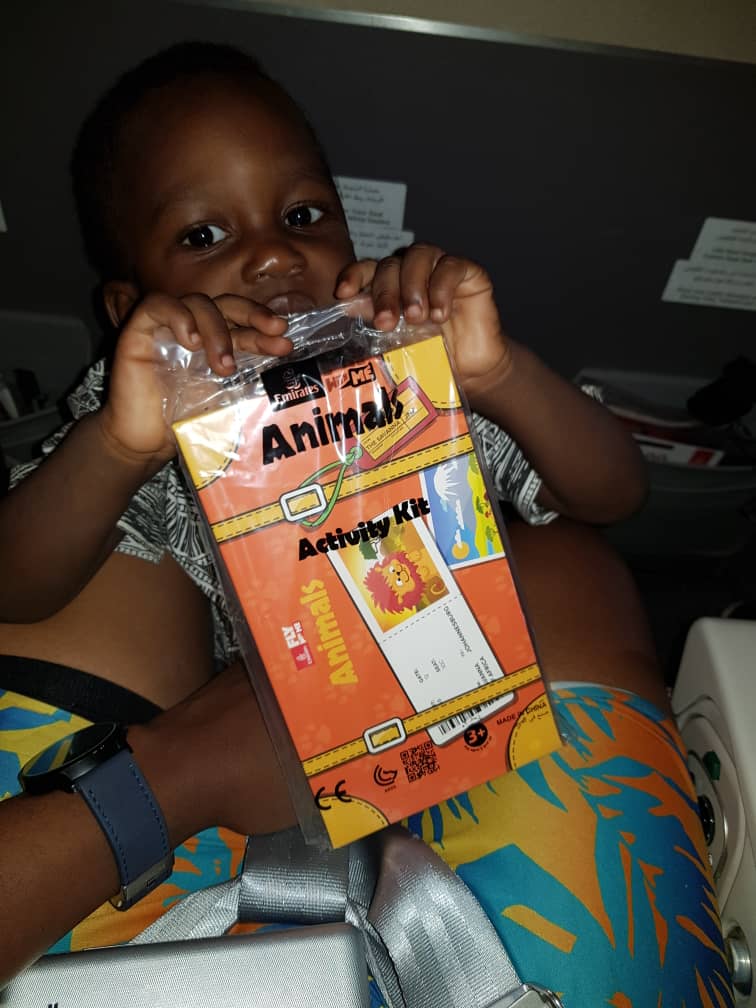 Luckily my seat had an extra blanket. Well, I lay ElJohn down on a blanket on the floor, as I know this was something, I saw in all my plenty google, but Emirates doesn't allow it, so I had to bring him up and let him take two of the seats. My gracious neighbour actually left the seat finally for me yay so we had FOUR seats. With ElJohn sleeping on two horizontally, KingDaveed and I had one each.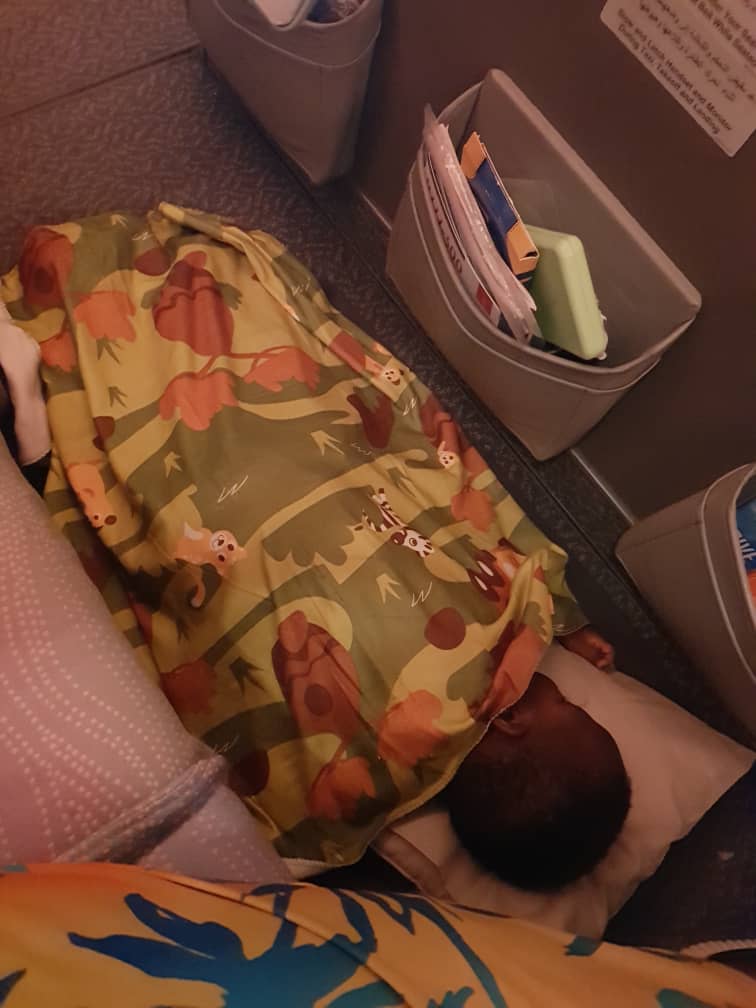 Oh, they actually also come around and snap you with your kids and give you the picture so you can capture your in-flight experience. They did that with us. Also,they let kids wear that their cap and sash like thing and take a picture but that didn't happen for whatever reason. Yes, I had googled my entire flight experience especially with kids and what to expect. Will demand for it on our way back.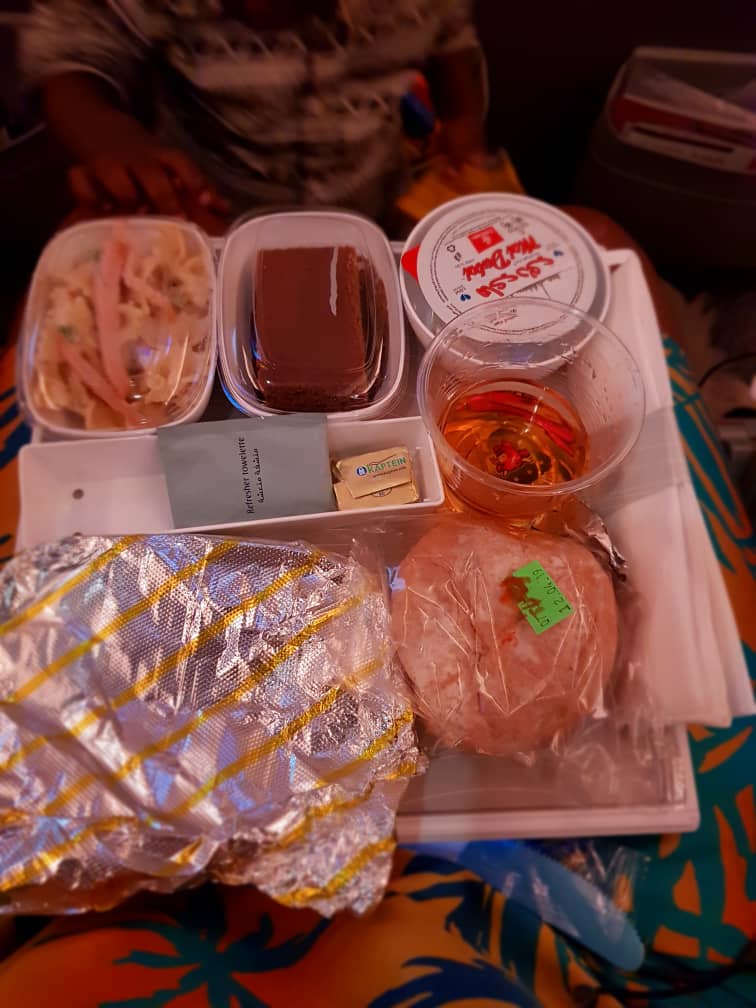 I don't know if this is the case with other flights but with Emirates, you can see ALL about your trip on a screen in front. I loved that I could track with it all.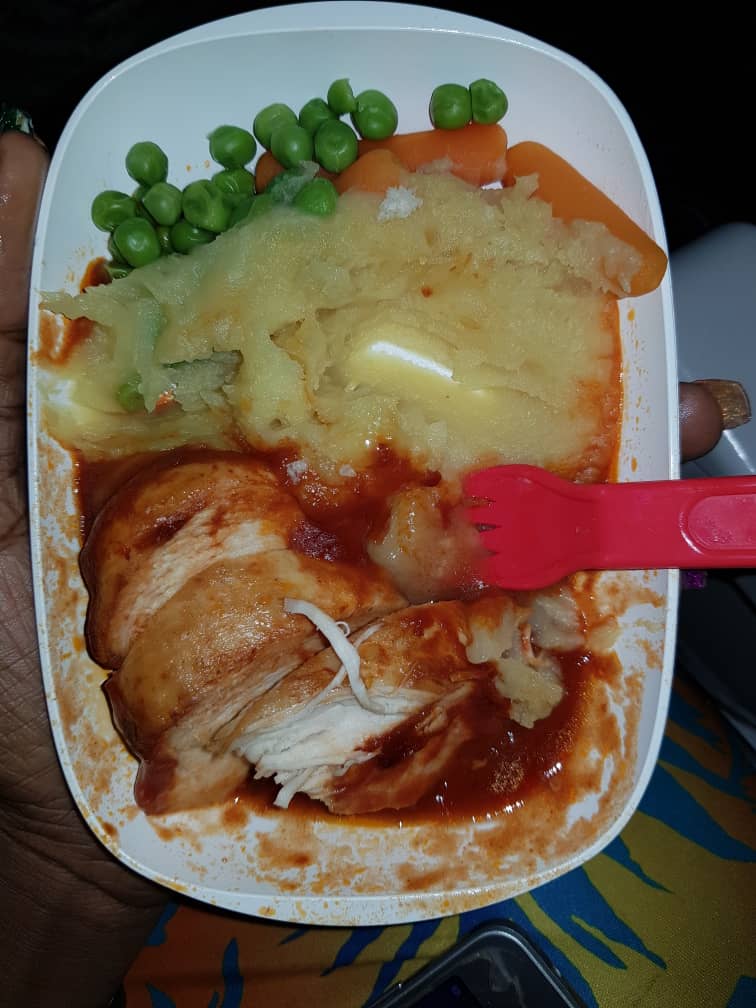 Sadly, the in-flight Wi-Fi didn't work all through but hey, their ICE entertainment package can keep you FULLY entertained for the duration of your flight. Every kind of movie, games, live matches and news, music, cartoons, etx.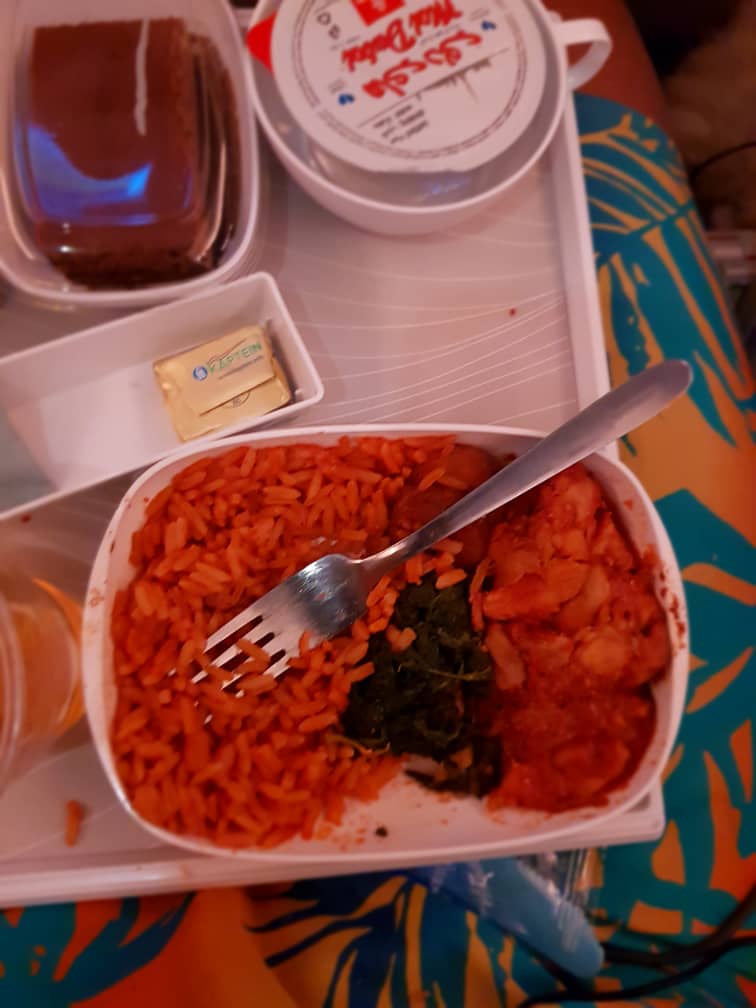 On that flight though, I realised I was not a movie person. I spent most of time researching Dubai as they also had that on ICE.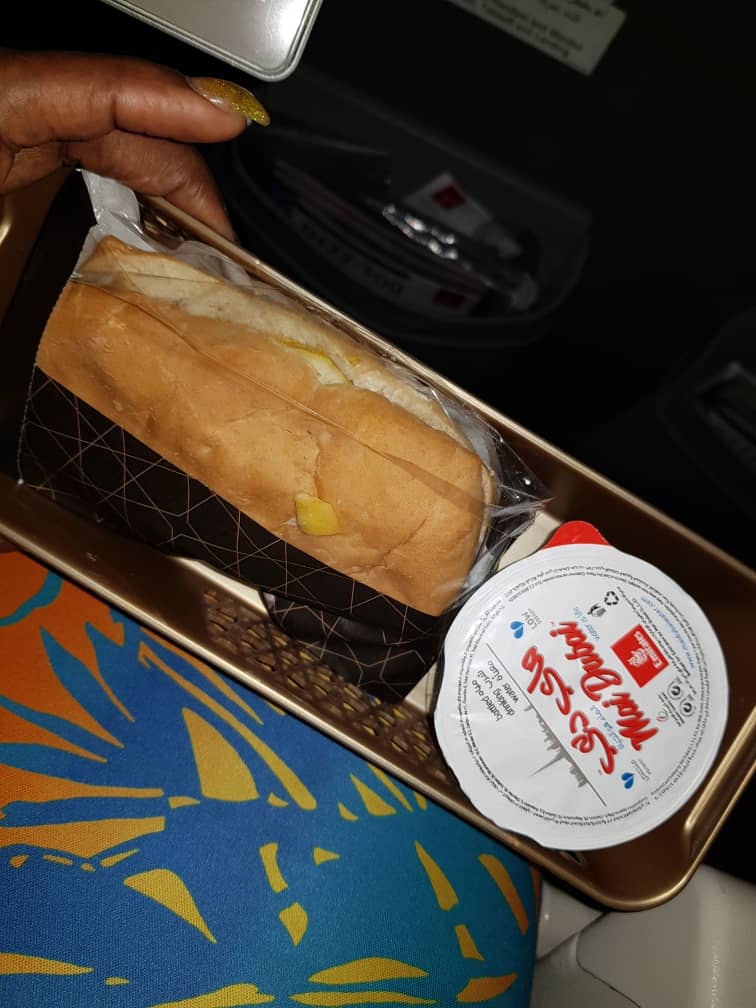 I started to sleep off when we started descending, imagine lol. At the end of the flight as people were going down, one man VERY loudly said MADAM, YOU ARE A STRONG WOMAN, YOU ARE A GREAT WOMAN, SEE HOW YOU WERE JUST CARING FOR THESE KIDS SELFLESSLY. I TRULY APPLAUD YOU haha. Ladies and gentlemen, that was the FIRST thing someone said to me in Dubai haha. And the people around were nodding in agreement.
Well, I was among the last to alight the plane as I had to carry two sleeping kids lol. Touchdown Dubai and it felt surreal. It was 4.10am. We both departed and arrived ON SCHEDULE. 4.10 am meant 1.10am Naija time so the kids were CRANKY lol. We entered the shuttle to the main gate and again, I was put on FAST TRACK with my fellow SUPER RICH people flying business and first class (ayyy Dubai favour). Emirates also gives free strollers for kids THANK GOD so I could strap ElJohn in for the LONG walk through immigration, luggage claim, mummy I want to wee-wee, diaper changes and finally exit.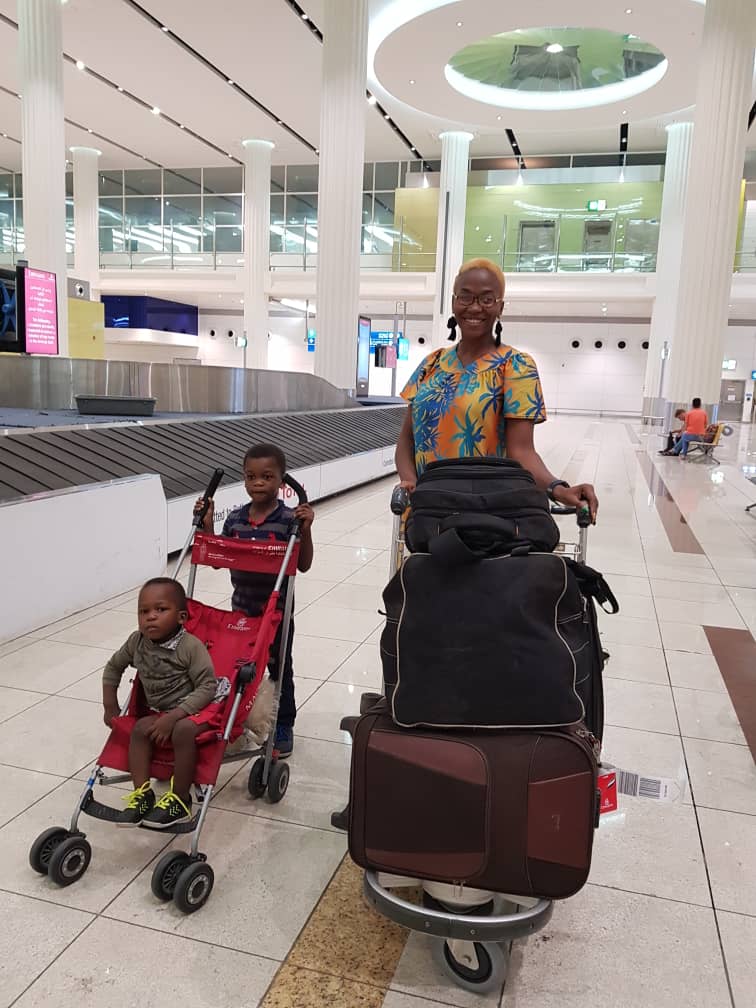 Thank God for fast track so all these took say an hour 15mins. Also decided to change a little more than half my spending budget at the airport cos hey, after my flight experience, I knew I didn't wanna enter town again looking for where to change money. Better to pay the small extra that comes with airport changing than the PLENTY extra stress of lugging two kids to Al Ansari exchange in town which I planned to use. Plus, Uber there would have cost me MORE. I sha kept some dollars unchanged.
Now for this trip, though it cost me, I had taken MANY steps to ensure that it didn't cost more than it needed to. It was a very very wise budget I had done, thanks to google (and Heather Lindsey for ALL her travel tips). Uber was to cost me 70 to 80 AED which I had planned to use earlier and pay with my GTBank Dollar Mastercard, but since I had 100AED, I said let me use a Dubai taxi instead. At least, I will be seeing the trip cost on the screen. DXB airport is SO ORGANIZED with signs EVERYWHERE so you really can't get missing. I pushed my luggage cart and KingDaveed pushed his brother in the stroller lol, we followed the sign to the taxi park, got one and off we went. I had a beautiful time sight seeing and now the kids were high lol. Thankfully, Taxi cost me just under 45AED yay!!!!
I decided to stay in an Air BnB as opposed to hotel for a few reasons
1. Cheaper… Ayyy

2. I wanted to cook too so hey for kitchen?
3. Better tourist experience as you can truly interact with the local residents
I booked a VERY strategic Air BnB right next to the Metro that is their bus station (I feel it is even insulting to call it a bus station cos it is EXCELLENT) and right next to MANY attractions. I should do a separate post on booking an Air BnB cos thanks to all my research, I hit it big for an even cheaper price. It looked exactly like the picture I had seen online so I paid and alighted
Found my way in and upstairs after I asked someone washing his car to help with my luggage. One thing you quickly realise is how NICE the people of Dubai are. SUPER DUPER NICE AND helpful. I dunno whether it was cos I had kids, had prayed for favour, or they are just plain nice. He sha helped me upstairs using the lift and me I was just like hope he won't be looking for tips oooo lol only for him to show me the apartment and wave good bye haha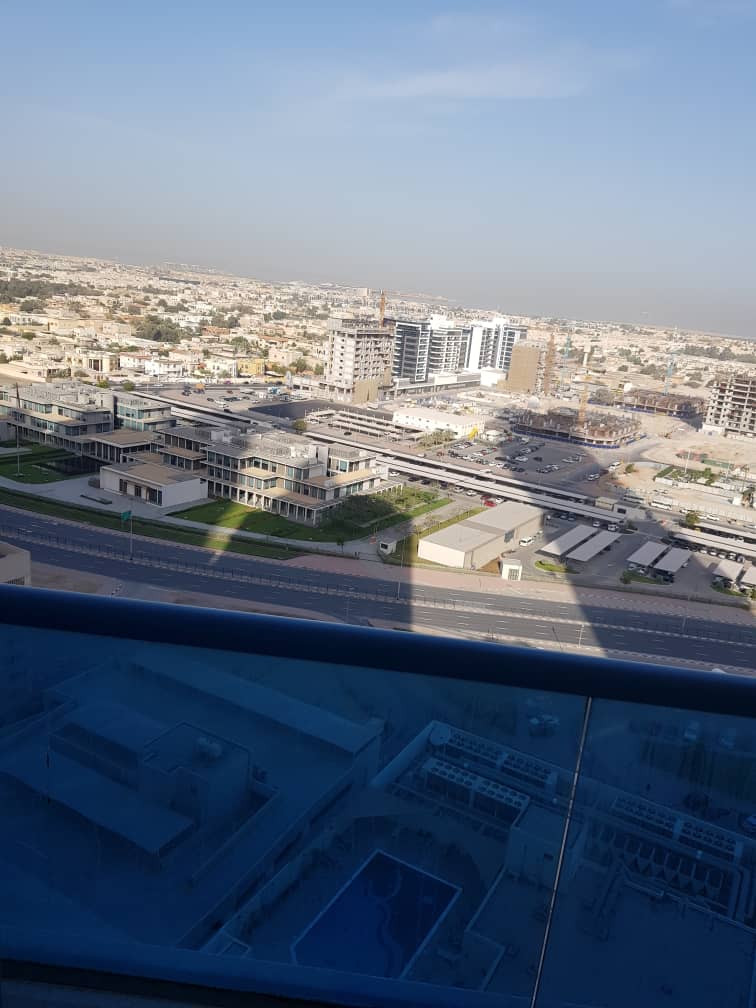 Was let in by my host and shown my lovely room. It was still very early so she asked me to please help keep the kids voices low since she had other guests too. I did my best to but yawl KNOW my kids, it was like Dubai gave them an EXTRA high lol.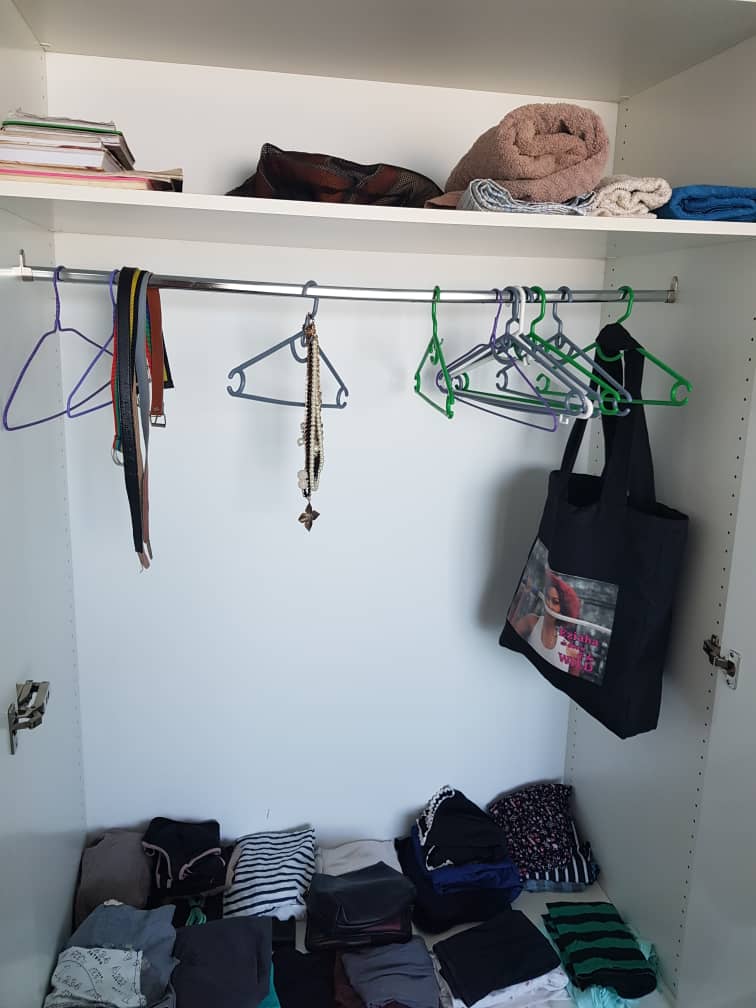 So, I packed food, spices/condiments and provisions from Naija.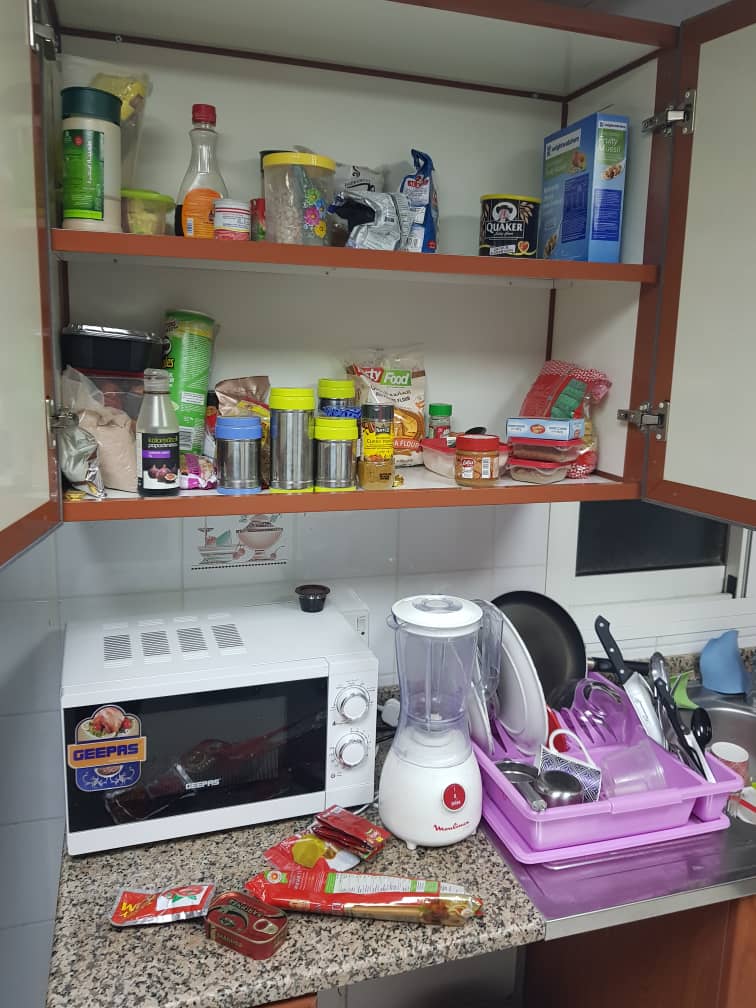 After I finished unpacking and arranging, while my kids had the ultimate tourist behaviour lol, we took a bath, brushed, ate golden morn, and went to sleep.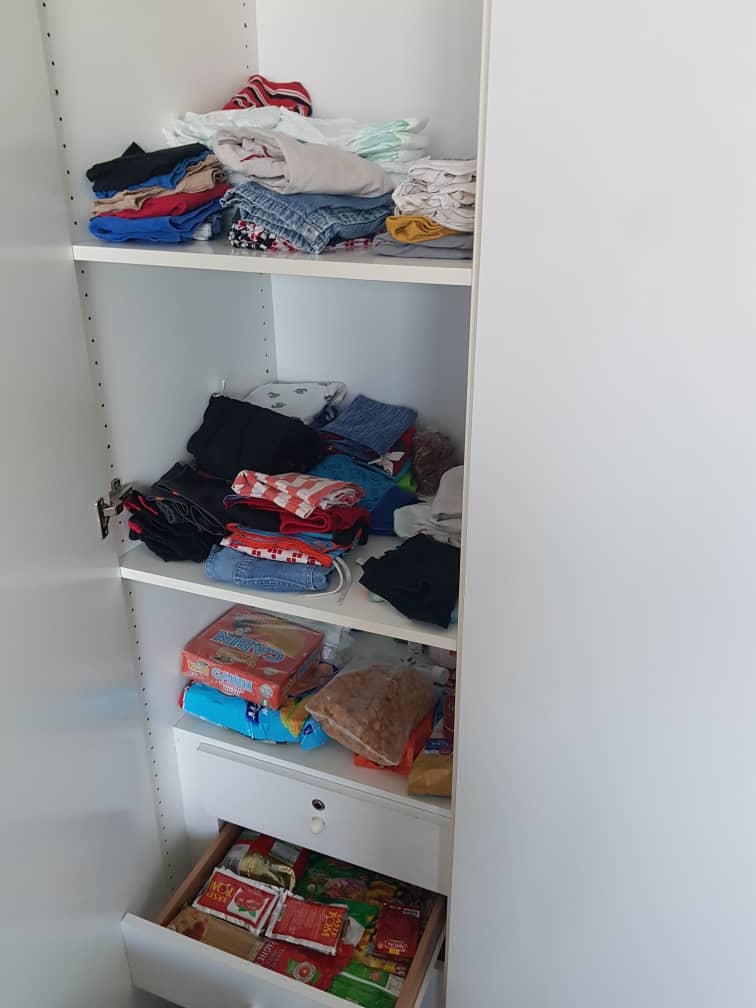 I had a tour itinerary which was PERFECT thanks to google (frankly no tour guide could have satisfied me like this), and for today, we had two places to visit (I had struck out the plan for Al Ansari for money exchange biko, and even though my host had told me there was a place close to her, I also didn't wanna take chances hence my changing at the airport)
KITE BEACH and DUBAI MALL especially to see the Dancing fountain.
We planned to leave at 12.30 but we ALL woke up late at 1.30 so we finally left at about past 2. Quickly got some biscuits for the kids at the 24hour super market downstairs and we were off.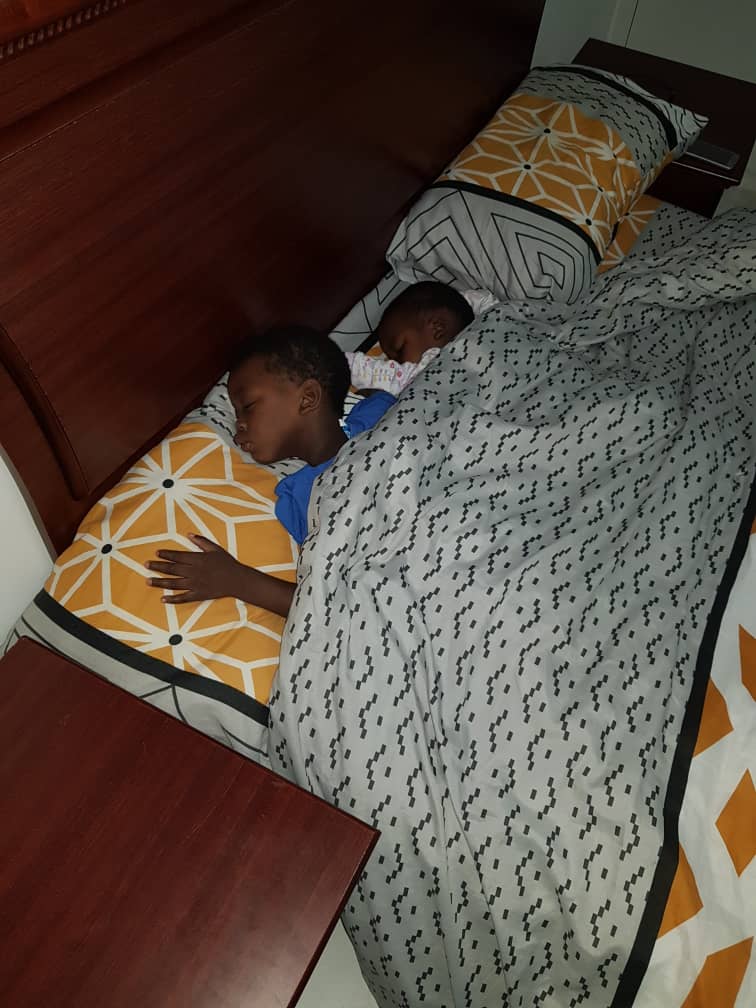 Bought a NOL travelcard for 25AED which has 19AED loaded on it for transport using the Metro which is really cheap for adults and free for kids. Their perfect transport system meant I saved money.
Kite beach doesn't have a Metro that goes that way so I alighted at Mall of the Emirates and took a taxi to the beach. Again, the taxi was LESS than I budgeted. Actually, I budgeted a lot with Uber cos I didn't know what to expect but now I am a Master of the Metro and Taxis and since directions to everywhere are given on their websites, you won't get missing or stuck.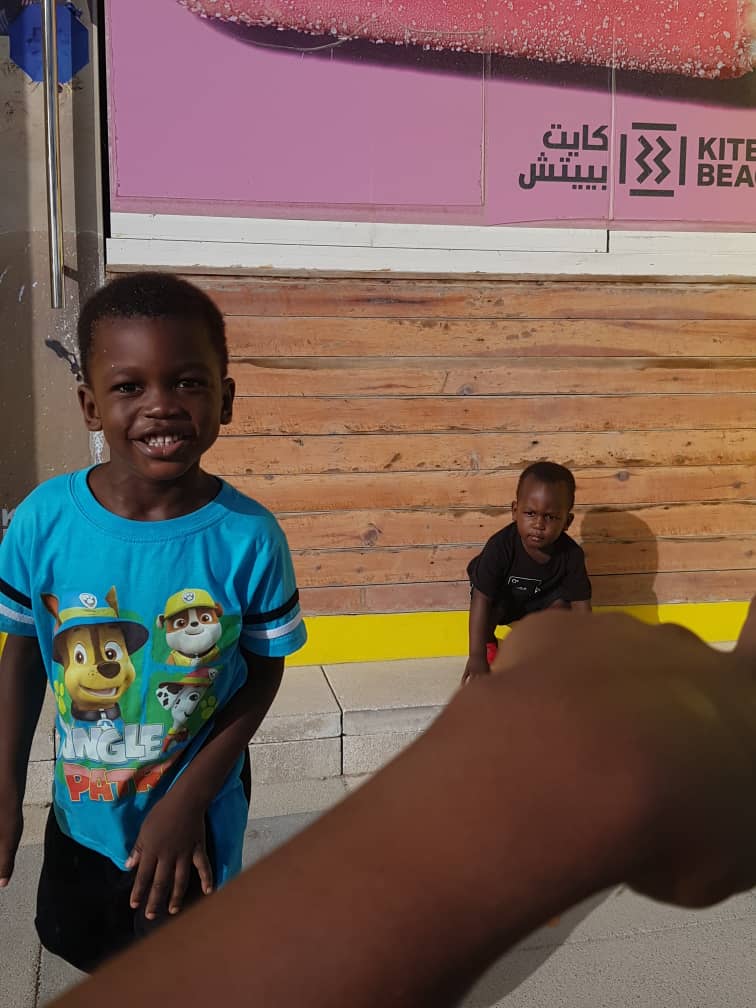 At the beach, first thing I realised was the number of naked people lol. Obviously swim suits and all but I was still shocked haha. Bush Naija girl.
Quickly changed my kids and we joined the fun. Kite beach is free but you rent umbrellas, shades, towels etx if you need it.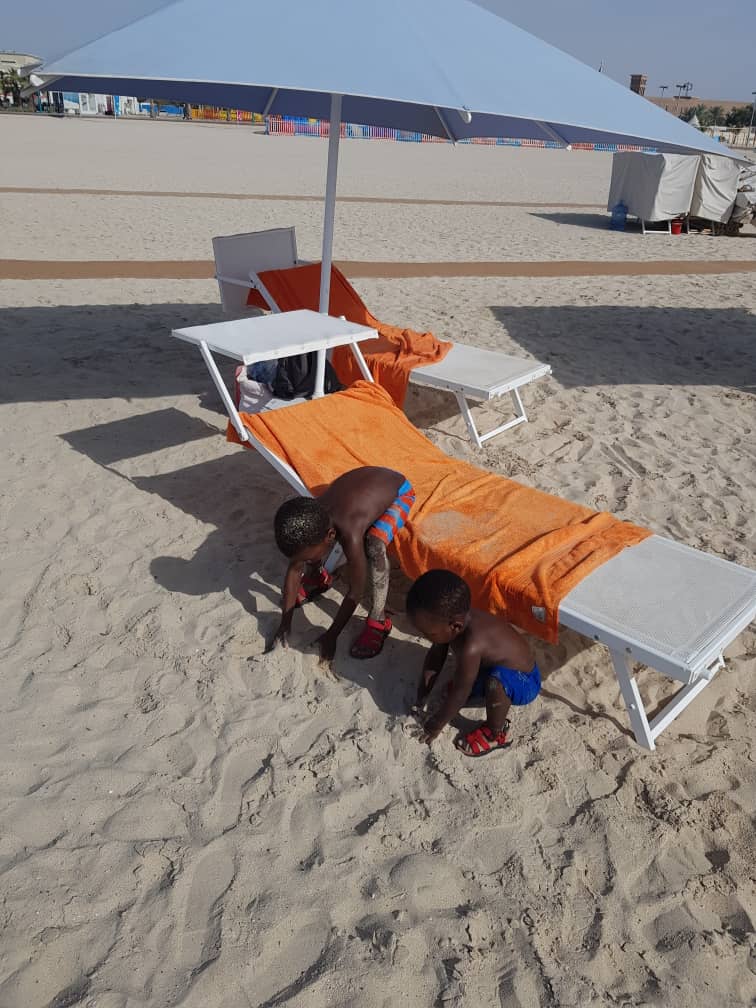 Well, as a Naija girl, I quickly asked a woman to please let me stay under hers and change my kids and again, Dubai kindness came through. They don't just say YES, they say things like Oh sure, Of course, why not, etx.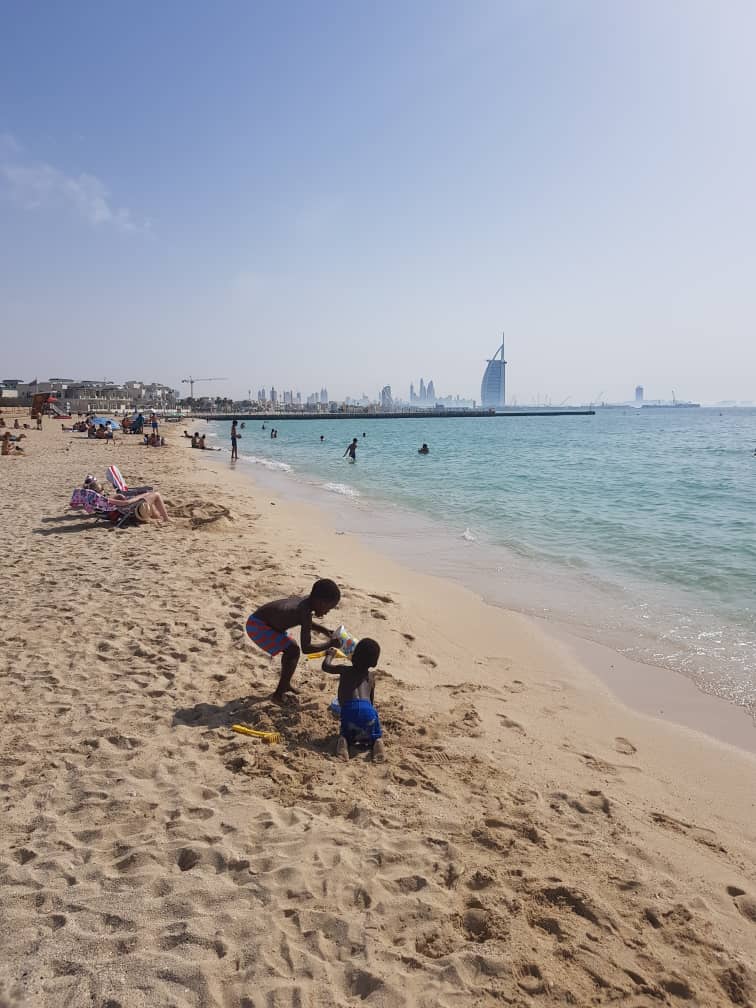 I changed them and even left our shoes there lol and we hit the water, ElJohn didn't care for the water but they enjoyed playing with sand like crazy. We got sand everywhere from their hair to their bum lol.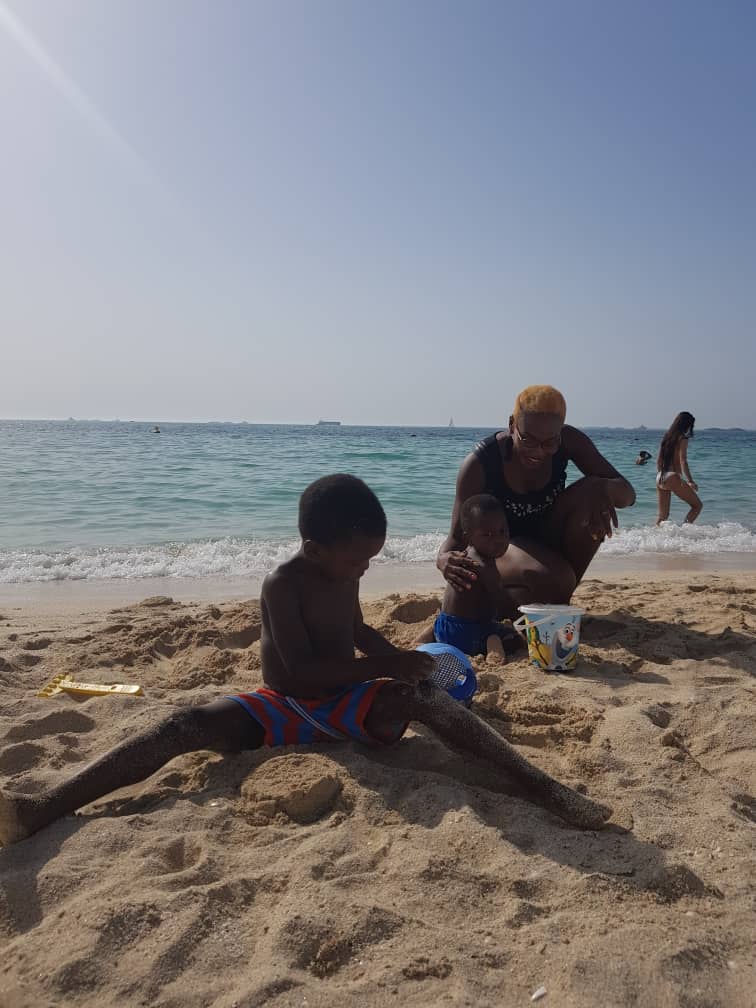 After all that, we went, bathed, (again, a kind resident helped me out with KingDaveed since I couldn't enter the male place, I would have taken him into the female place though if not) then I washed ElJohn in the female bathroom, cleaned up too and we went to grab something to eat.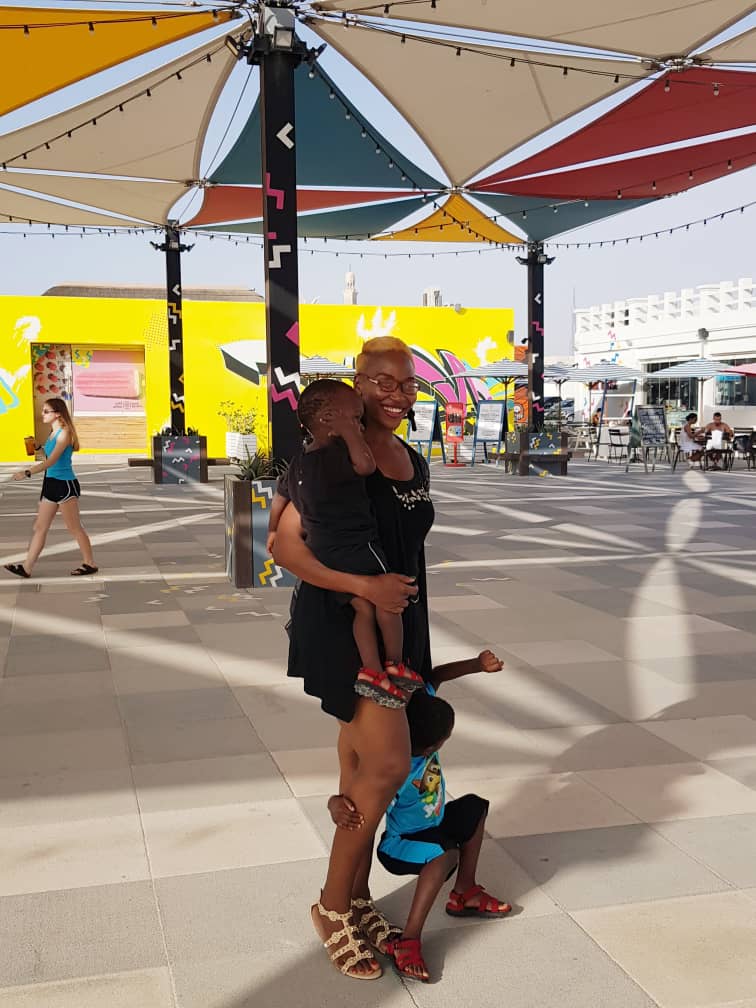 Planned to be at Dubai mall for 5 so I sight see a bit, buy a sim, and watch the Dubai fountain display which starts at 6pm and every 30mins after then for 5mins.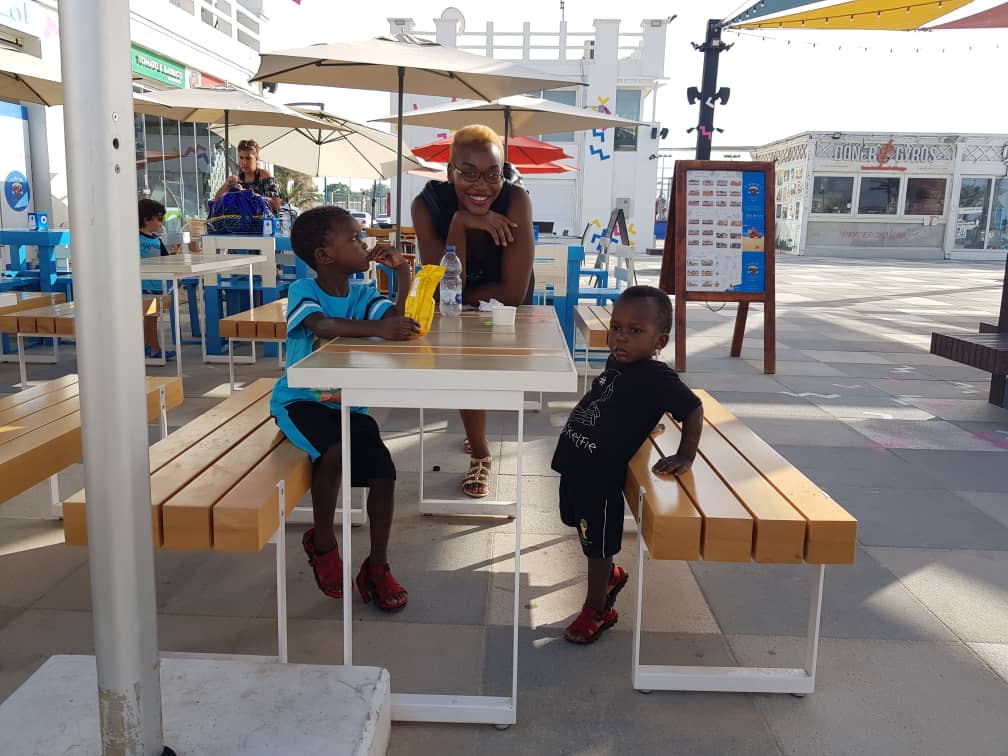 We took a taxi to DM and goodness gracious, that mall is OVERWHELMING lol. Perused all 3 floors and the lower floor, while looking for the best sim to buy, and in between food for the kids too. It was a crazy waka and KingDaveed must be commended as he really tried. ElJohn slept at some point.
Finally settled for an Etisalat sim for the equivalent of almost 11k with just 1gig data. I am still pained lol but I need a sim. My apartment has Wi-Fi but hey, I need Wi-Fi on the move too. Plus, WhatsApp audio and video calls don't work in Dubai on every network.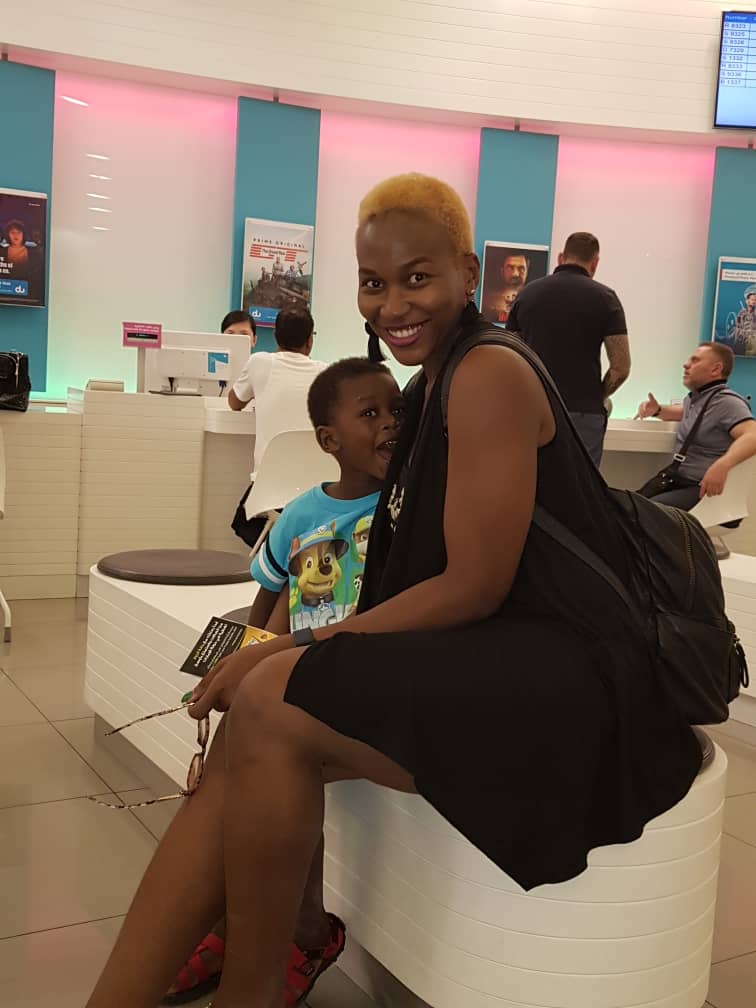 So annoying. I will find out why it is banned.
We had planned to catch the fountain's 6pm display but I underestimated the mall lol. Finally, at 5mins to 7. I joined the maybe thousands of people out there waiting for the display at 7pm. Took a few pictures overlooking the Burj Callifers and by then ElJohn had been asleep a long time.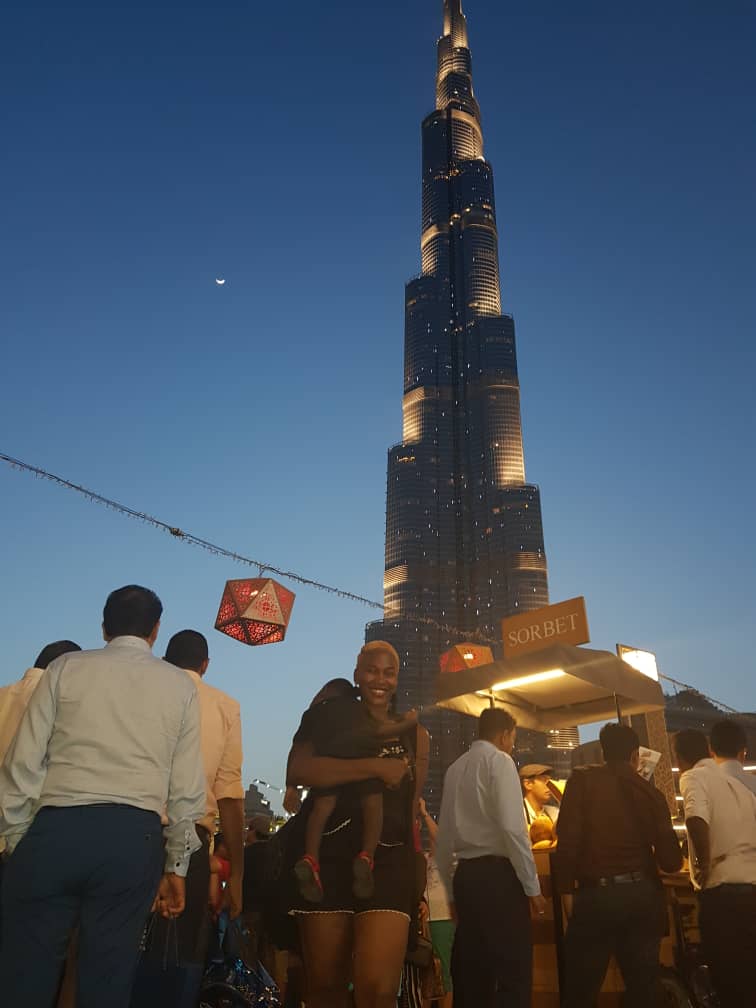 Display started and I had to carry KingDaveed up so I was carrying two kids. KingDaveed kept on asking questions and screaming lol. IT WAS AN EXPERIENCE lol. Afterward, we went to wee-wee and poo lol then hit the Metro again and started the trip back home.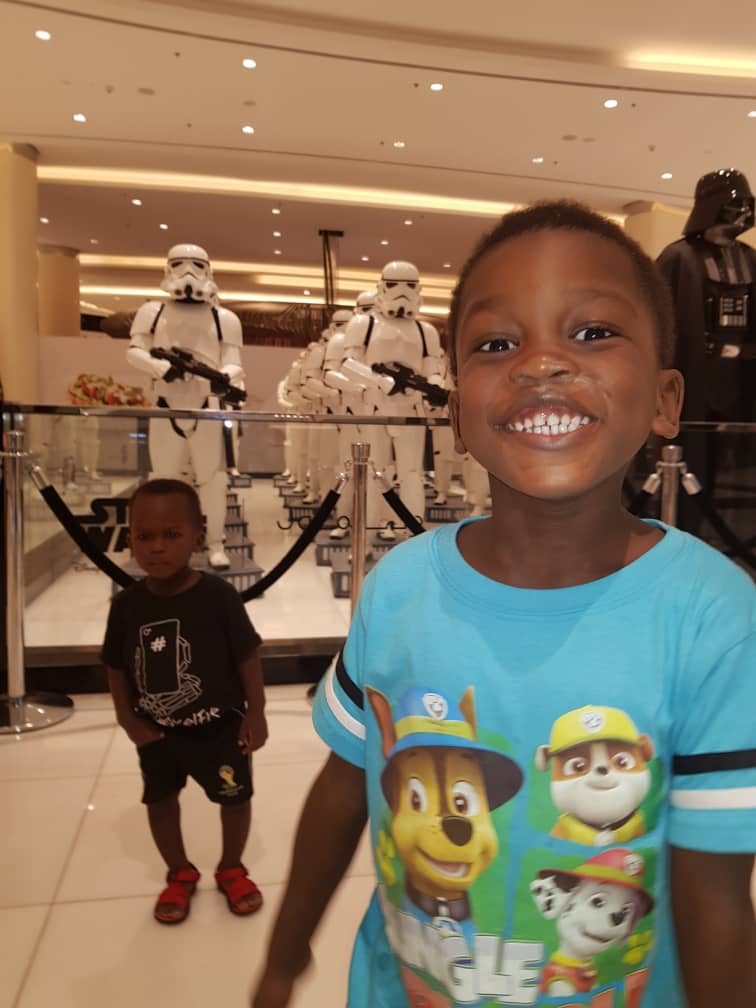 DM is really close to my apartment so we were home in no time and EXHAUSTED!!!
Came in, quickly sorted out the day's budget compared to what I had planned (it was more cos I indulged the kids in treats and food is expensive abeg. Or I haven't found cheaper vendors. Or maybe I keep converting as an Igbo girl lol) Coke the small bottle was 1200, small water bottle 500-naira ah!!! It was crazy lol. Even this banana I got for them to eat this evening while I prepped dinner was 700 for 6 bananas lol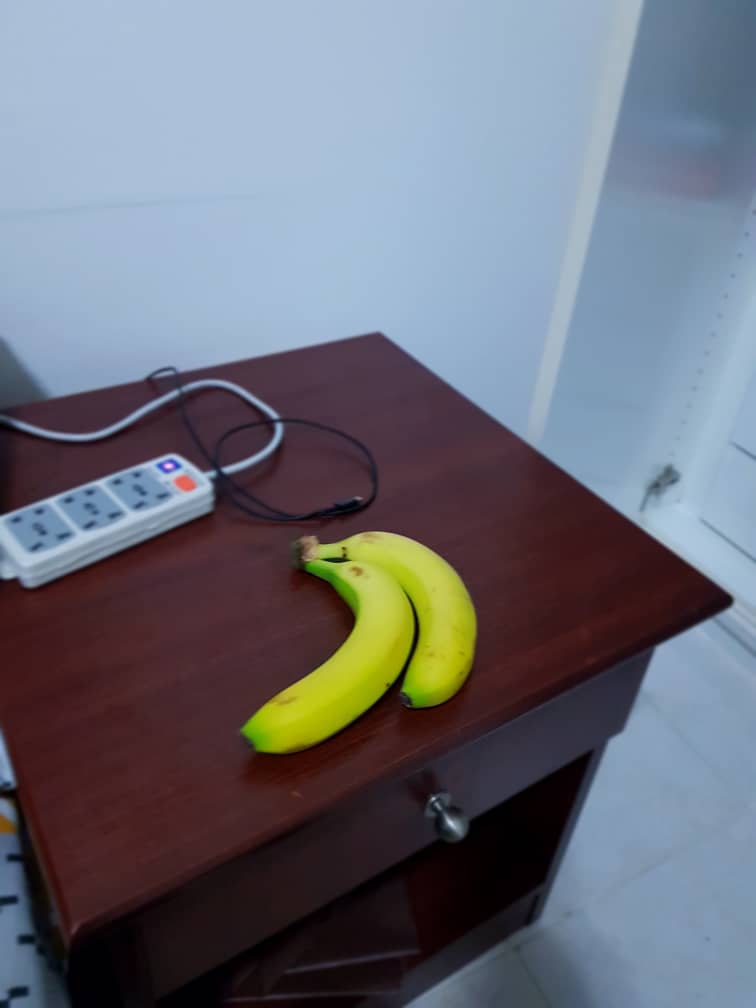 Then we had a bath, I bonded for 7seconds lol with my host (SHE IS GORGEOUS btw), another guest from the US I think, and then made dinner of spag and fish.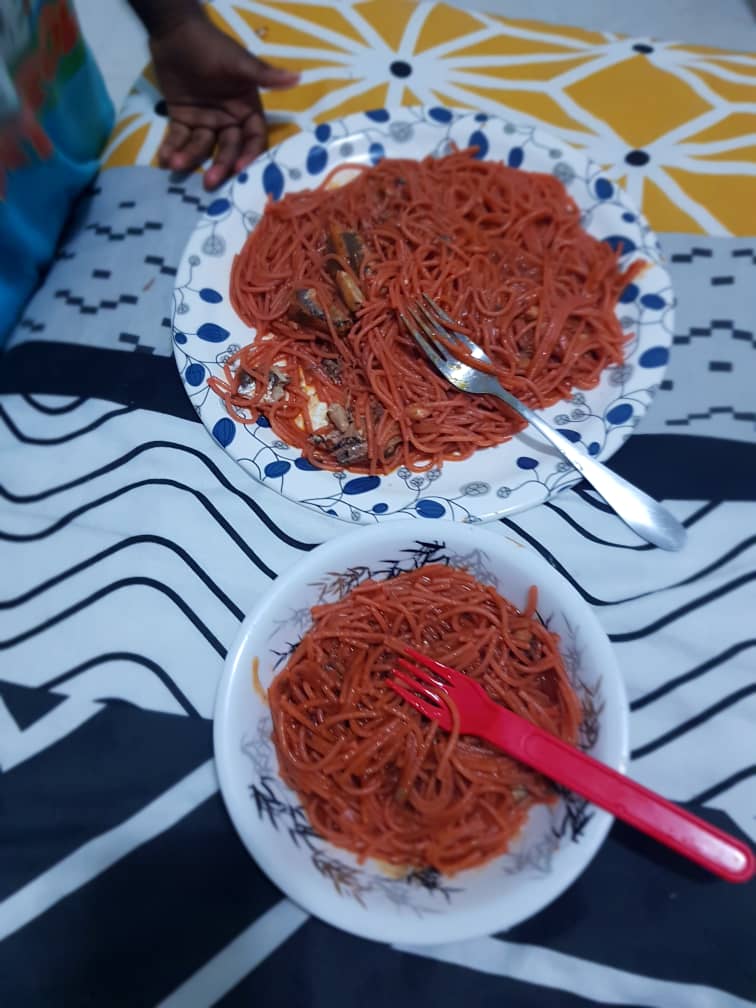 Ate, bathed, brushed teeth and the kids and I dropped off to sleep in nano seconds.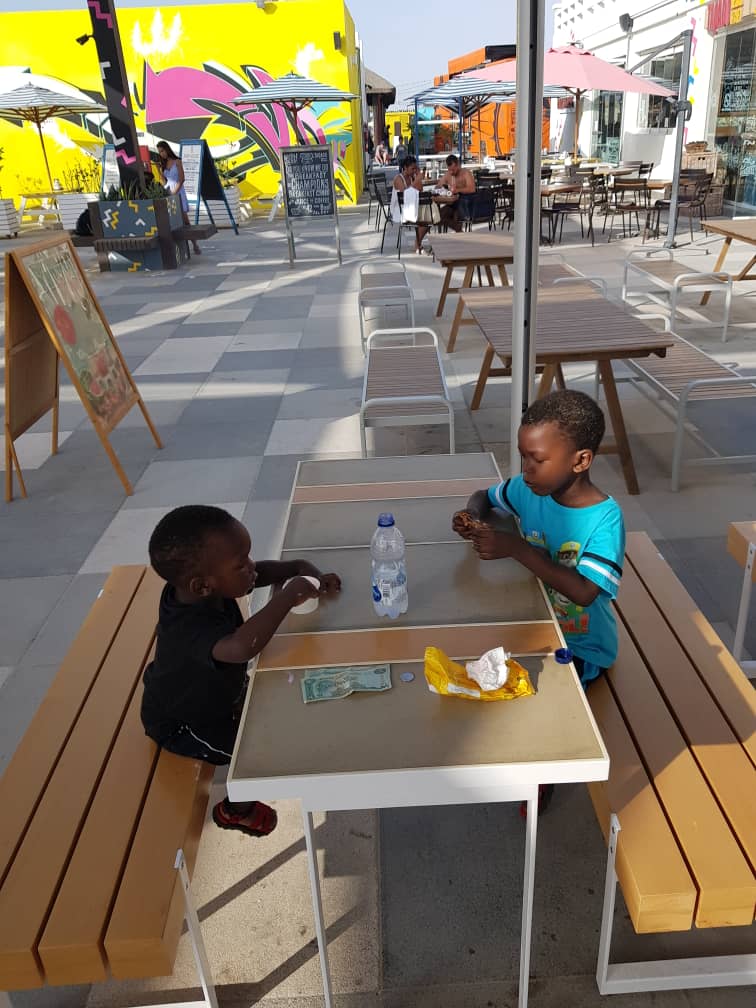 Was even still chatting with hubby when I slept off. Woke at 2am to write this and I am going back to bed afterwards
The morning and evening, Day One, Hello Dubai!!!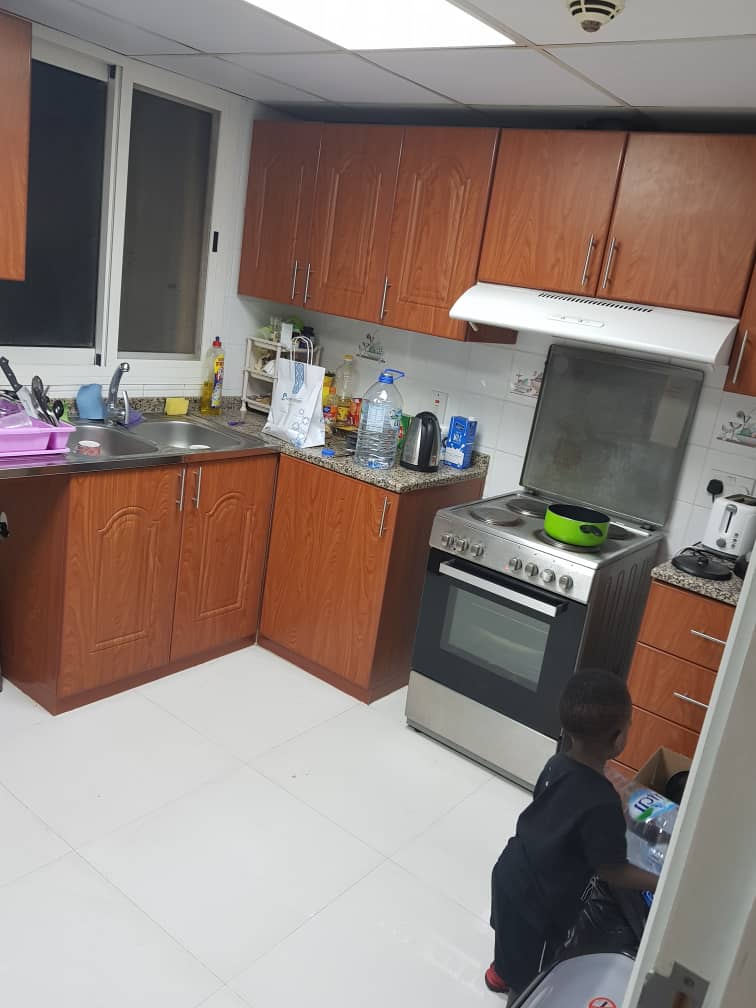 DAY TWO has some major fun too and I cannot wait.
Love
Eziaha