Chhhhhhhiiiilllllllleeeeeeee….
No you gotta say it right.
Lower the octave of your voice, then drag it like you wanna say CHILD but end with an e instead and with a smile…
Let's do it again…
Chhhhhhhhiiiiiiilllllllllllllleeeeeeeeee!!!!
We been hard at work Chileeeeee, my team and I , and I'm super excited to FINALLY let a part of the cat out of the bag…
So come Tuesday, Dec 4, we will be hosting an Fruitful hangout for Stay at home moms in Lagos.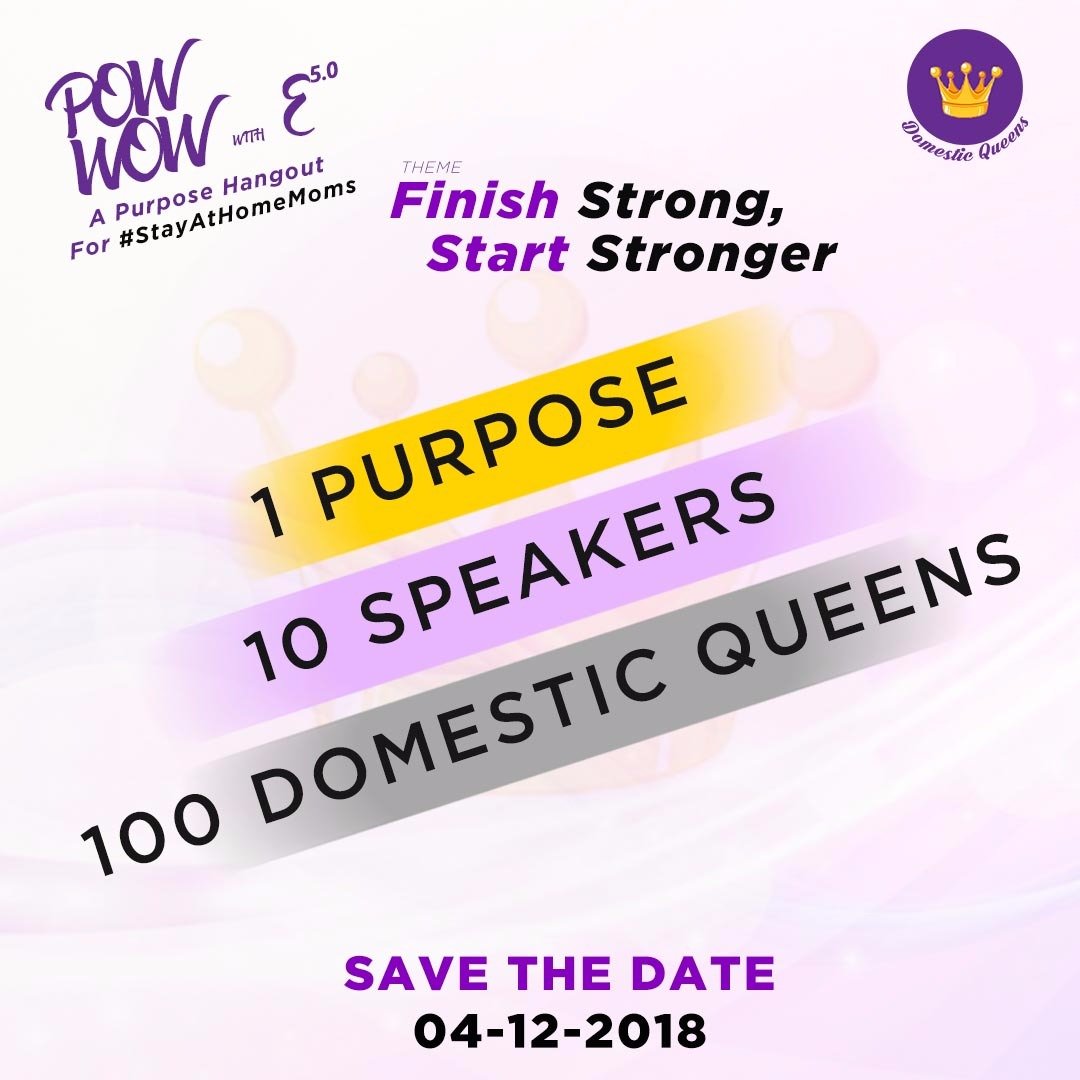 100 Domestic Queens
10 Speakers
1 Purpose
Finish Strong, Start Stronger
Can't let out the speakers yet but let's just say we are going here, there and everywhere as we equip our Domestic Queens with useful knowledge in various areas of their lives that will not just help them finish 2018 in strength but also start 2019 stronger, as a wife, mom, mompreneur, chick, etx.
It gets better!!! It's FREE!!!
Oh it gets BEST!!! Every Domestic Queen leave with a solid gift in the spirit of Christmas.
Let me tell you what is exciting about God.
He saw December 4, 2018 even BEFORE I WAS BORN…
He saw me frustrated 3years ago and was like
Chhhiiiiiilllllllleeeeeeee, hang in there, you are coming out of this fire GOLD and then you get to inspire and speak strength to many more women like you.
He knew it wasn't for me!!! It was for THEM. YOU. US.
Oh He knew. He so knew.
I'm just acting out a beautiful script written by HIM. YES LORD
I'm crazy excited about what He is set to do in the future but I'm here for FINISH STRONG START STRONGER!!!
He also knew that when the time came to upscale this thang, I would need help so He sent me a whole team!!!!
He sent me Lolade, Teniola, Bimbo, Toluwani, Teniola, Derin, and Chidinma to serve so selflessly. Like yawl, COME ON AND BLESS HIS NAME FOR ZOOM CLOUD MEETING APP!!! We been having 1.30 to 4am meetings every week until this point, and I'm amazed at the progress we have made thus far.
They have made it so easy for me.
Plus my friends Eniola, Aijay and Dinma have supported too.
Gosh!!!!
God bless you ladies.
Ok so from NEXT WEEK, we will release our speakers and give more details on how you can register and all.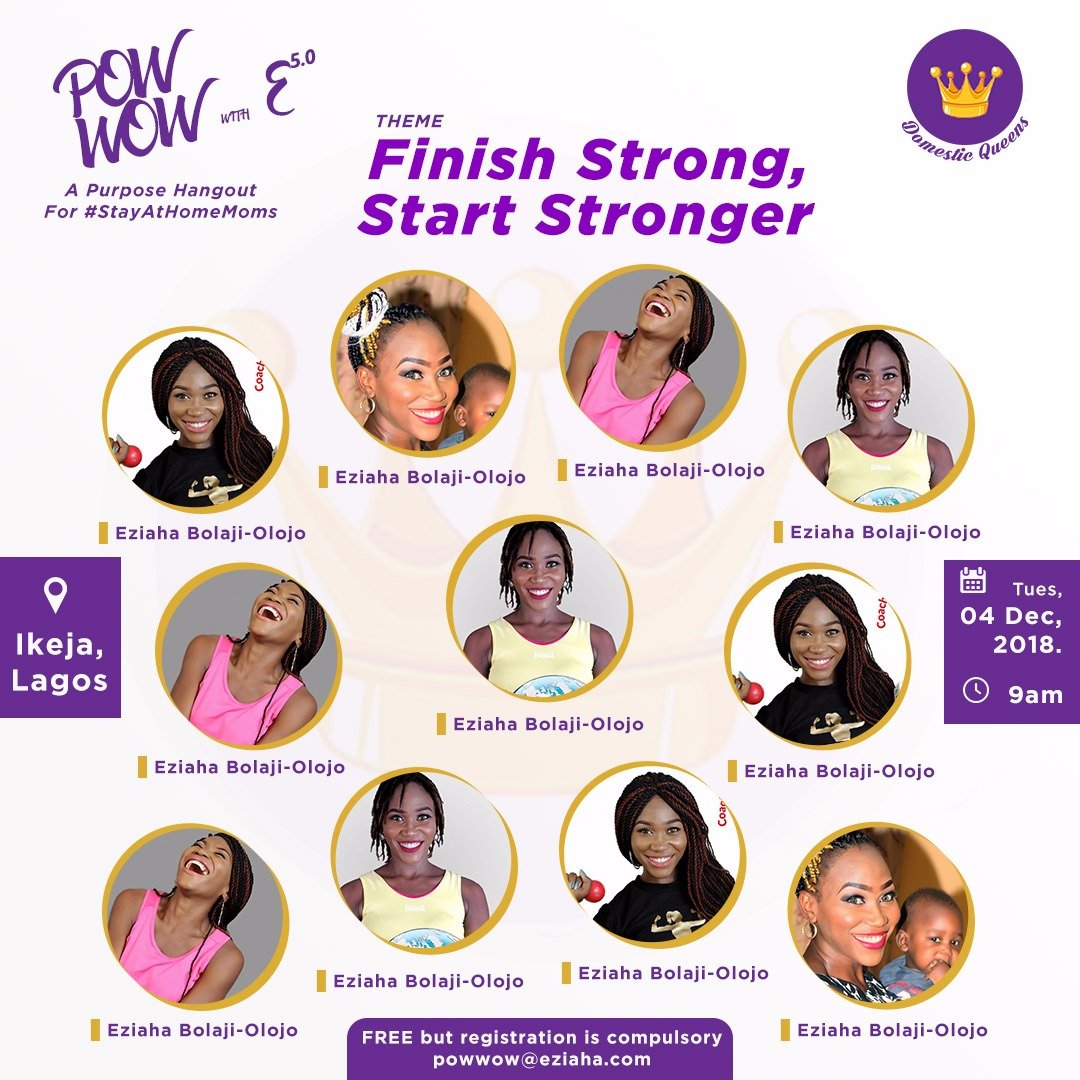 For now manage my many faces lol…
Plus we also need a couple of volunteers so if the Lord is stirring your heart, and you will be available to serve both before AND THEN on that day (please note that it is a Tuesday), then please holler already.
Email powwow@eziaha.com with the subject VOLUNTEER
I'm excited at God. He ROCKS!!! No, seriously HE ROCKS!!! Wait till you meet our Speakers and various Topics they are covering. Phew!!!!
And our amazing Emcee too, who even though I'm yet to meet officially, already has me excited like a sweet tooth kid in a candy shop.
It's about to go down yawl!!!!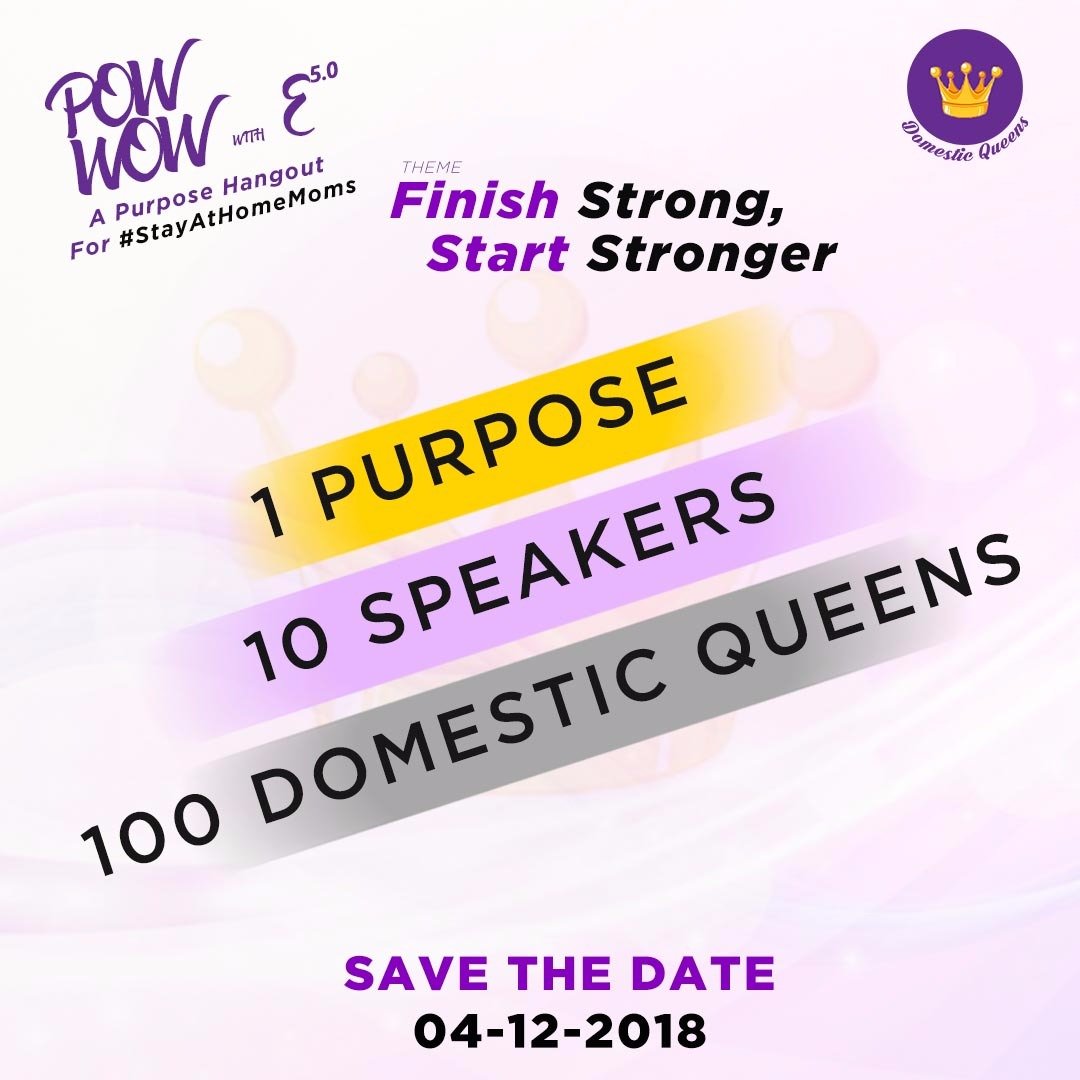 Please can I ask that you PRAY with us? It's a whole lot I tell you but I trust God. Pray for logistics, finances, the speakers, the Domestic Queens, the sponsors, our publicity, and everything abeg….
I know the devil is cray so we don't intend to be ignorant of his devices so we are keeping the fire burning on this one.
And please I would appreciate you help me spread word too. We really need to go all out with publicity and we need YOU!!!
Then we are launching our Instagram page @stayhomemoms.ng so please follow us as we start to post there.
Thanks guys. God bless you
Domestic Queens, lezzdodis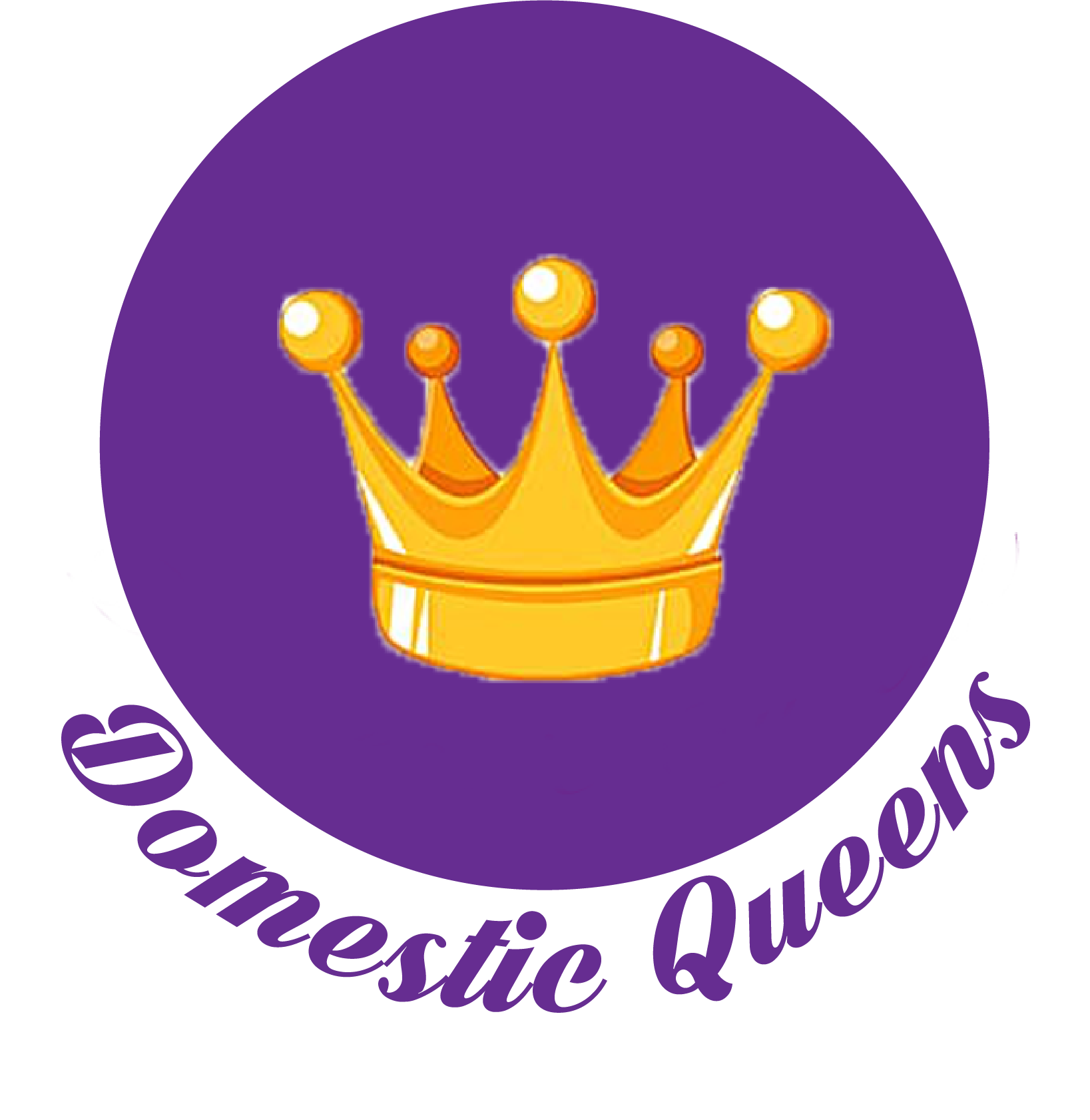 Will see yawl next week with details.
Love
E'