Hey people,
Phew, been a WHOLE MINUTE on this blog.
Life has been HAPPENING and to be keep it 100%, this year has been DRAGGING my whole life. The only reason I am still standing is because God made me pray ahead and heavily into the year.
HE KNEW I would need all that prayer capital invested earlier into 2020. I literally fasted from July to December. It is what has been sustaining me ooo cos the child has been FIGHTING yawl…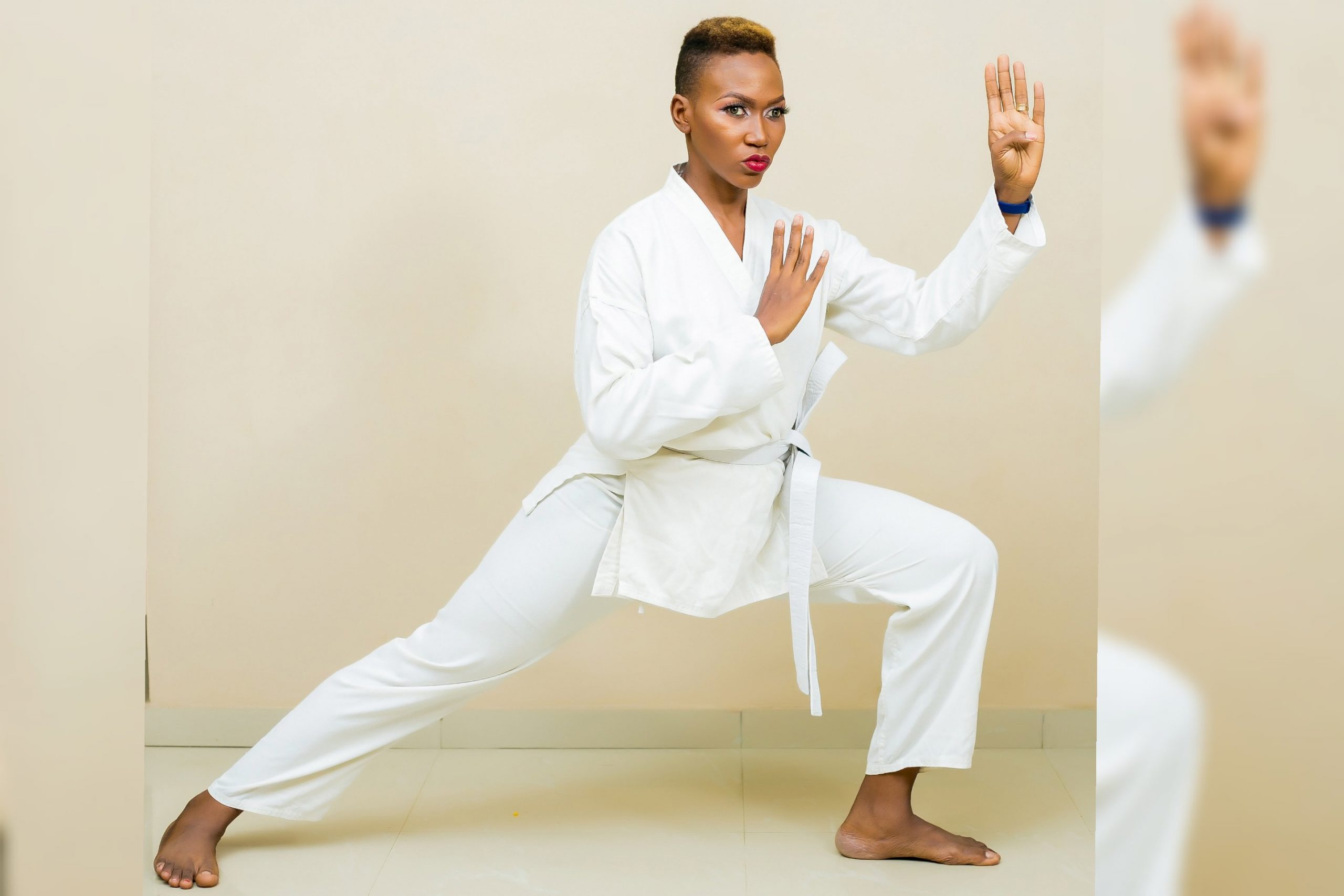 But you KNOW how we do. In Christ, we win.
ALWAYS!!!
I am not just being dragged by satan and flailing my arms and screaming. No baby. I have been DEALING DEADLY BLOWS TOO…
Remember, bruised heels and serpent's heads? Refresh in that post here.
Plus I have understood in a VERY PERSONAL way that we must hold on ONLY to Jesus, cos NOTHING ELSE IS SURE.
I have seen previously unshakable things disintegrate LITERALLY and I am like WHOA!!! I thought that was SOLID!!!
So I am now in that mode of FIX MY EYES ON JESUS
Set your minds on things above, not on earthly things. Col 3 v 2

And this world is fading away, along with everything that people crave. But anyone who does what pleases God will live forever…. 1 John 2 v 17
This world is FADING away baby, and isn't the COVID-19 pandemic just a reminder to that?
Which brings me to the topic of today.
Gosh, yawl, the biggest thing I am learning these days is to FIGHT DISTRACTIONS. I am constantly asking myself AM I BEING DISTRACTED RIGHT NOW?
Like I was telling the StayHomeMoms I mentor this morning, the definition of distraction has changed ooo. It is no longer that everything that distracts is negative or sin. Distractions today are as personal as your underwear. Any moment I am not being obedient to what God would have me do in THAT MOMENT is a DISTRACTION.
In fact, TWO SECONDS before I came here to sit and do this post, I was going to make a smoothie batch for the entire family, who by the way are home, and just as I posed the question AM I BEING DISTRACTED RIGHT NOW? to the HS, His answer was YES. That is not what you are to be doing now.
Yesterday, it was OK. Today, it is a distraction.
I tell you, no adventure beats WALKING WITH THE HOLY SPIRIT.
But then again, there are even deeper distractions.
For instance, this #StayHome directive is going to uncover a GAZILLION distractions in our lives as a result of the now very apparent GAP that allows us get in touch with our real selves.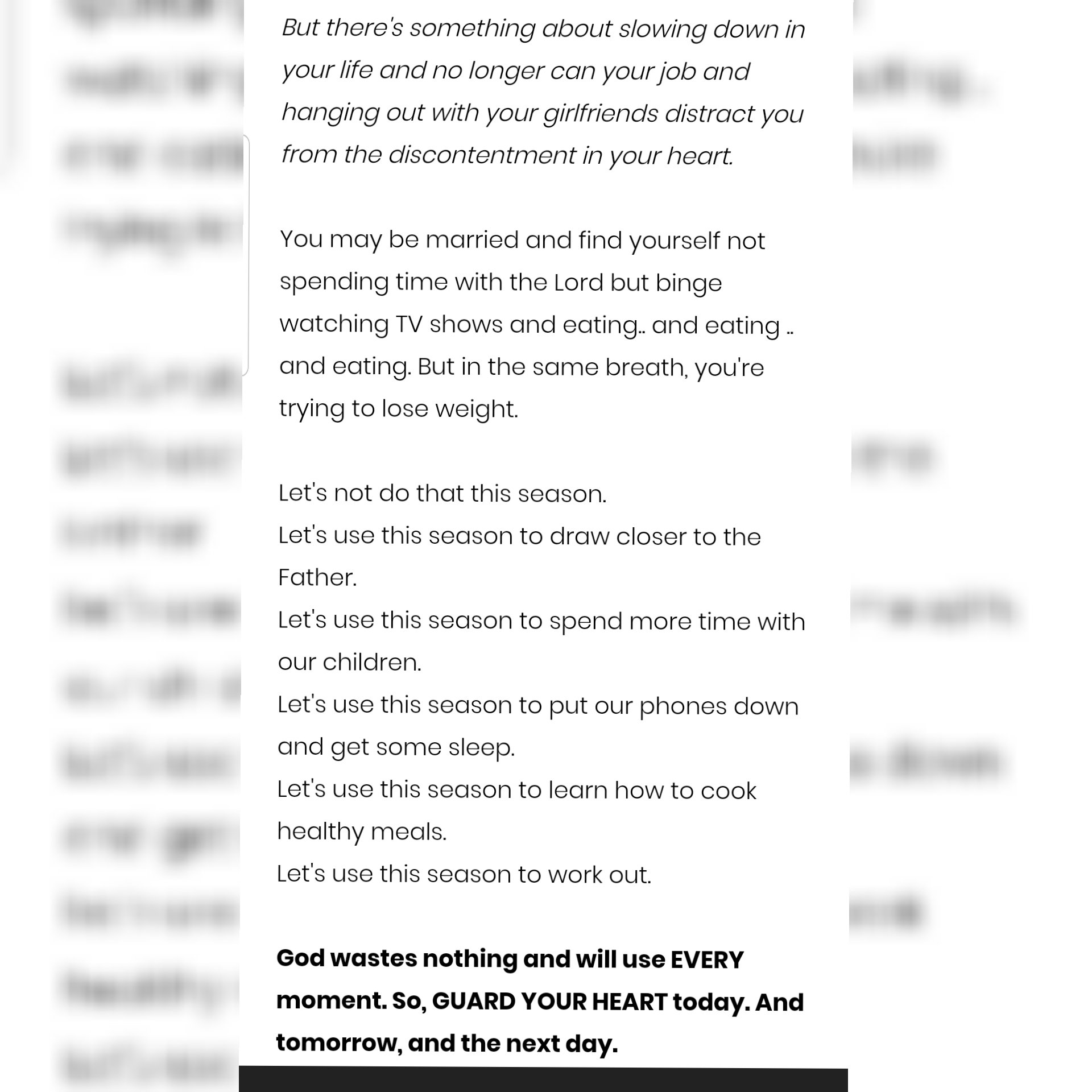 Thats Heather Lindsey btw…
The IDLENESS is about to show us the kind of foundation we have been building our lives on.
Without a regular routine, we are just about to KNOW the real us.
We have let our jobs, A GOOD THING mostly, distract us from truly discovering our identity, and the real source and root of our lives and esteem.
Our commitments and responsibilities, A VERY GOOD THING, have caused us enough distraction from the fact that we have been getting our self-worth from the wrong stuff.
This is tricky and I pray the HS expounds this to you as He did me.
Sometime last year, around the time I wrote this post I LOOKED UP AND I WAS STRIPPED. I fought the IDENTITY battle. The Lord had stripped a lot of things off me and now with the SHHHHHH, I got insular. I got in touch with the REAL ME.
Had I been getting an identity from my DOssssss?
Did I have a life outside, for example, the WILD WOMEN, a Christian group I lead at?
If I am not discipling, mentoring, nor coaching, do I lose sight of who Eziaha really is?
If I never get an opportunity to be on stage, do I doubt that I am CALLED and CHOSEN still?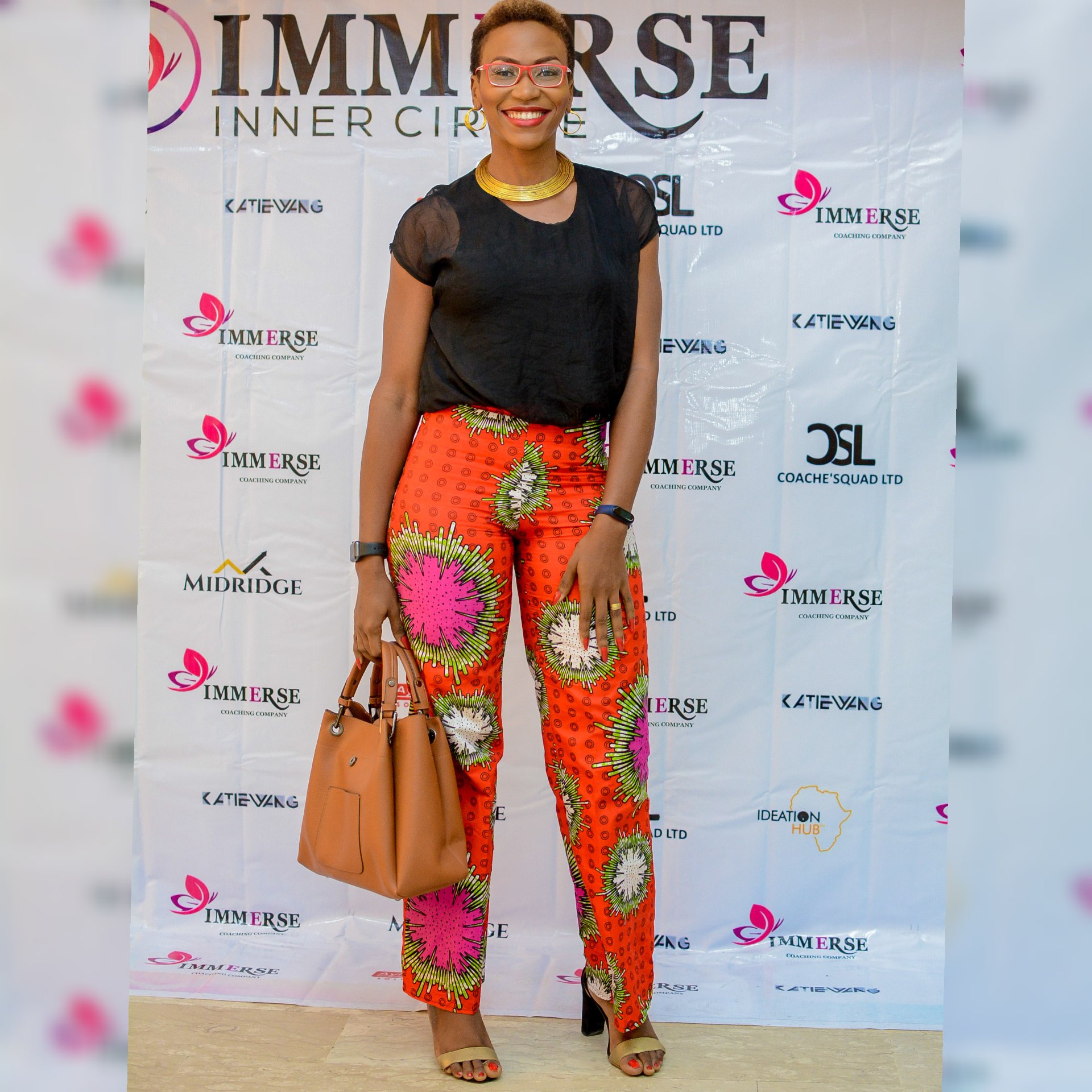 If the Lord says no more blogs, or anywhere else where I give out content, would I feel like my life has no more worth?
If nobody ever tells me again how I am such a disciplined, amazing, inspiring person, would I suddenly have no identity again?
If I lost some friendships or they evolved in a way that I really didn't see coming, do I start to feel like less of a human?
If I lose my job, do I feel like I have lost myself?
Hey, COME ON people!!!
Where are we getting our sense of worth, value and identity from?
This world or JESUS?
Cos this world is such a shaky unstable thing to HOPE ON. Useless at best and USELESS at worst.
It is literally FADING AWAY. Only with my eyes set on Christ can I really enjoy my life ooo, in a healthy, whole, balanced way.
Anything else and I am building on NOTHINGNESS.
Gosh, life is so NOISY. There is always something to DISTRACT me from getting in touch with my REAL SELF…My inner funk, crap, mess and all. But I must disengage from time to time, long enough to do a real soul purge and therapy.
I need to know the real state of this life I am building.
Which is another reason why we embrace the concept of SABBATH, REST or WHITESPACE.
Those strategic pauses we make deliberately in our lives so we get silent enough to see where we NEED HELP.
The NOISE is too much people.
I recall a quote I got from Clay Scroggins book, HOW TO LEAD IN A WORLD OF DISTRACTIONS
It was SO GOOD, I will drop it below…
Good leaders turn down the noise long enough to be RUTHLESSLY CURIOUS about their emotions
You can replace the term EMOTIONS with other terms as DISTRACTIONS, SELF IDENTITY, VALUES and so on.
Until the noise is gone and there is the SHHHHHHH, you would think you are doing OK until one day, BOOOM, something happens and you fall so hard you and everyone around you are shocked.
You have been building on NOTHING but too distracted to notice it.
Hmmmmmm
So I see a therapist fortnightly and one day, I don't recall the question she asked me but it had to do with the WHY behind the DO and I just started downloading on how it is something I started to work on this year very intentionally. The noise can be distracting BUT if I turn it down long enough, I just may see that the reason I am upset with my staff is not that they did wrong but because I am HURTING from a pain I am yet to address. Or maybe DISCONTENTMENT
The NOISE of sometimes success is DISTRACTING very LOUDLY.
That's why I am always looking for what to cut out of my life. I need WHITE SPACE in my life abeg.
And I am both BRUTAL and RUTHLESS about it.
I lead the WILD WOMEN and while we took a break last year for about 6months, when we got back this year, I kept the noise VERY LOW so I would know when I have started to build on NOTHINGNESS as far as it is concerned. I am constantly checking myself to ensure that I am not getting ANY SENSE OF WORTH OR VALUE FROM IT. Like if the Lord asks me to lay it down, I AM OFF BEFORE THE NEXT BLINK.
I do have a number of ASSIGNMENTS I must say, and each of them are really thriving. I get great feedback from them and they are pretty on track.
The WILD WOMEN, Praying Wives, Rejoicing Moms, CoachE'Squad Ltd, GDQ mentoring, TFS Academy and so on.
I am deeply committed to all the assignments BUT not defined by any. And I am constantly checking myself to be sure I am still on track
I love 2COR 13 v 5 in the MSG
Test yourselves to make sure you are SOLID in the faith. Don't DRIFT along taking everything for granted. Give yourselves regular checkups…
Oh and of course, I am also a WIFE and MOM.
I am COMPLETELY SOLD out to being a wife and mom but hey, if I am no longer one, do I lose my identity or do I keep my eyes on JESUS?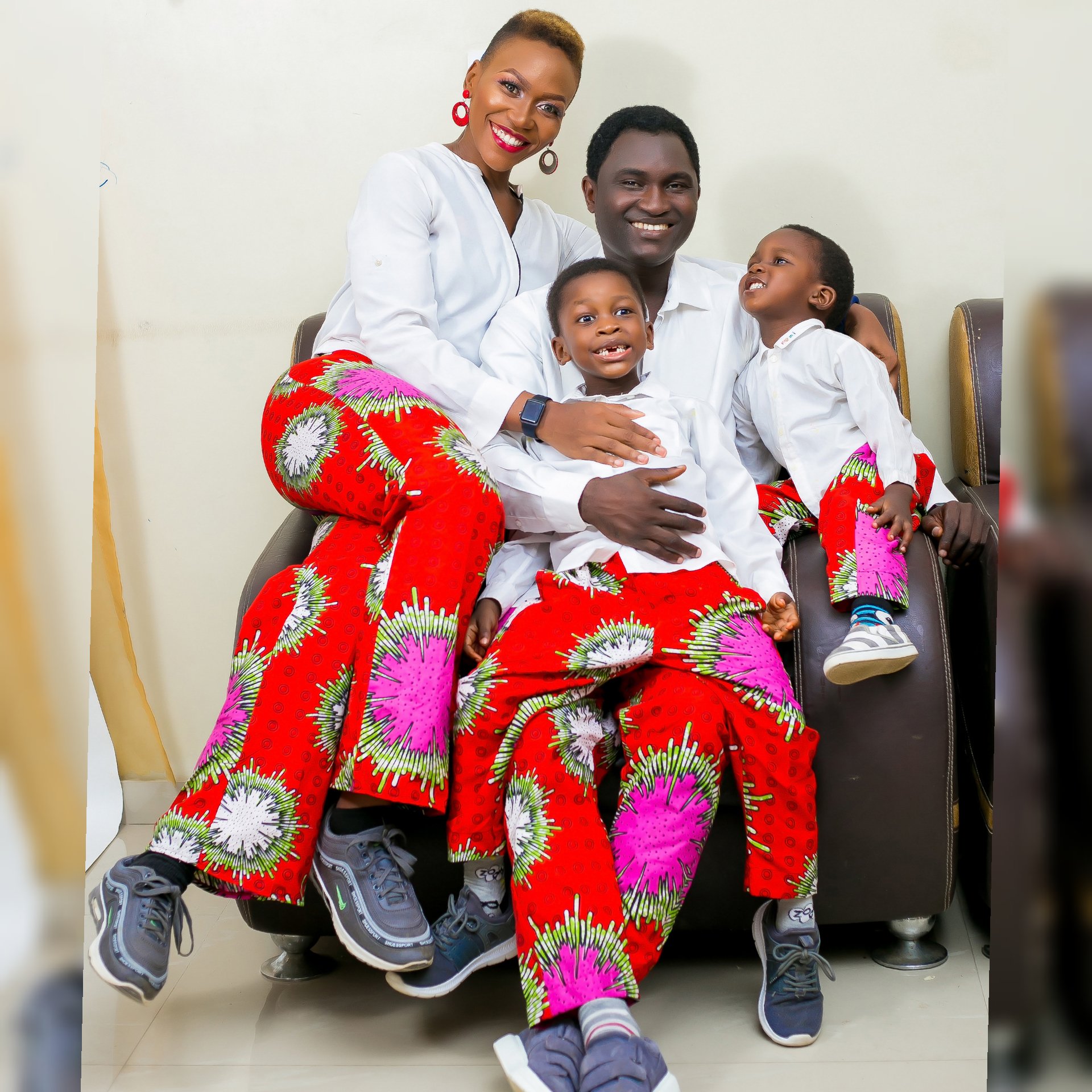 Only Jesus sure pass ooooo. For REAL!!!
You know, when this COVID pandemic started gaining traction in Nigeria, and the next week would meet a lot of us at home, I knew instantly the noise would be A LOT and most people would deafen literally to the HS. So I made up my mind to minimize the noise in my life personally and in the wild women especially.
Cos every Sunday, we share pictures and the chats are usually a lot. I didn't want us to be distracted by that good social act of sharing our pictures. I just wanted us to be silent enough to hear what God would say and feel the spirit this season.
In fact when I find myself starting to feel uncomfortable with silence in any area of my life, I don't quickly reach to fill it with another mindless activity, I tune into that SHHHHHH long enough to find the lesson and spirit there.
There is something about just turning the noise down long enough to pick discontentment, hatred, jealously, depression, disobedience, foolishness, and more in my life before it completely takes me out.
So in this COVID lockdown season, I am definitely keeping my guards up, embracing the SHHHHHHH, and seeking the heart of my Father per what He is doing in this season. In fact, if anything, I am even busier than normal as I have a full house of men who I have to FEED three times a day, but I won't even be DISTRACTED by my BUSY.
I am also getting my people to pray more.
For example, with the WILD WOMEN, WIVES and Stay home moms, we are on a daily noon prayer. Personally I am playing more worship songs, and leaning into prayer videos on YouTube.
Oh and I am also fasting because I wanna make sure that FOOD is not something I resort to foolishly even though I seem to be in the kitchen a LOT. And this is not even that kind of fast where when you break, you eat MORE than those that didn't fast.
No. I am doing the EZIAHA version of the DANIEL fast. I share about how a FAST can be a way of PROTECTING ourselves in crazy seasons and situations like these.
Check out the post on CoachE' blog here
I share on how to fast through DISTRACTIONS
And if you are a stay at home mom, I also published a post on how to thrive at home through holidays and COVIDays
It is an INSTRUCTIVE one and SO GOOD!!!
Ok, till when next I am here, let's keep our eyes on HEAVEN and Jesus. Nothing dey this world
Yes, feast on all the treasures of the heavenly realm and fill your thoughts with heavenly realities, and not with the distractions of the natural realm…. Col 3 v 2
Because
And this world is fading away, along with everything that people crave. But anyone who does what pleases God will live forever…. 1 John 2 v 17
And let me leave you with this video by HL which is really an URGENT word from God.
I love the question she asks of whether we are READY to meet with the Lord should death hit us NOW, whether as a result of the virus or some other thing?
And let's stay PRAYERFUL, take all the necessary precautions and keep our spiritual guards and antennas UP
It is well
Love you, and really pray we are all in step with the Father.
He is SO GOOD!!!
Eziaha