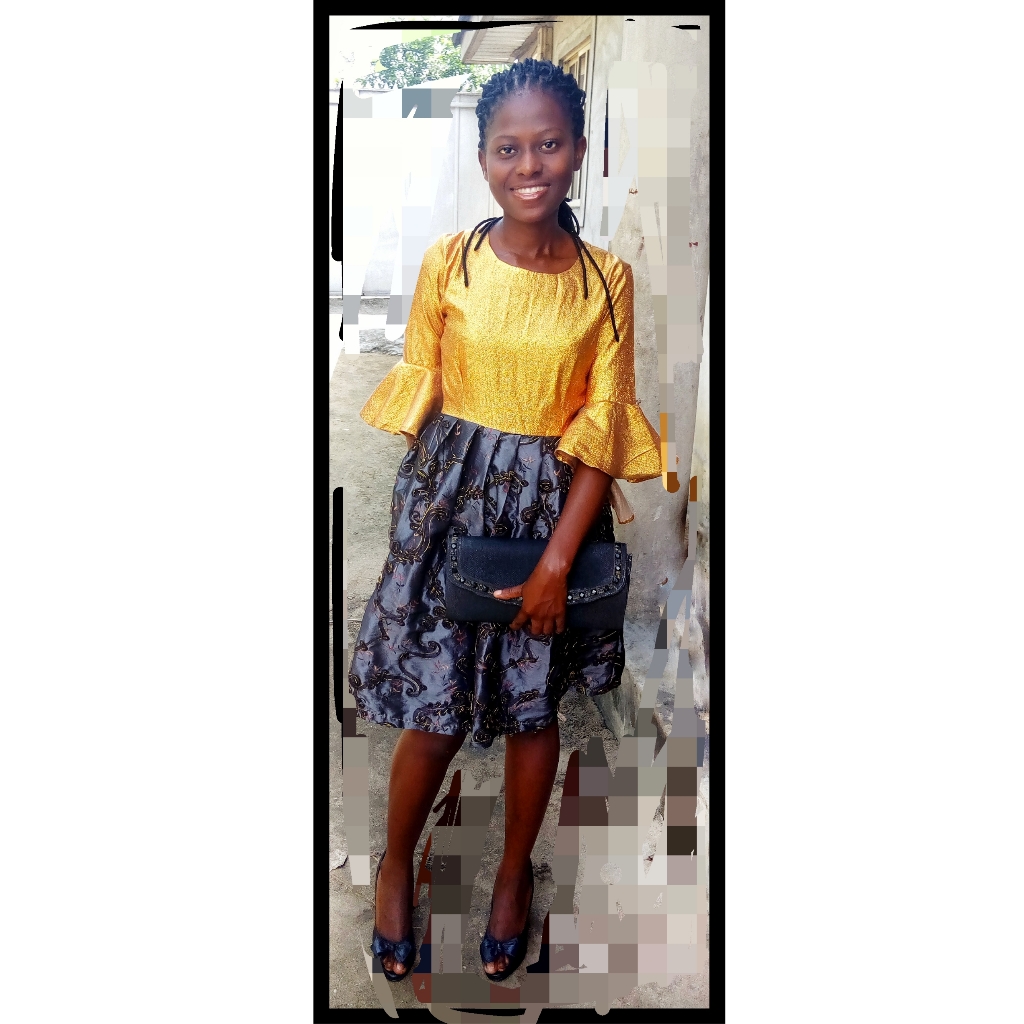 I'm Goodness-Mercy Weme, one of the beneficiaries of the just concluded mentoring program on TFS.
I really cannot find the right words to describe my stay at the program. It has been all shades of awesomeness. I've been blessed and blessed tremendously. I've grown in just this short period of time. Thank you mama E.
From the first part of the program, we had the opportunity of learning from mama E as she shared with us on relevant topics through voice notes, sometimes referring to her blog posts relating to our topic of discussion. We asked questions and received answers to all questions including personal ones.
So many lessons learnt from the program. I'll share as much as I can and pray you pick a thing or two you can begin applying in your own life.
On conversations, I realized how I've been wasting a pretty portion of my life because I can't discern the difference between 2D and 3D conversation. I've learnt to place my conversations aright and though I still make mistakes yet I'm getting better at handling them.
On time management, I learnt about the importance of working with a to-do list as this makes my work more organized and helps me remember all I plan to do hence maximizing my time.
I also learned to make use of my fringe hours. Those times where I can be doing one thing and doing another. Like how I can be cooking and worshipping, or laundering and listening to a book or sermon.
On mentorship, I learned the right way to follow my mentor and that is by staying in their slipstream. Getting all their resources available including books,  sermons, blog posts,  social media post etc learning from them and applying all I learnt. 
This way, when an opportunity to meet with them face-to-face comes, I'll have something I'm bringing to the table.
On friendships, I realized that no relationships are meant to last forever except marriage. A friend may be for a season or even for the future. I should know when to fight for a friendship and when to withdraw and if I must withdraw then I must do so in a friendly way not causing chaos.
I learned to invest in my friendships, put in the effort to make my friendship work. Help my friends grow where possible and most importantly pray for them. 
On marriage, I've learned to marry right. Someone with the fear of God, who has my time. Someone with a heart of servitude. Someone who allows me to soar and be all God wants me to be.
On social media management and etiquette, I learned not to allow social media to give me the permission that I don't have in other people's life.
I also learned that I should honour God on social media. My likes, comments, posts should all be God honouring.
On books and reading
I've learned to focus on books and knowledge I need per time. Books that are relevant to my season and areas I'm working on.
I learned that when reading, I shouldn't be bothered about forgetting all I read cos they are all being stored in my subconscious and when I need them they'll come to my remembrance.
On spiritual life
I've learned that my spiritual life is the foundation without which all other parts will fail. Therefore, I should fight for my spiritual life. Whatever it would take me. God should always have a place of pride in my heart. He should be my number one priority. I should strive to maintain a sweet relationship with Him.
I learned to be real in my relationship with God, to relate with Him as a friend and spend time with Him as I would with a friend because it is in spending time with him that I learn to hear from Him and to know Him more. Even when I don't feel like it, I should still go to my prayer place and maybe play some worship or listen to a sermon.
I've learned to always obey God's word because obedience sharpens my hearts to hear from God.
Even though I have many pastors and teachers, my focus should be on following Jesus. My walk with God is personal and so not everything is allowed in my life based on that personal relationship. Ask God to show me what is good enough for me by His own standard.
I've also learned the importance of having a prayer schedule and also praying the scriptures. Just like someone cannot go to battle without a strategy, so I cannot pray without a schedule or scriptural backup. Prayer is a battle as well.
General lesson
a. I must have a clear vision and mission for my life. One that scares me too and pushes me to greatness.
b. Be focused in life.
c. Always work with a to-do list.
d. Know the season in my life per time and maximise it.
e. Take responsibility for my life and commit to growth.
f. Learn to work hard to achieve my goals because this boost my morales and builds my muscles for greater achievement. Anytime I fail, I weaken my muscle for greater achievement.
g. I've learned the value of real commitment. Doing things even when I'm afraid. Or flat out tired. Doing things whether it is convenient or not.
h. I've learned how to reduce distractions in order to be more productive.
i. I've learned to believe in myself. I'm not a weakling. I'm not an ordinary human. I'm a supernatural being. I can do hard things. I don't break under pressure.
j. I've learned the importance of service.
And so many other lessons.
Here are some of the things I started putting into practice even before the end of the 1st part of the program.
I switched off all notifications from my social media apps as such I've been able to concentrate on one activity per time whenever I am online.
I pray with a prayer schedule.
My commitment level has gone up. I'm now able to push myself to work harder and do more. I may not have attained 100% but I've really improved in that area.
My conversations are now getting better knowing when it is 2D and 3D and treating it as such.
I'm maximizing my fringe hours productively.
And many more.
On the second part of the program, two TFS mentees were placed under the Mentorship of two big sister-mentors where we also learnt a lot and we're able to put to practice some of the things learnt from the Part 1 of the programme.
I was grounded on various areas including running on a to-do list, working on a list of daily-musts, reading, goal setting, friendships and other things. We solidified and put to practice all what we learnt from part 1 with our mentors guiding us on what to do.
The second part of the program has helped me in these ways:
Working with a to-do list
I now work with a to-do list and so there's a consciousness of what I have to achieve per day. Before now, I'd list everything in my head and keep missing out on most things. But now I write them down and then at the end of the day, I review and see what I couldn't meet up and why. If it's something I can do before I go to bed I try as much as possible to do and not carry it over to the next day.
Daily-musts
I've been able to create a list of things I must do daily. Organizing my life around my daily musts have been beneficial. I've had to write down what I must achieve daily and having a daily-must has helped me achieve those things I normally put away one of which is my Bible reading/study. Before now I'd normally put it off and because of this I go days without reading the Bible claiming there's no time. Now I realize that I have to create the time and so I do.
My target for my Bible reading has been 2 OT, 2 NT and 1 Psalm based on a group I belong to. My initial laziness didn't allow me to follow what was happening on the group and so I'm trying to catch up with others while also not rushing through and getting nothing out of the word. Some days I'm not able to achieve the five chapters, I do 2/3 chapters and hardly a day have gone by without reading a chapter of the scripture.
Reading
This has been one of my challenges which I've been able to finally overcome. During the course of the part 2 of the program with the accountability of my mentors, I got to finish a book and it took me 9/10 days to finish. This was a book I had put off for close to or more than a month, procrastinating and procrastinating.
This month of May, I've been able to finish one book already, I'm almost done with the second one and I plan to finish another before the month ends. I can't remember when last I was able to finish more than one book in a month.
Goal setting.
I had clarity on how to set goals and through the help of my mentors I was able to set goals for the month of May which I was able to integrate into my to-do lists and daily-musts list.
Journalling
Putting more effort in my journalling is also another area the program has helped me to achieve.
Discipline
To wrap it up, a whole lot of emphasis was laid on discipline because that's the key to achieving any other thing I wrote up there. Without the pain of discipline then the program wouldnt serve it's purpose.
More discipline, less laziness; more intentionality, less procrastination is what I've learnt from TFS.
I'm really grateful for TFS. I've been living my life in a haze but God has used TFS to put my life in order.
Once again mama E, I'm grateful for the privilege of being a partaker of this class and pray that God bless you richly and favour you every step of the way.
I'm grateful to my TFS mentors, sisters Toluz Bimbo and Roseee. May God bless you all.
I'm grateful to my sisters too-Abiodun, Oshams, Ife and Efizzy. God bless you all.
God bless Coach E.
God bless TFS.