Picking it straight up from where we ended last night.
We ouchea in Day 2 so catch up and come back…
So right after I published the blog, I went to wash, then it was time for our ZOOM prayers.
Gosh I was tired to tears but guess what? God definitely takes us from strength to strength as we fellowship with Him.
He powered me through the prayers and it was FIRE…🔥🔥🔥🔥
Afterwards I worked on MEAL plans, gave my team the tasks for the day, and by 2.30am, I am not sure I was functioning again so I took Bro KingDaveed to pee, ElJohn woke at the time so i moved him from the crib to bed so i could breastfeed and sleep. I blacked out the second my head hit the pillow.
I set an alarm for 5.30am though cos I needed to wake and feed ElJohn again then to power him till like 8am if not he would be up before 7am and I wouldn't make the gym or Bolaji would have to wake up and tend to him, and I know how hubby values his Saturday morning sleep.
Dragged myself up at 5.30am super exhausted. The trick is I try not to overthink it when alarm goes off. If I do, I'll go back to sleep and that was hardly how I wanted my day to go. If i sleep in, I've lost the day.
So I got up, made food for him, fed him and rocked him back to sleep. He finally slept off at to 7 and I quickly swept the house, dressed up and hit the gym at 7.05am. 1hour 10mins treadmill and say 15mins of weights.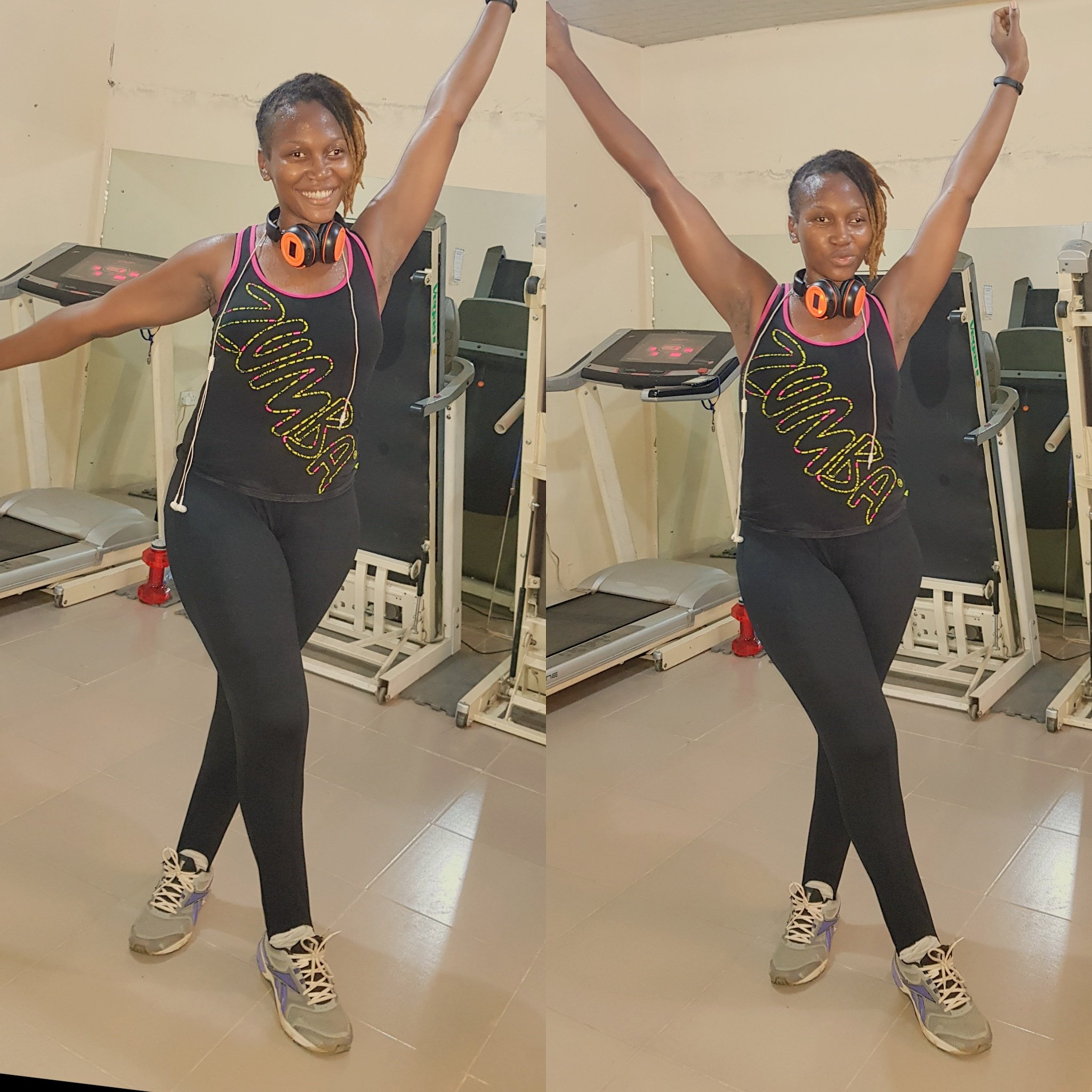 Came in at 8.30am and all the boys were up.
Made our smoothie. Lots of banana, pineapple and watermelon for hubby and the boys.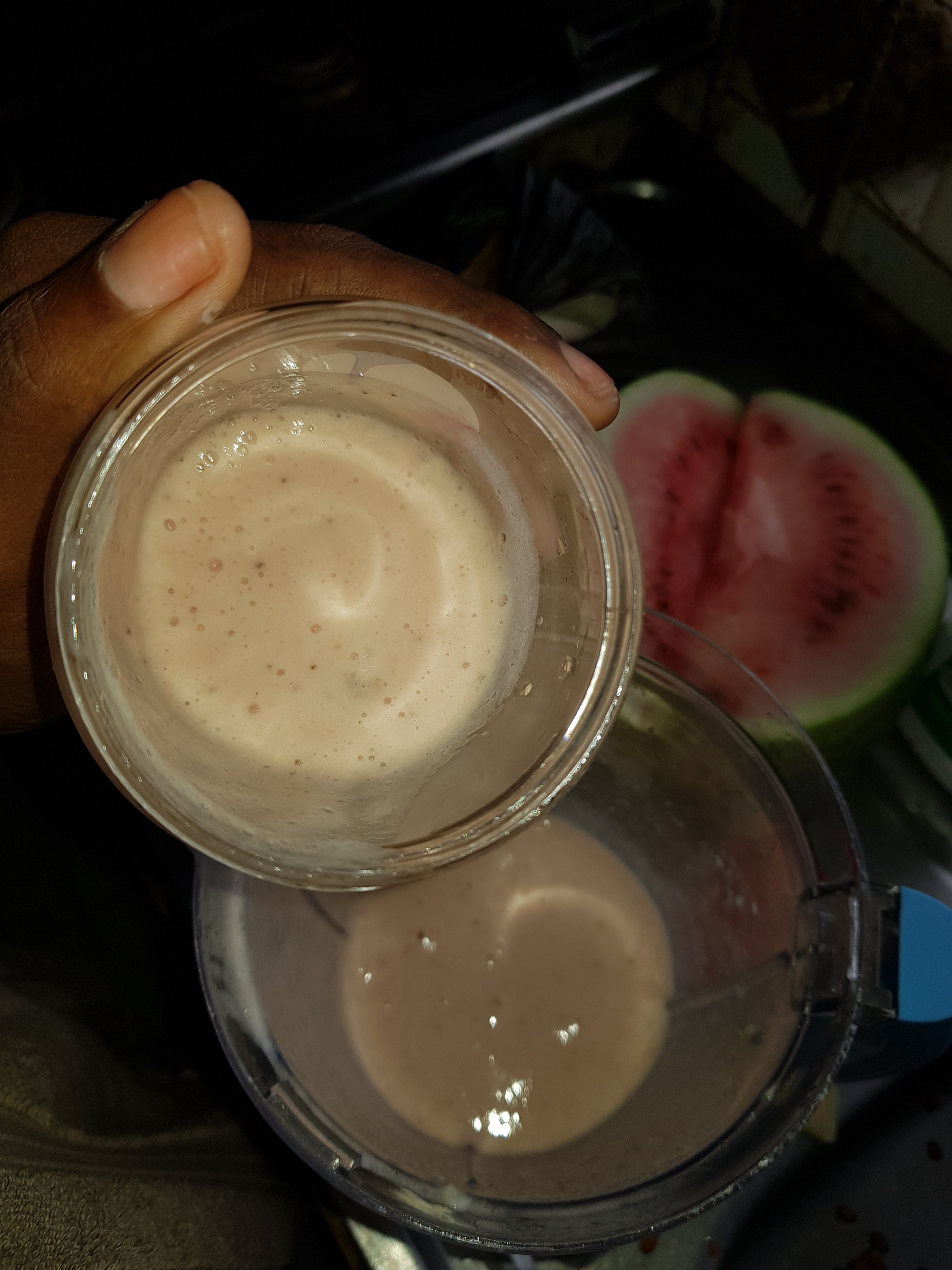 Watermelon, Beetroot, cucumber, and Apple for me with zobo as base.
Served them theirs plus boiled eggs, and put mine in the fridge.
My Admin Coord works on Saturday so she was in at 9 but she pretty much knows what to do. Saturdays are so busy at the Squad so she handled it while I handled domestic.
Hubby bathed the boys, I arranged the home and prepped pancakes for hubby.
Actually I prefer to blend everything which I did and threw in the fridge cos he was good from the smoothie. I blend flour, banana,eggs, milk and cinnamon plus a little pepper and nutmeg and onions even spring onions. Blending makes the paste finer so it's a pretty fluffy yummy pancake.
Then we prayed as a family and he went out. We use TREM Devotional.
By noon, I was going to pass out from exhaustion lol.
Plus my left eye was on fire.
Rang my Doctor and I send a pix as she requests.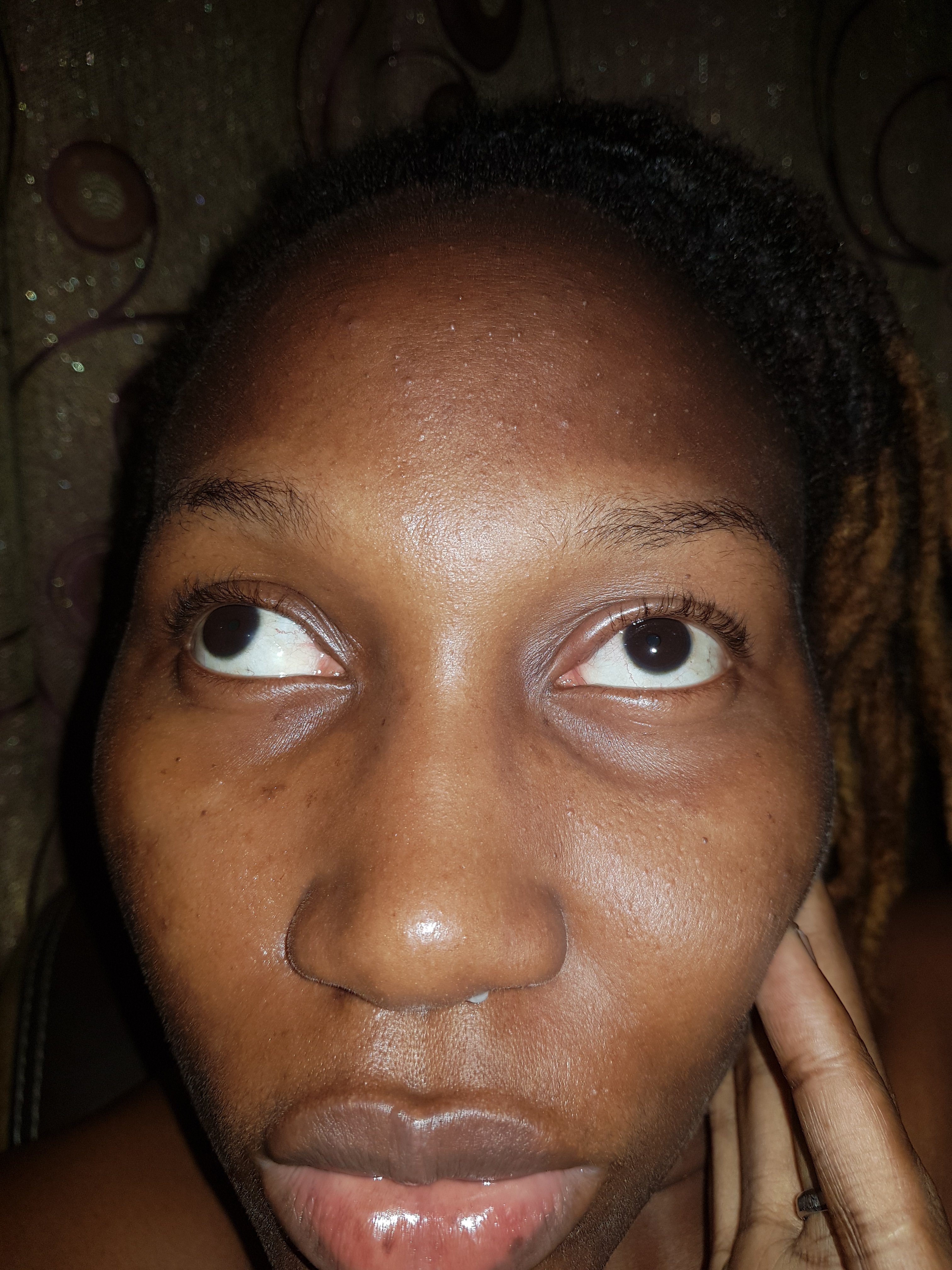 Peek the mild but super painful swelling under the right eye facing you. It hurts and I'm steady teary.
She confirms it's STYE and I get on Google. Sure enough.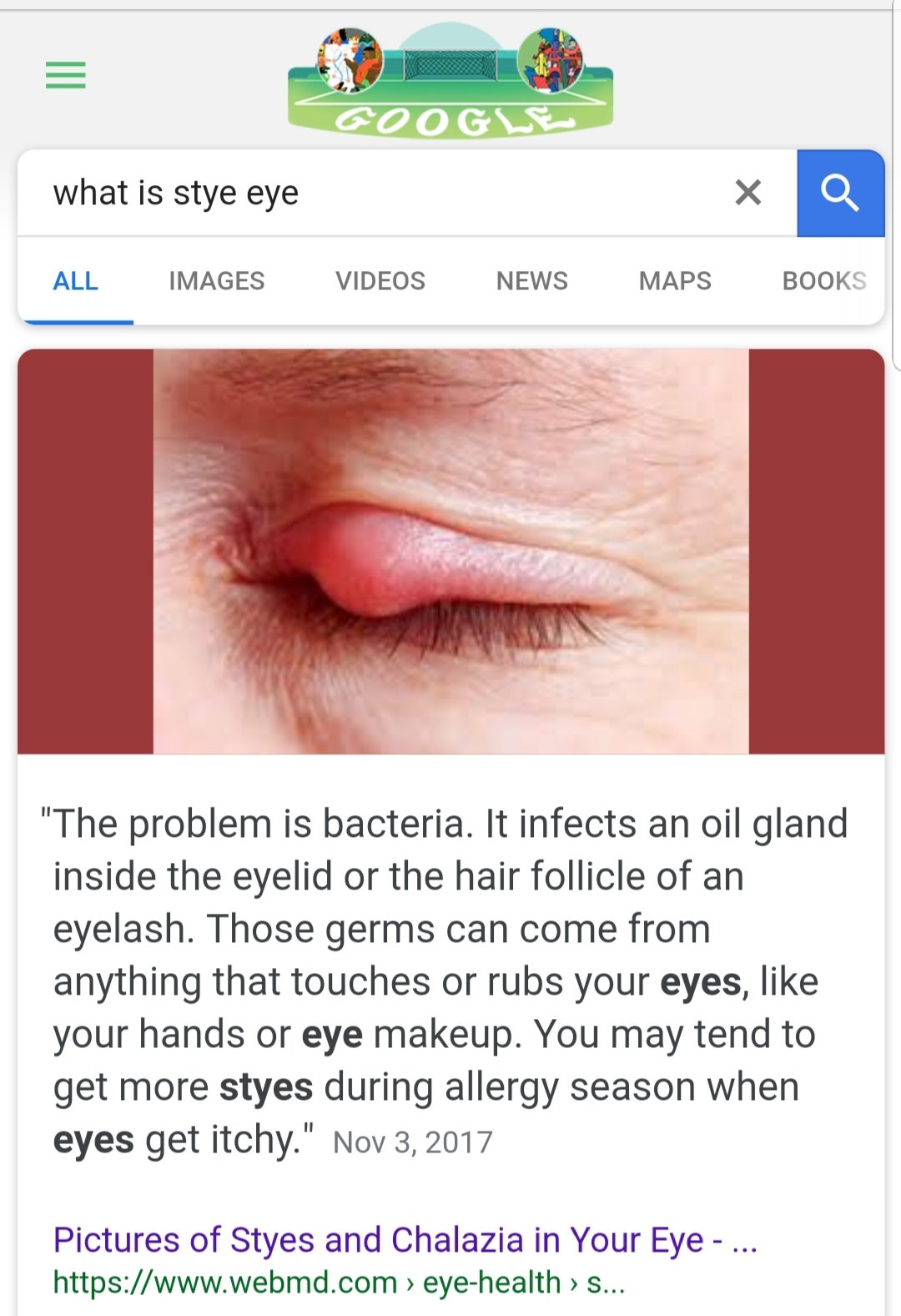 She prescribes some drugs but I can't deal abeg. Been doing the hot towel DAB. It hurts I tell ya.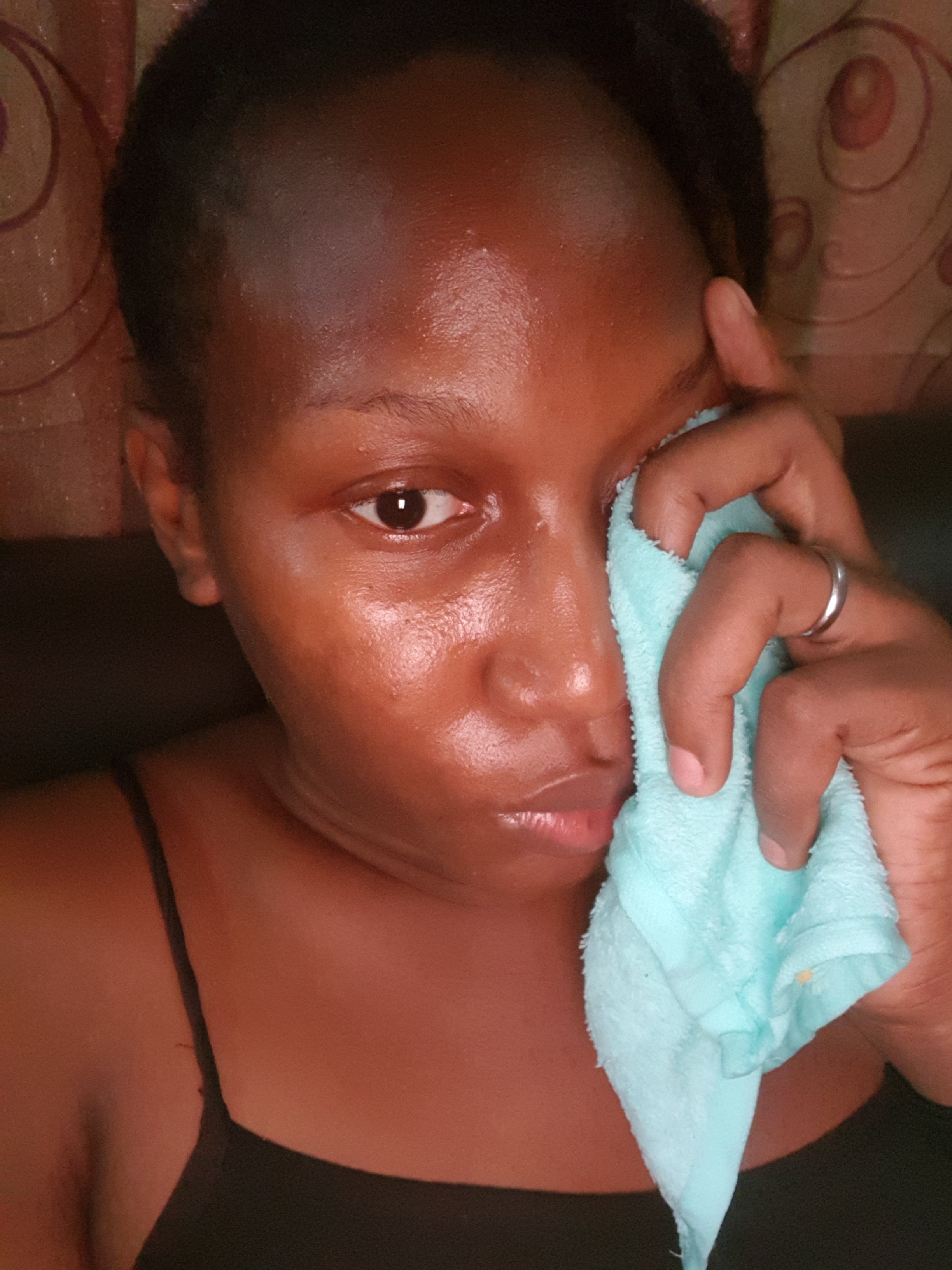 I guess it's a makeup product. My eye shadow is pretty solid but my liner is cheap so it probably is what gave me the bacterial infection.
Btw yawl know the girl learnt PERSONAL MAKEUP right? So I've been slaying everywhere lol.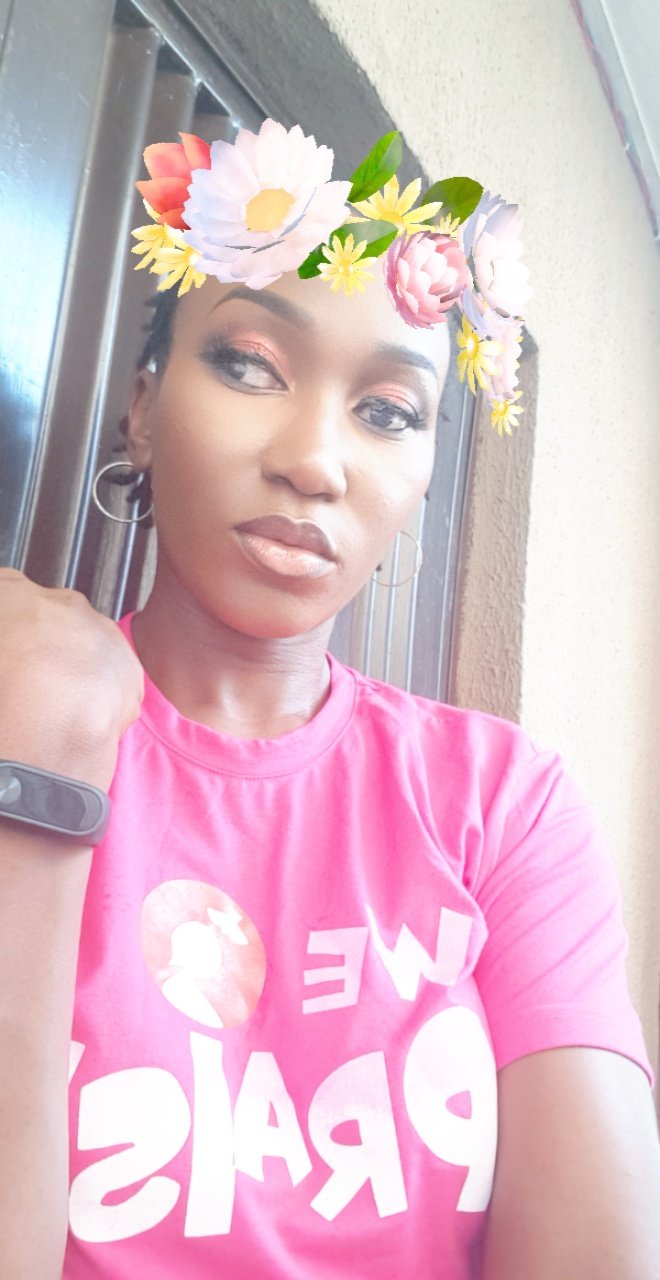 Ok so i didn't feel like the smoothie so I made cereal instead. Then heated up some moimoi for ElJohn and Me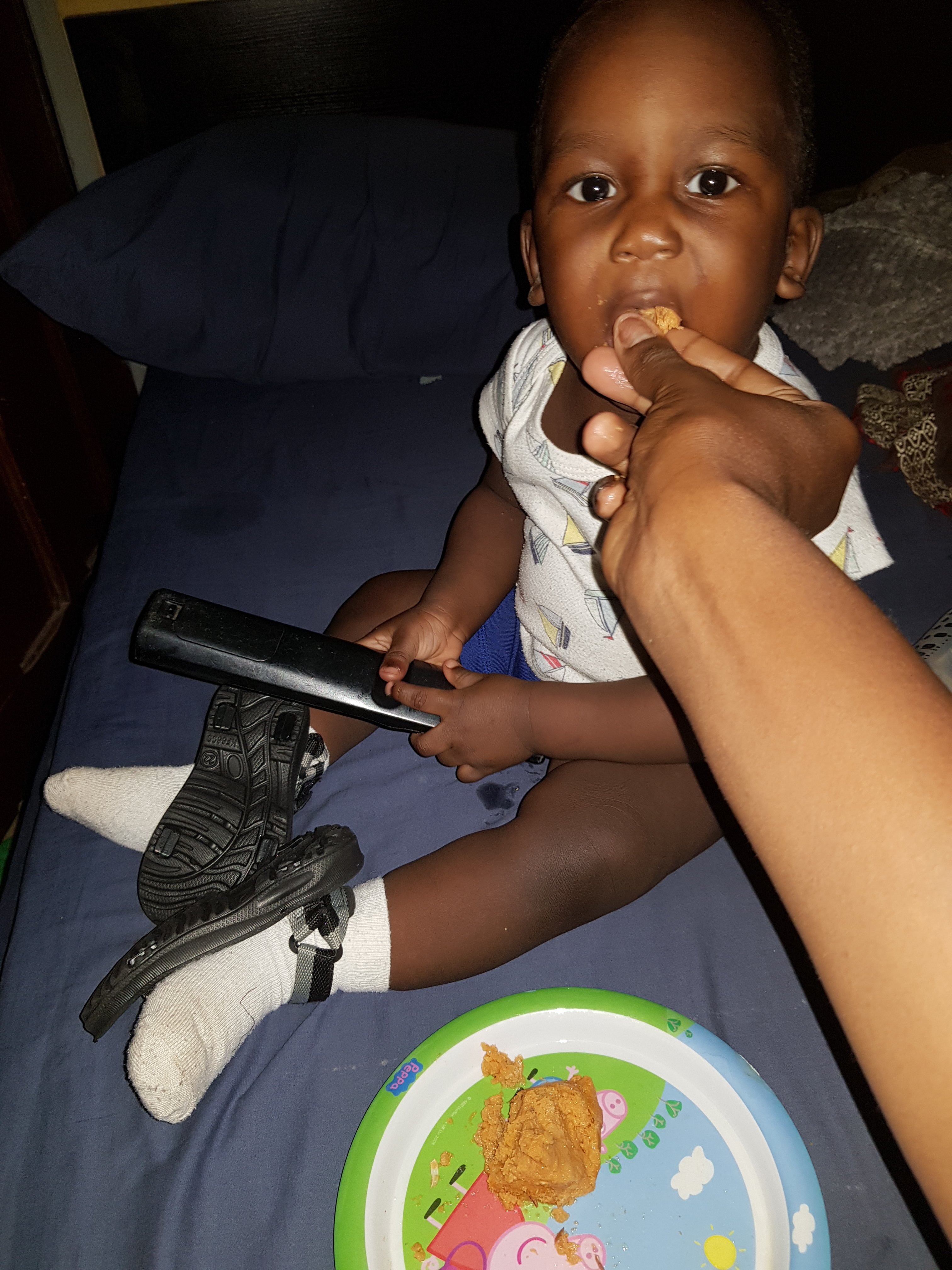 while KingDaveed had bread and tea.
Funmi left at about past 1 and I sent all of us to sleep after I lock door. Couldn't sleep until she left.
We woke at 3pm of which my phone kept ringing ugh, and I made lunch.
Spag and mixed veggies coloured with Turmeric. Then stew and fish. While I had my smoothie.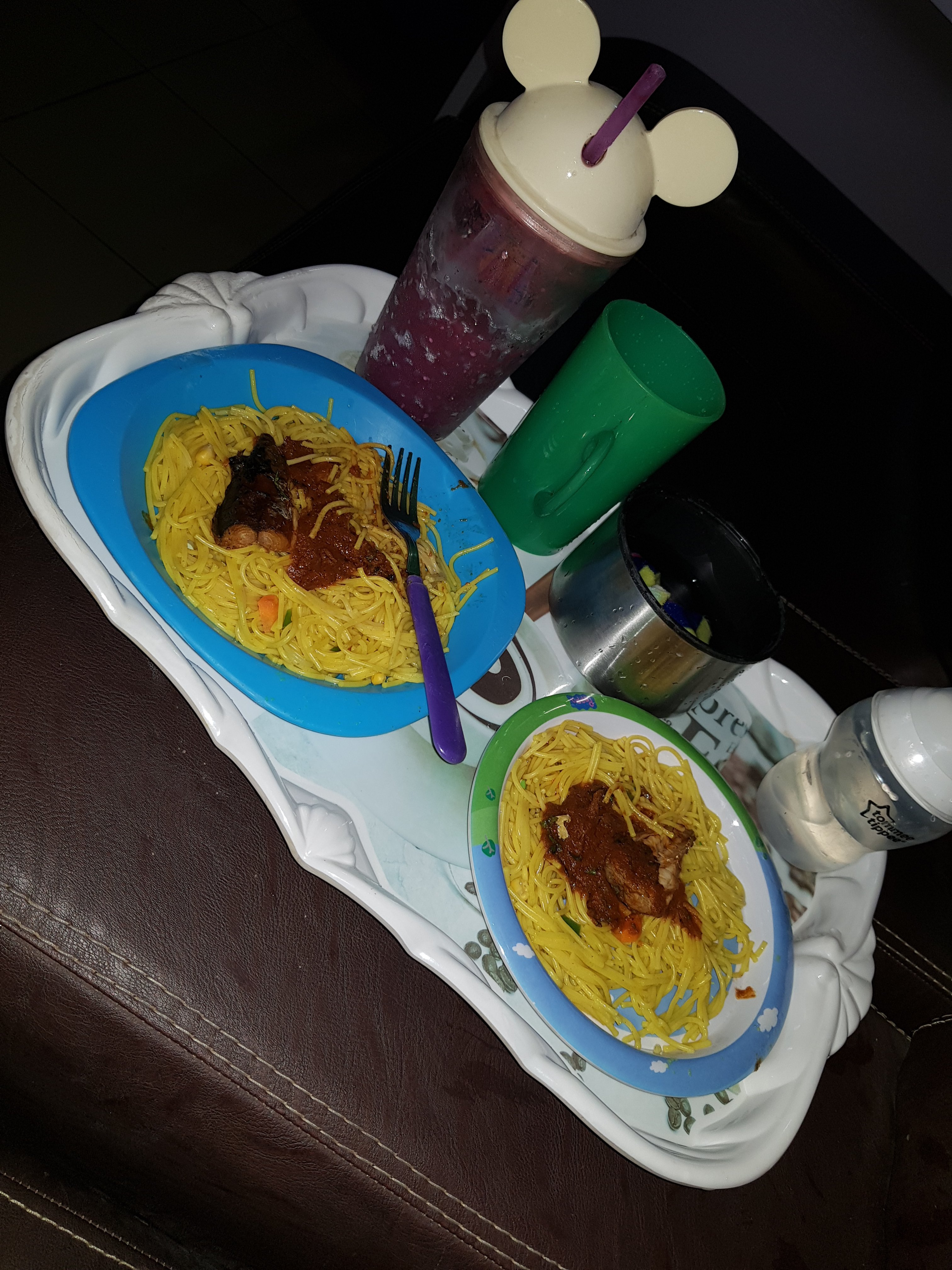 Eyes still on fire and Bolaji says it's getting bigger.
Have a midnight career prayer meeting today and I'm still exhausted but I need to plan to attend. Hubby got home and had his lunch. Pancake paste still in freezer cos he chose spag. Added fried plantain to his and chicken cos he is no fish fan. Plus zobo for all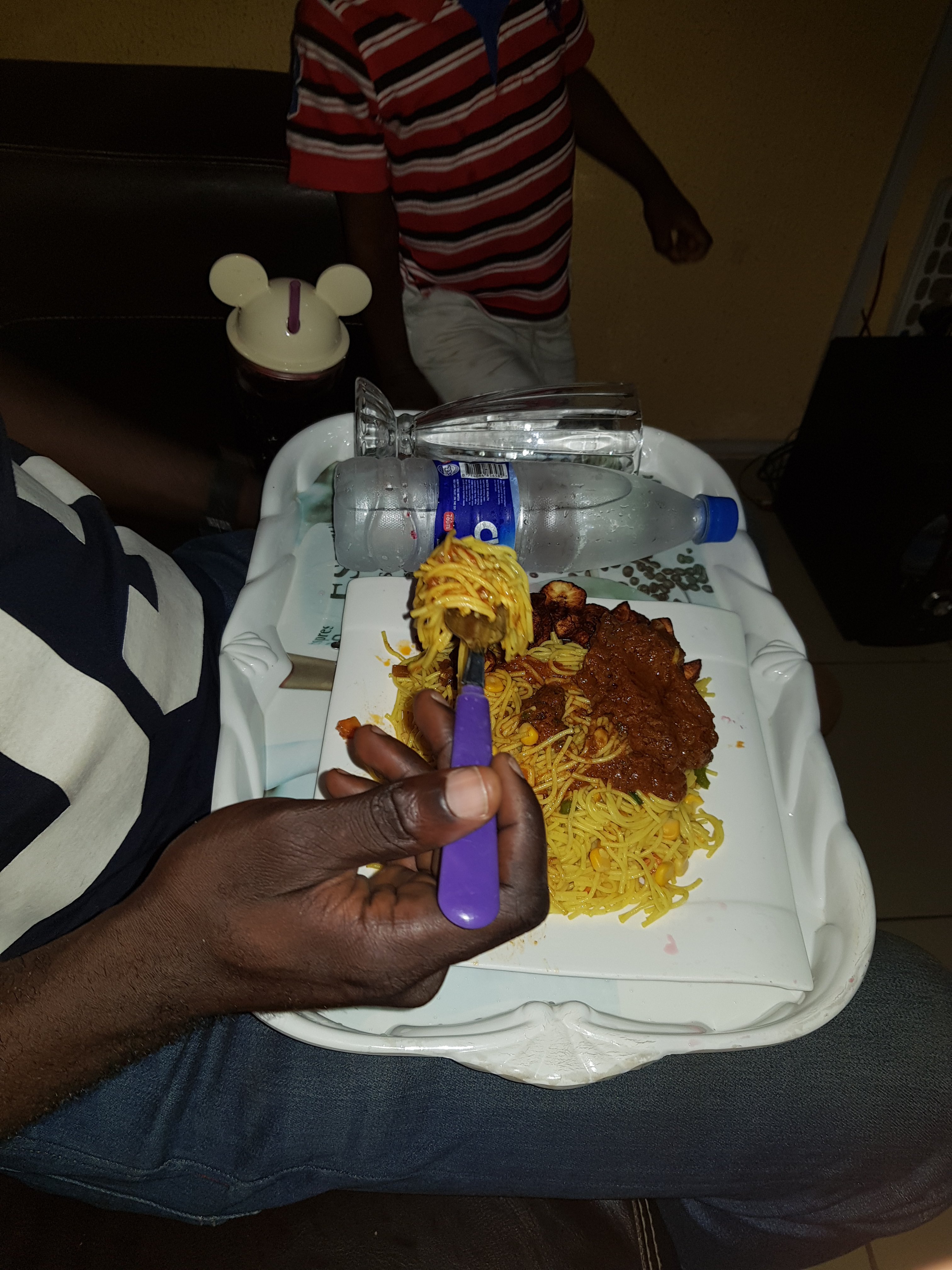 Play play play with kids.
This is the point I am right now but I know how the rest of the day will go.
Bolaji go baff them.
Dinner is amala and okro for them and I doubt Bolaji will have dinner. If he will, maybe something light. Hopefully not like Falz date lol. And no I'm not endorsing those kinda songs biko. Caught it twice on AfMag and I think it's the same girl in Basketmouth's sitcom with a damn banging body. Haha. Flatmates I think.
The Physiotherapist is in tonight in my Squad to educate them per workouts and I've already sorted logistics for that. Not even sure where my work phone is but that's fine cos weekend work is skeletal for me.
I'm gonna try to sleep early today so I can wake at midnight to pray with my sisters and afterwards, do a personal Jesus time.
We going for second service tomorrow and then ElJohn has immunization, we have a baby dedication and then Cell meeting in the evening.
Hubby has been handed Cell Leader at our Cell meeting so that's added responsibility which we are excited about.
Ok let me publish this while I have 2seconds.
Hopefully the Stye inflammation reduces by tomorrow or I'll have to take the drugs. Ugh.
Oh btw I got that Zumba tee for 500 or less sef lol.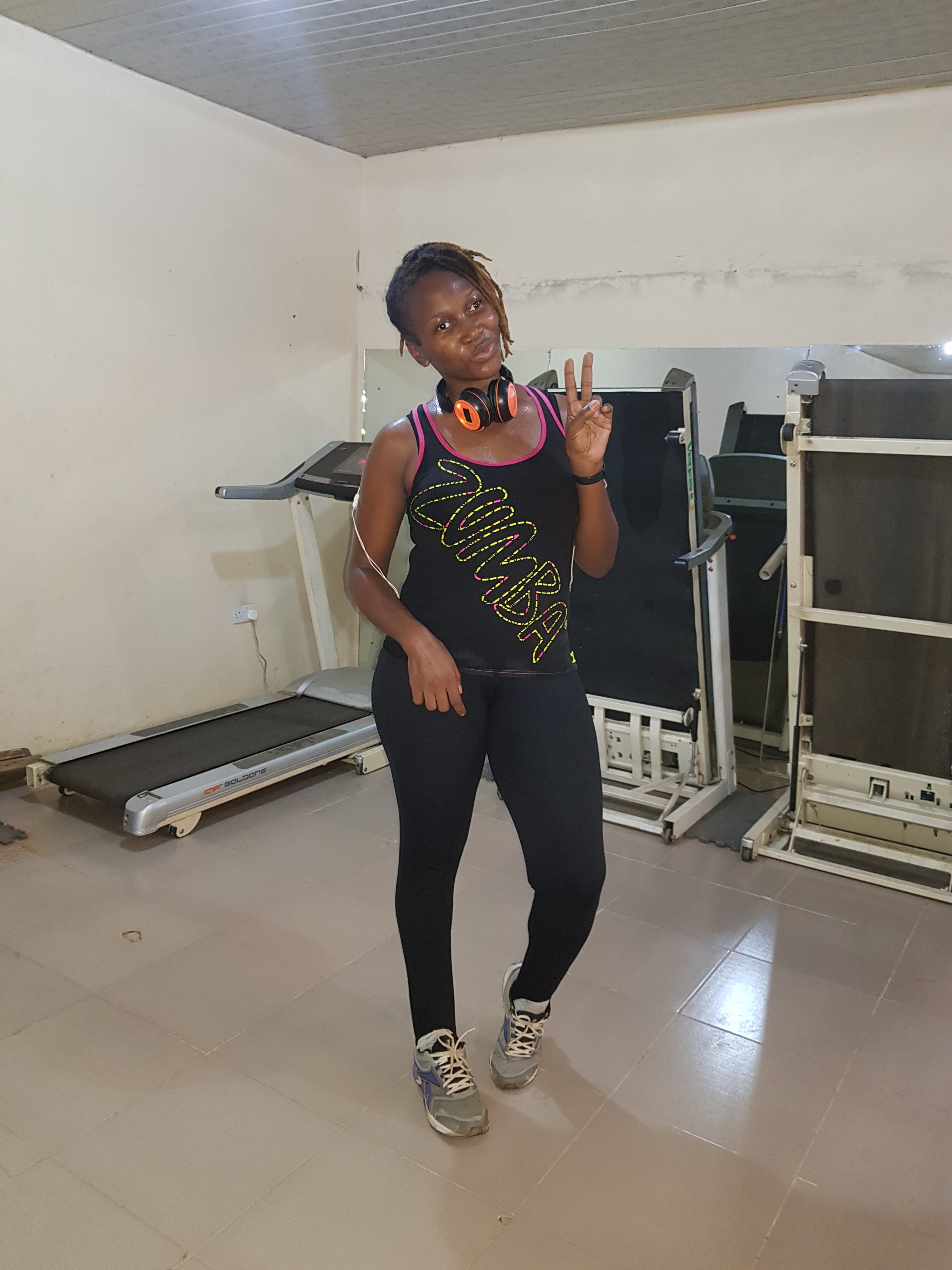 Everyonce in a while, you cop a great thrift deal. Plus shebi it's for sweating last last. Just come home and wash it with hot water and sprinkle the blood of Jesus over whatever jare. Lol
Ngwa bye…
Love
E'