Hey guys,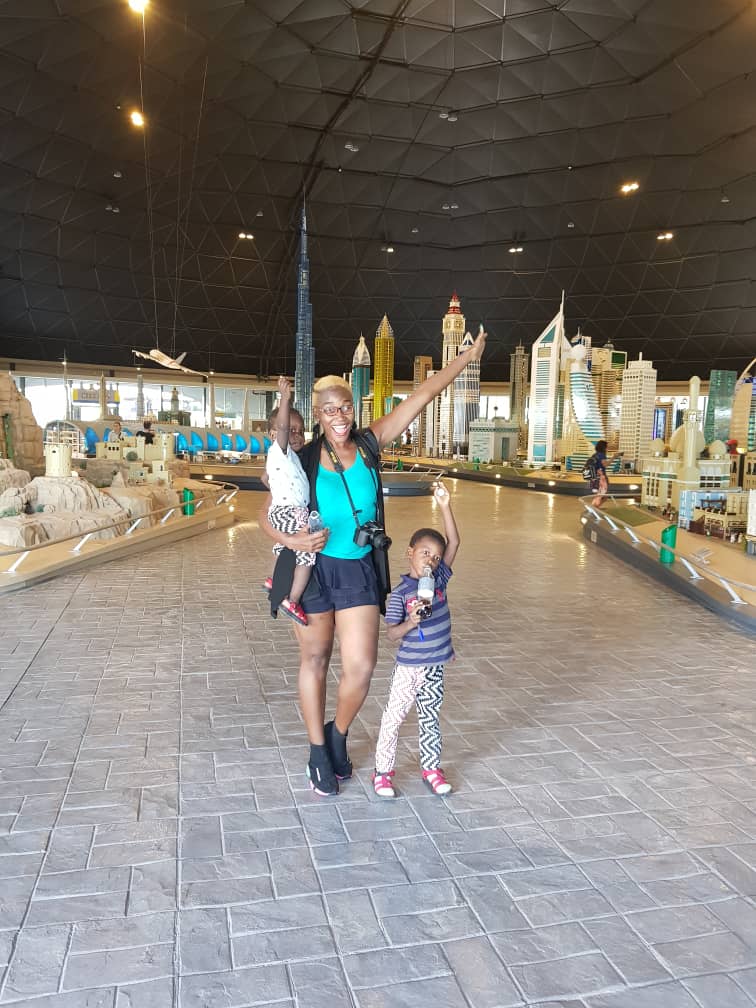 Oh gosh with how amazing my Day 5 was, I truly thought nothing could beat it, but I thought wrong. Day 6 was a whole 'nother level of fun for me especially.
Ok so the plan for the day was Dubai Parks and Resorts (DPR) which has like 5 theme parks and 1 water park.
I had decided on Legoland Dubai and Legoland waterparks and I had bought tickets from Nigeria using my GTBank Dollar card.
Going by Google, this place was far and the shuttle bus that goes there has fixed timings which were all available on their website, with a 1hour 15minute interval. What this meant was I had to be on point with my timings.
Woke the kids a little earlier so we could catch up. For some reason, the Metro station had a different name online from what I saw live but the information desk quickly fixed everything and I was on track.
Alighted at the last stop, joined a free shuttle (so cos of Dubai 2020 expo, a few stations are shut down so they provide free shuttle buses instead to kinda compensate. I can't even imagine what they will come up with for 2020 cos the way they keep announcing it everywhere ehn choi) to the place where I would catch the final bus to DPR.
The bus timing was perfect so when it arrived, we all hopped in, and we were a lot, though there was more than one bus. Gosh, I forgot my bananas and grapes at home and packed only bread so it kinda pained me.
Even forgot water so had to buy water and biscuit for them along the road. I really hate having to buy stuff like water especially cos the difference is crazy. A small bottle at the metro though was 2aed as opposed to the 5aed I had to pay at Kite beach on our day 1.
Anyways, we finally did get to DPR and found our way to Legoland first.
I knew the water park involved lots of water so I wanted to do that lasts. Like IMG worlds, Legoland had some height restrictions and since KingDaveed would not go alone, it meant we missed out on some rides,
but thankfully, there were a lot more attractions that involved the whole family. They had like this huge play area with lots of fun stuff and so my kids could go wild there.
Thankfully after much pleading, on the third try, each involving a queue and long TV tutorials, KingDaveed agreed to go for the car race/driving test alone and imagine the boy, after it he was like he wants to go again.
Sadly, we couldn't cos we had spent time begging him and I had the water parks to hit.
We also did a family boat ride which Oga ElJohn didn't let me steer in peace as he wanted to drive and so we kept bashing everywhere lol.
It was fun though, and generally I enjoyed Legoland.
Oh, how did I miss saying that they don't let you in with food and since I didn't know, my precious bread was top in my bag, and she then told us to finish it or throw it away before leaving. I was so pained cos I had a big bag and would have hidden it conveniently.
I sha found what I thought was a safe place to keep it but by the time I came out, it was gone. We had to buy refreshments there and here a small bottle of water cost 8aed!!! For context see our big water bottle at home which costs 5.25aed and compare to what I paid 8aed for.
Kai. It pained me ooo. Also got drinks again which were overpriced but I knew the kids would be hungry. Infact everything Legoland (and generally most fun places) are SUPER PRICEY so it pays you to just carry your own stuff.
Where he did the car ride and driving test, they take your pix and give you a driver's license afterwards. If you want to use your pix for the license, I think it costs 140aed or so, Imagine!!!
For paper and a holder. I just waka'd away. Ah no, legoland is PRICEY mehn. Even all the souvenirs they had were over the top expensive. Or maybe I am just an alaroro who knows. Lol
At about 4, we moved to the Waterparks and here, you need proper swim wear which of course I was ready for. I went and we quickly changed and joined in the water fun.
Kai that place was DA BOMB. If you love water, you would LOVE this place. So many water activities from river rafting, to this water fountain extra sort of thing where they had slides and stuff with water pouring on you every step of the way from different angles.
Gosh it was DA BOMB. My kids were about to come with their drama cos the water was a tad overwhelming for them so thankfully, they were humbled enough to sit one place (since I could threaten them that I would take them back to the water lol) while I went and had ALL THE FUN.
If you are an adult, GO TO LEGOLAND WATERPARKS!!! This is a must. Some slides are like this endless dark tunnel and ooooooooo long so you will be super scared at first.
Some were open so at least you could see as you were spiraling down. The spiral down is more fun when you lay flat as you go faster and it is generally crazier.
Oh gosh I had fun. We also went river rafting with floaters. I had planned to use a double floater so I could carry ElJohn and KingDaveed could stay in one but he no gree so only ElJohn and I went.
It was an almost 15min abi 20min slow float through the water. So relaxing and so fun. Eljohn even slept off and I would have too if I was not conscious of a baby on me.
Plus, they had life guards say every 10feet so we were safe. Of course, KingDaveed was crying by the time we got back but the officials there had tried to placate him. Me I didn't mind ooo. If you don't want to have fun, then don't stop me so I was happy to leave him and both of them when I had to.
I went back to that fountain place and enjoyed myself until closing. Had so much fun that my acrylic nails fell off, imagine.
Just 2 though. I however forgot that the bus I planned to leave with departs at 6.10 so me staying till closing and then having to dress up and walk back to the gate which was quite a walk meant 10mins could NOT do it.
Got to the park at 6.25pm hoping for a miracle somehow as a Nigerian lol but no dice, the bus had left and the next wasn't coming till 7.25 ah!!!
Had to take a taxi which now cost me 51aed. The bus was 5aed. With all that extra cash on taxi and the stuff we bought inside legoland, the money I had said I would use to fly back to the Souk on Monday was gone.
I mean with as little as 100aed, I would have found enough gifts for my people back home but no show. Chai!!! From taxi, I took the free shuttle bus then Metro back home for 5aed.
Kids were so hungry I had to buy stuff for them at the Metro station. We got in at about past 8 and went to Burger King in the neighborhood for our now famous 1aed ice cream cones and then I found this Indonesian restaurant where a whole meal cost 23aed.
I was happy to try it out mehn!!! It was OK and I especially loved the chicken. After all that, we went upstairs, I fed the kids and wham, we all went to sleep.

Oh, I forgot to mention, I left at the same time as one of the other ladies in the apartment. Her Dubai stay was over today so we got talking about what brought her and the likes. Thought she was American but turns out she is Croatian and she was there for work. She was heavily lamenting that 5days in this city and she saw nothing as work was morning till 1am most days.
Her flight that day was 1am so she said she would do a bit of sightseeing before leaving finally. We had issues locking the apartment so we left it open and it was SAFE!!!

In the lift, she asked me if I was a designer and I found the question amusing. She was like cos of the hair, the dressing, she also loved my kids pant (they wore Ankara on that day) and she said she was there for a designer festival and I looked like some of them haha. I laughed so hard.
Anyways, we had some drama in the lift when KingDaveed decided to jump out and the door closed before we knew it and wham, the lift left him. I had to stop at another floor, wait again for another lift, then go back up. Of course, he had cried then somehow found himself in the service room. I was a bit stunned when I didn't see him on the floor so I called his name and he came out. Lol.
KingDaveed is so dramatic lol.

Anyways he learned his lesson and subsequently, waits for me to get out first.

In all, day 6 was really amazing though my own mistakes of forgetting our food, not hiding the bread well enough and having to take a taxi meant Day 7 which had Jumeirah beach on my schedule and then a quick run to the Souks before then got cancelled as I could not afford both places again conveniently. But still the day was SUPER and when next I am in Dubai, I am definitely hitting the LEGOLAND WATER PARKS
See you tomorrow with my Day 7!!!