, . Hey Day 3 baby… and everything we did today was in the Dubai Mall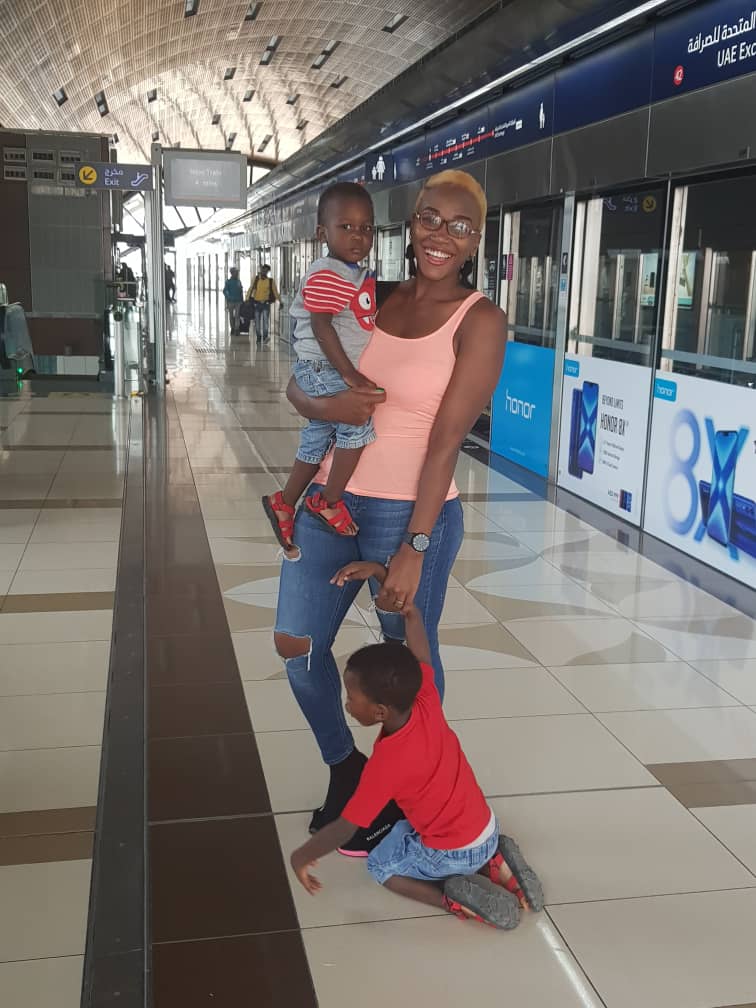 Can I begin by saying how on Wednesday, I dealt with a deep dark feeling of guilt? Among other things, my workaholic self felt guilty for taking a break.
I mean it was just crazy so I confided in a few of my people and had them pray with me cos satan was messing. Plus, something had happened back at home that threw me off kilter a bit. Thankfully, my husband was like you guys just keep going on with your plans.
Satan is a big fool and loser sha…
Thank YOU JESUS!!!
Ok on to the spectacular Day 3. ElJohn and I woke early but KingDaveed had to be woken at 10am
guys!!! Phew!!! Ok so we did all the morning runs, gave them oats and bread for breakfast, then packed up a big bag like I mentioned yesterday lol. In the bag, I had grapes, bread, banana, boiled egg and water. Yaaas!!!
No need to over spend on food biko.
Also gisted with my host and second house guest. Found out my host is actually Egyptian whose family lives in Australia and she moved to Dubai two years ago. She was super impressed with my itinerary and was asking me for tips as she wanted her niece to come over for the holiday.
The other guest is Lebanese so safe to say it is the United Nations at our apartment as the third guest is American.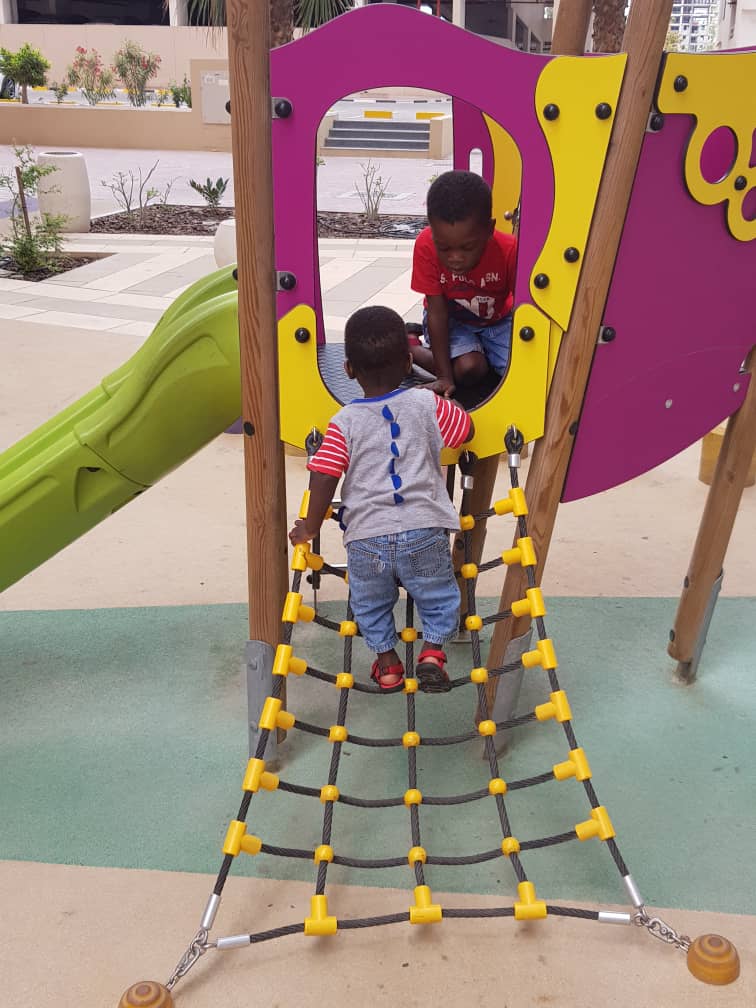 We left at about 11 and like I said, we did a bit of sight-seeing and neighbourhood play. My apartment has a ton of places to eat around and I entered a few to see prices. Should try out a restaurant maybe on Sunday, but Burger King got my attention cos they had this 1AED ice cream cone. Loved it for a few reasons
Price… D'uh lool. That is just N100 box haha
Size. If your kids are going to indulge in a treat, always go for the smaller size portions
Price… Oh I already mentioned lol
Plus, they had burgers for as cheap at 5AED and more stuff sef. I made a mental note to try it Friday morning before church
Ok so after all that, we flew to The Dubai mall as on the itinerary today, we were going to Top of the Burj and The Dubai Aquarium and Underground zoo
I had paid for it from Nigeria using my GTBank Dollar Mastercard and you get a generous discount if you pay ahead and online.
The queues are crazy so I guess it is a way to encourage online paying. Plus, if you book the top of the Burj and Dubai Aquarium together, you get a further 40USd discount or so, but you have to book from the Top of the Burj website instead.
Haha, my research worked. Both are actually a bit pricey so any discount is welcome. Thankfully ElJohn was free yay!!!

Booked the 12.30pm slot and even though DM is close to my apartment, I sort of got carried away sight-seeing the beautiful neighbourhood so we had to literally fly as if you miss your slot, that is it. Got in at the nick of time and joined the VERY LONG WINDING queue of those who were registered already to go in. Ah it was long!!!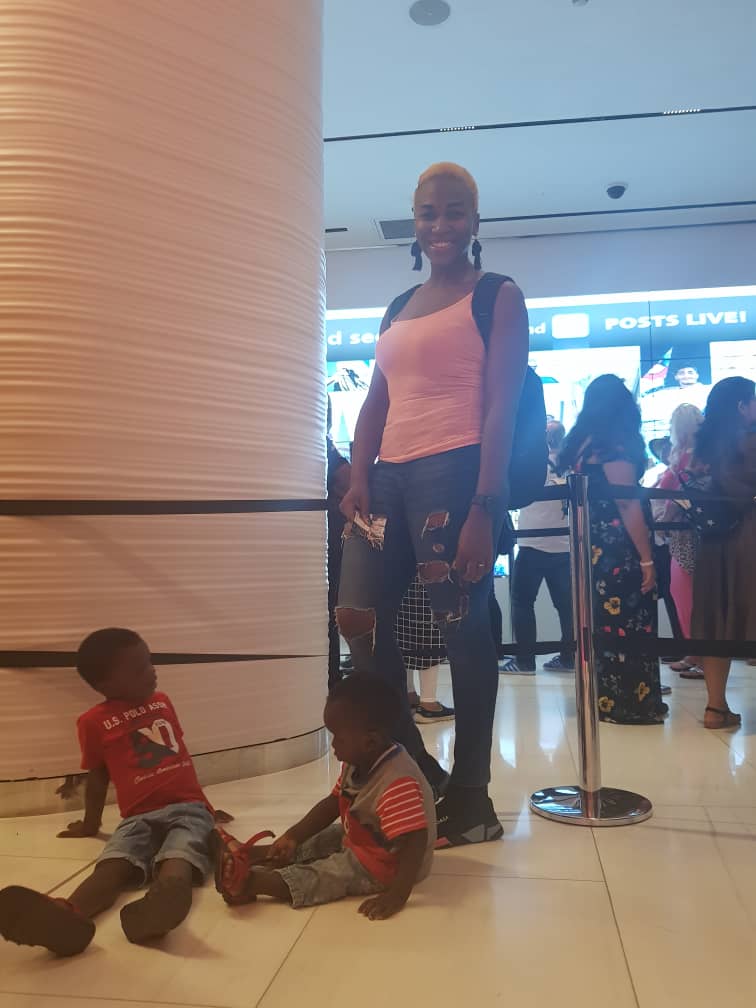 Finally, we got through the many checks with my kids finishing the banana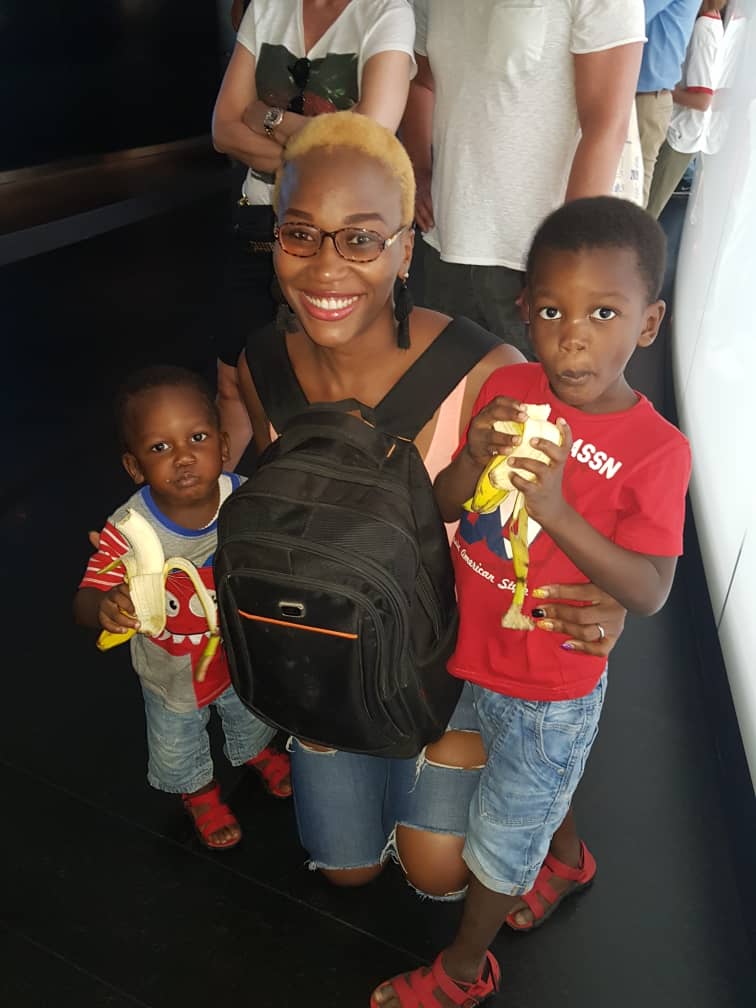 and now eating the bread as we hit the top.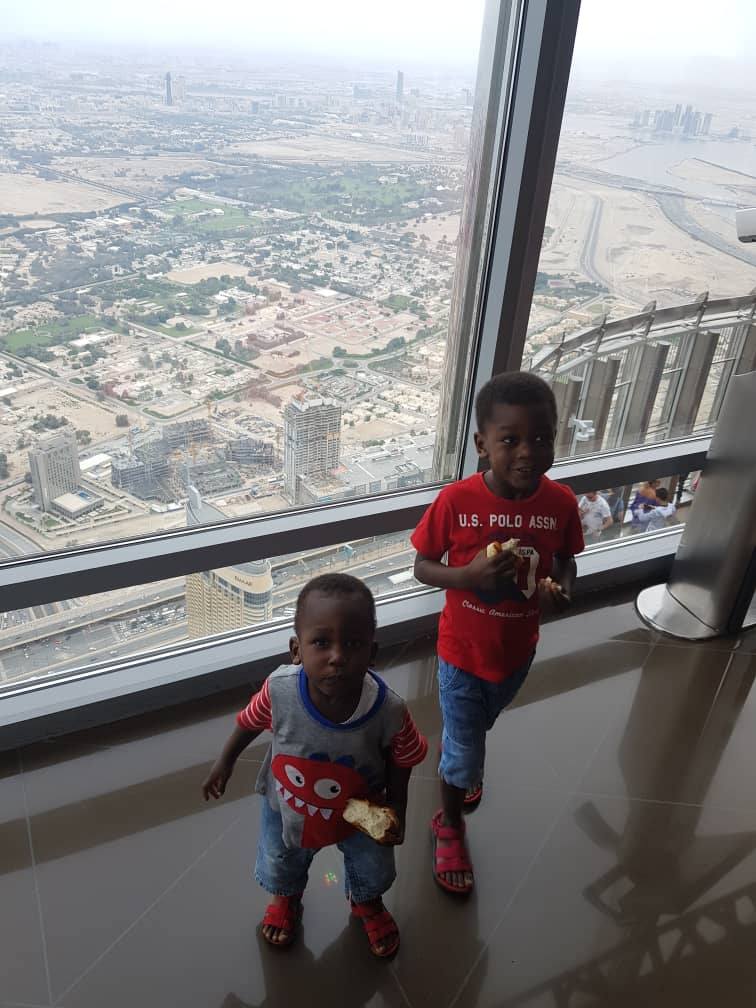 The floors are 124 and the lift gets there in 60seconds!!! That is INSANE!!!
Gosh!!!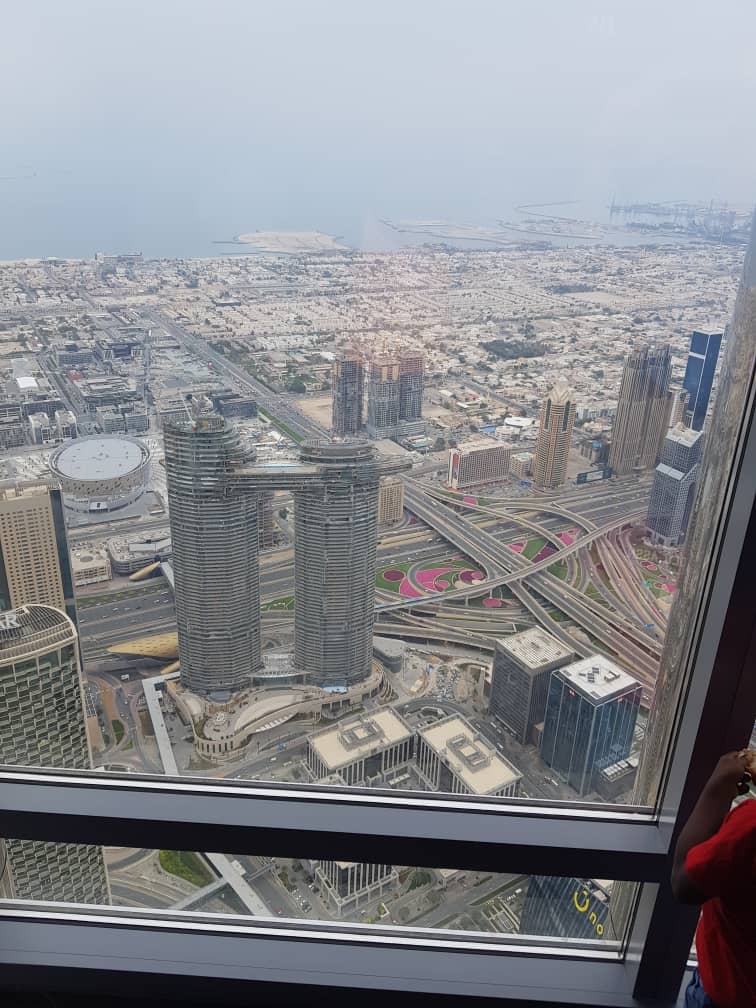 The view at the Top is da bomb!!! I wish there was an open sky segment though so we could see whether if we stretched enough, we would touch heaven lol.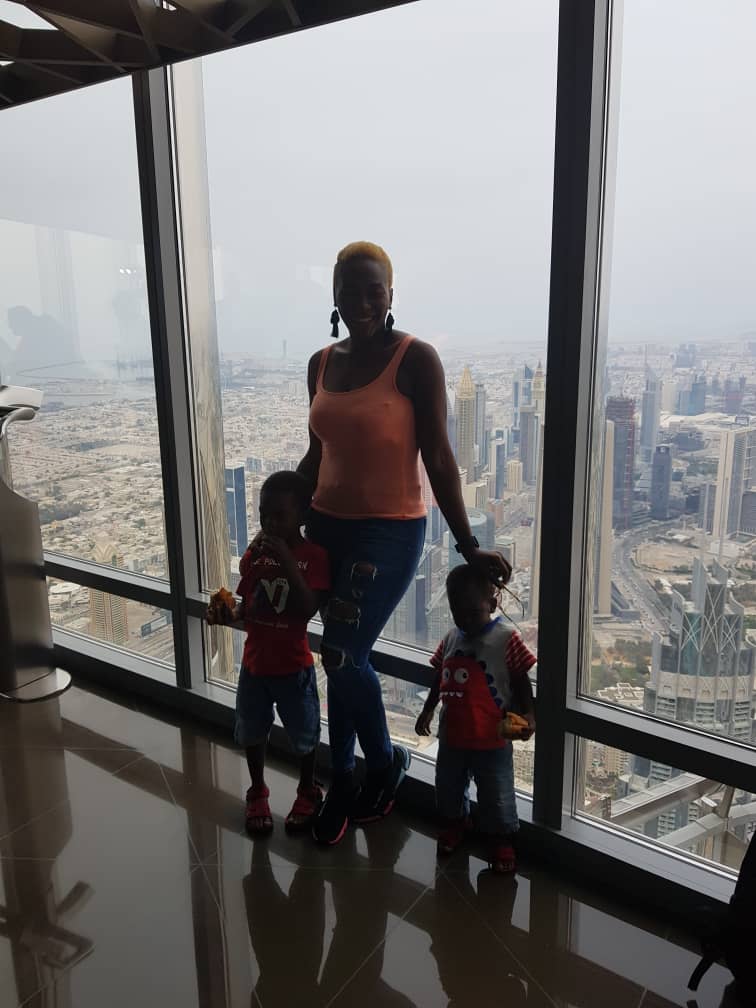 Pictures pictures pictures and then sight seeing as there is a shop that sells souvenirs there, which are VERY PRICEY so I held my kids tight lol. Truth is At the Top has many exciting things to do and you are not timed there so feel free to explore.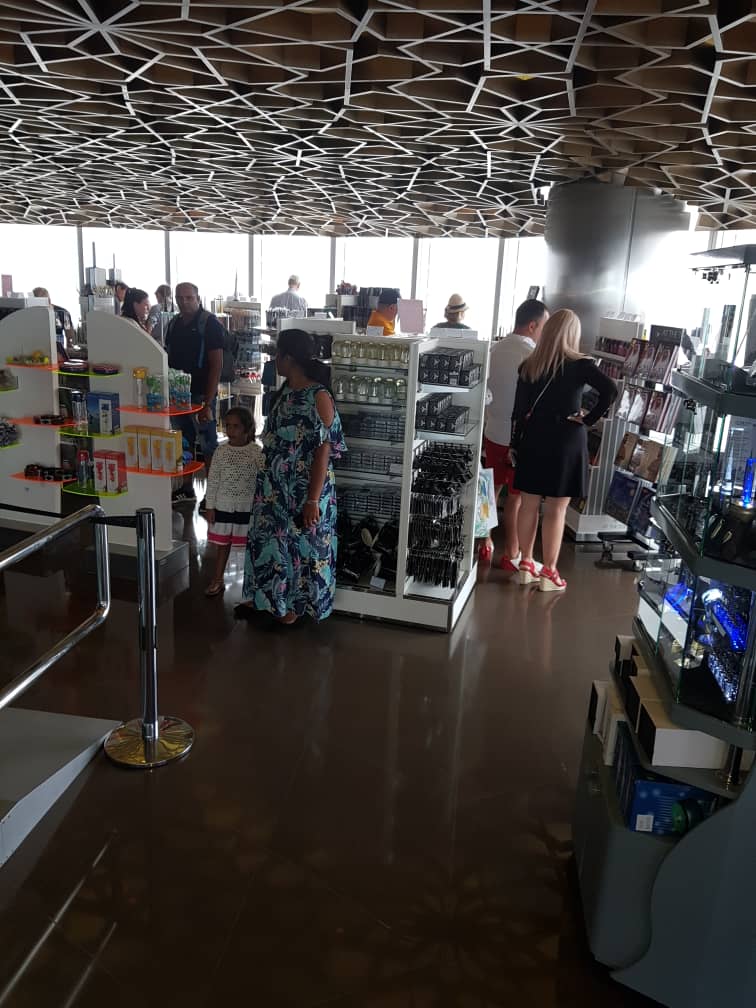 Almost forgot to add that the way the Top is set up, you can't really get bright pictures with the beautiful view at the background cos then you are backing the light.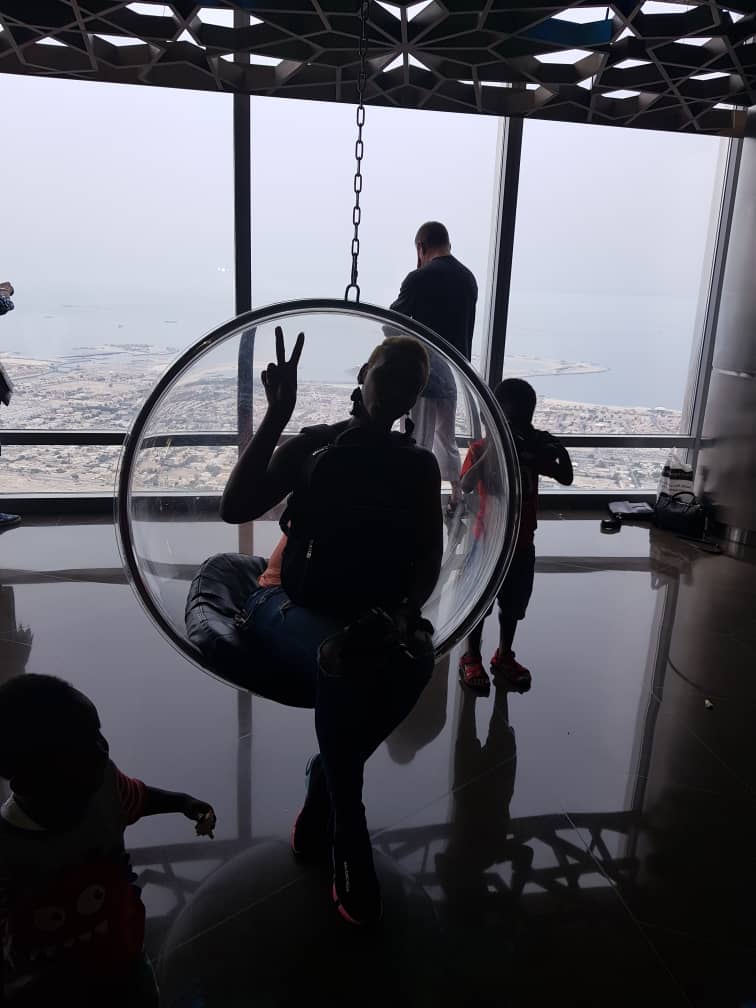 We had professional camera men at the top so I agreed to take on with the kids thinking they would somehow, plus of course I took with my phone and camera too. I sha went to the place of collection to see it and indeed it was SO BEAUTIFUL but with a background of the Burj and Dubai fountain instead of that view from the top.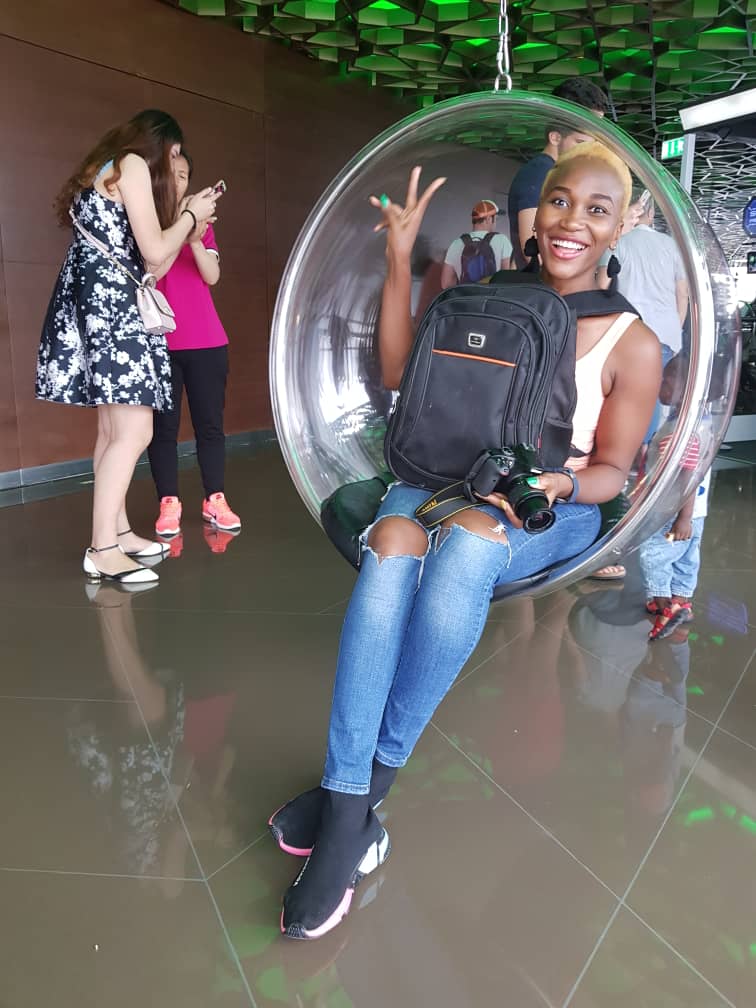 It was 300plus AED with the frame and 100AED for JUST A PICTURE. Hmmm, I told them I will be right back, let me think on it. It really was pretty though cos it really captured the full height of the Burj and a great keepsake but N10,000 haba!!! I need to find a way to see if I can save cost from somewhere before I go pick it.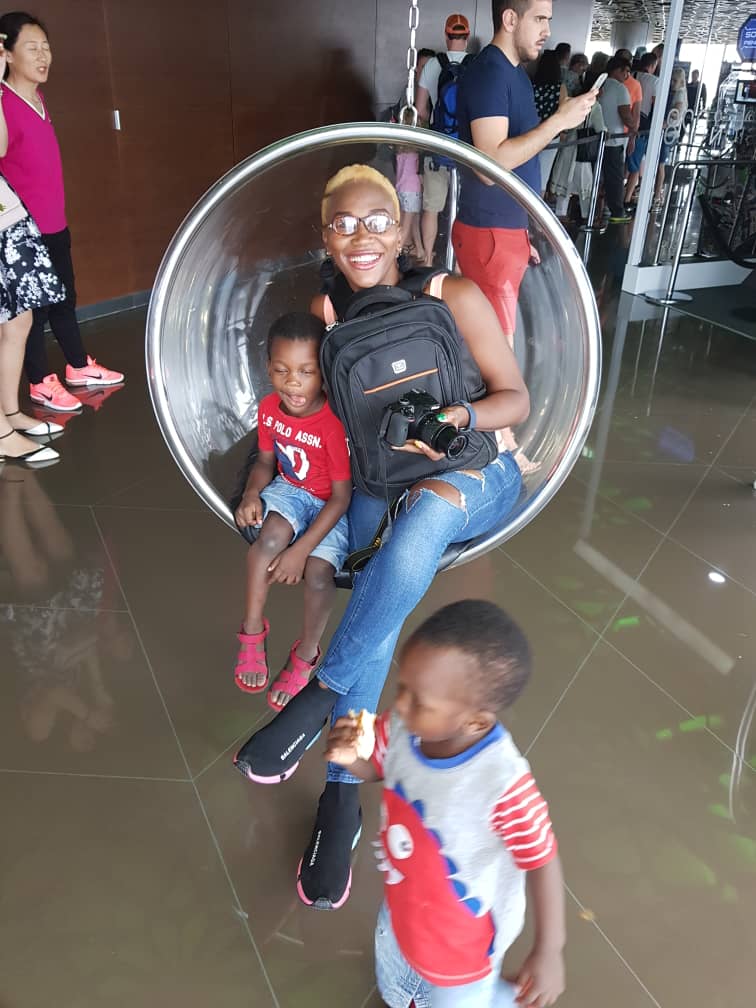 Time to leave and both kids were cutting up like crazy, then guess what happened? We got fast tracked from the VERY LONG queue again and were given priority pass to the front of the line. The next available lift and wham, we were whisked in. Yay!!!
Lol

After we descended, I went to the Food court to grab a bite and find Burger King since I saw it was also in DM. got a chance to try the cones and it was nice. For N100, it was even big. Lol. I also bought Egyptian rice and chicken.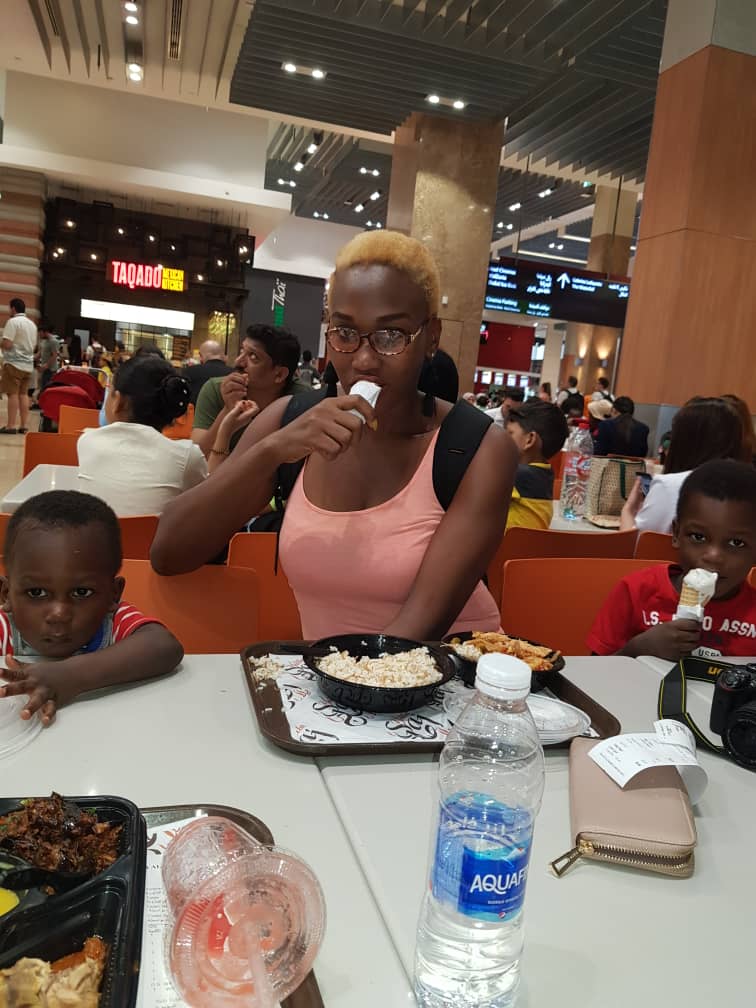 Truth is at the Food court, you can find literally everything from a number of vendors. My food cost 28AED which was fair. They had jollof rice too, just all kinds of food from different countries. And fairly priced too.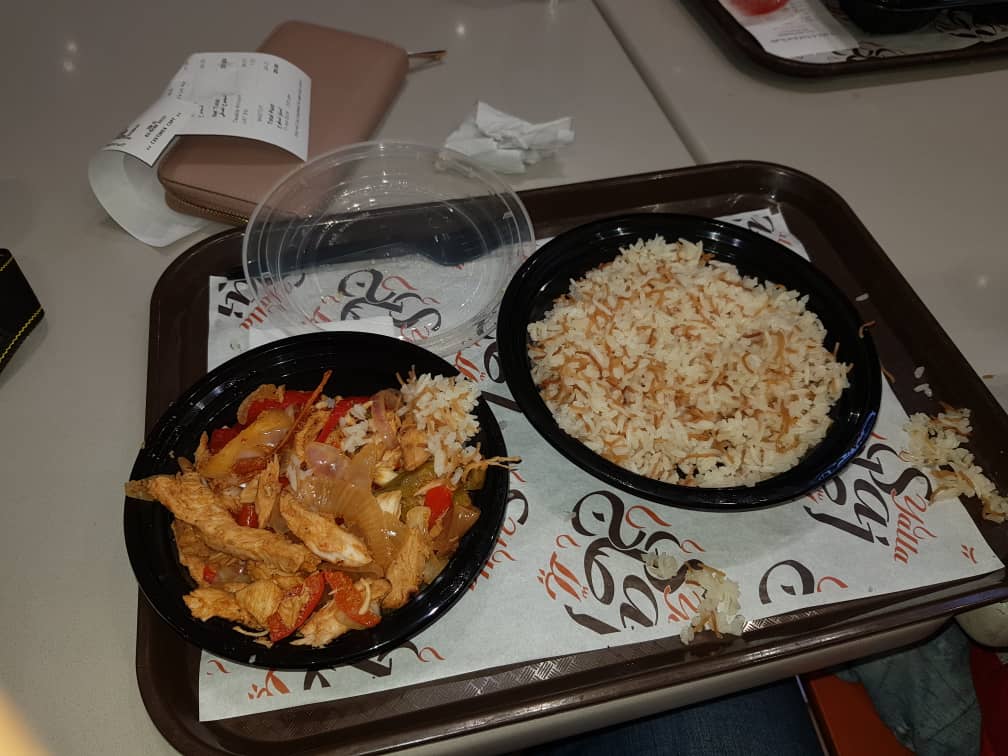 With food in my belly and plenty mommy I want to wee-wee out of the way, we proceeded to The Dubai Aquarium and Underwater zoo.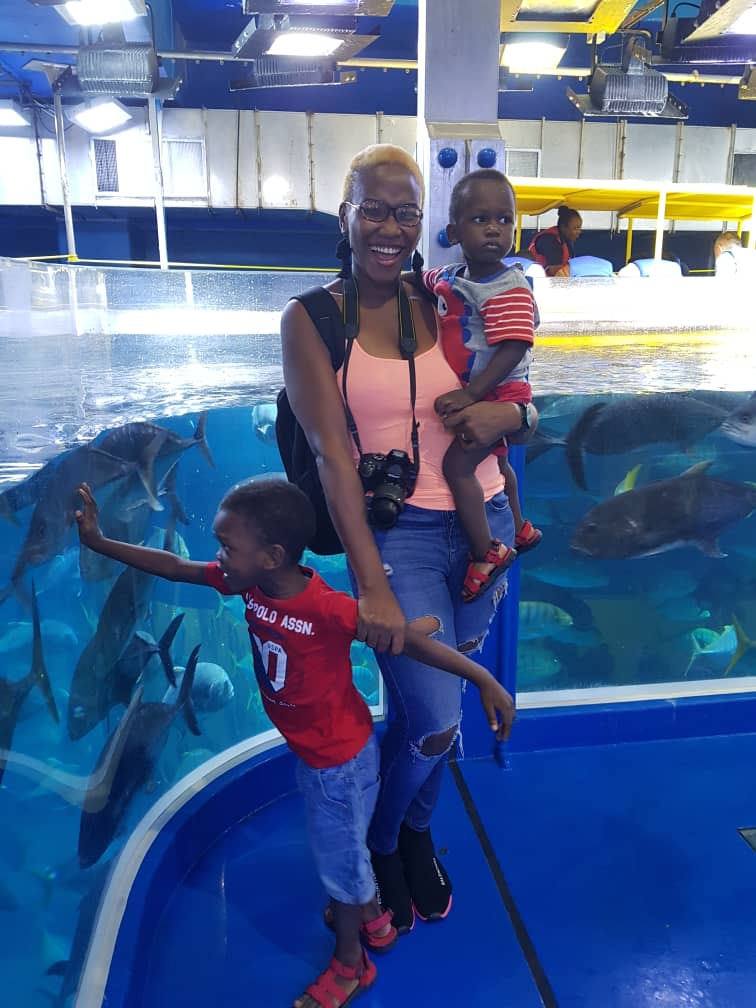 I had paid for the Explorer experience and she asked if I wanted to upgrade to a VIP something or so. It would have cost us 75AED and it had access to where the sharks were, feeding the fish and more, including a boat ride through the HUGE tank.
I agreed as I thought it was fair. Again, LONG queues and all, but finally we got in and the tour guide took us through all the many fishes and history and feeding and co.
It was just UNREAL plus it had a funny smell as expected. This was real life fish and all the processes. We saw plenty baby fish too. So cute. We saw the sharks and more. The tanks were open though high, so they warned those of us with kids to restrain them.
Then we had a simulated under water experience which they had warned us to ask to be let out if we were scared lol. Like you feel the waves of the sea and all. It was cool. Like a journey under the water.

The final thing was the boat ride and after the long queue lol, when it was our turn, we realised that ElJohn could not go into the boat for the ride.
They asked if I had anyone to keep him with and I said no, plus KingDaveed couldn't go alone either. They sha did some back and forth then someone came and asked if it was Ok, they refunded my money since I wasn't told at the point of upgrade
Chilllleeeeee, I was like YAAAAAS lol. We had enjoyed the VIP experience save the boat ride which would have been cool, but hey, we got a full refund!!!
Whoop!!! 70AED saved.
After then, we proceeded to the Aquarium section, which was the Explorer experience I had paid for earlier.
Frankly after that tour, I was TIRED so I skipped the underwater zoo (except it was merged into the same place cos we had some animals there.
I doubt though as I was directed to go scan my tickets like 2 floors below for that but we were tired. Plus, it felt like I had had my money's worth.
We quickly got another ice cream cone (yay for 1AED lol) and started the waka home.

On the way to the Metro, KingDaveed was really being naughty so I quickly pulled into the toilet and spanked him well. Yes, I also travelled with my cane. He behaved better after that. We got home, KingDaveed said he wanted spag so I made that. ElJohn slept off before he even had a chance to bath but I woke him up sha. He also had golden morn too and both of them dropped to sleep almost immediately.

While I caught up with hubby and a couple of chats…
Because I made most of my payments today with my card, it was just the 9AED we spent of ice cream that was my day's expenses, plus the extra 70AED refund yay!!!
Love that this trip is SO on point per my budget. So proud of me
Dropped off the sleep soon after the kids though. Dubai Mall is HUGE abeg and there was plenty waka inside it today.
Ok Day 4 has a MAJOR attraction and fingers are crossed KingDaveed likes it cos hint hint, it is an action packed one…
See you tomorrow!!!
Love
Eziaha