Dubai Diaries Day 2: Dubai Miracle/Butterfly Garden, Vox cinema and Carrefour supermarket (MOE)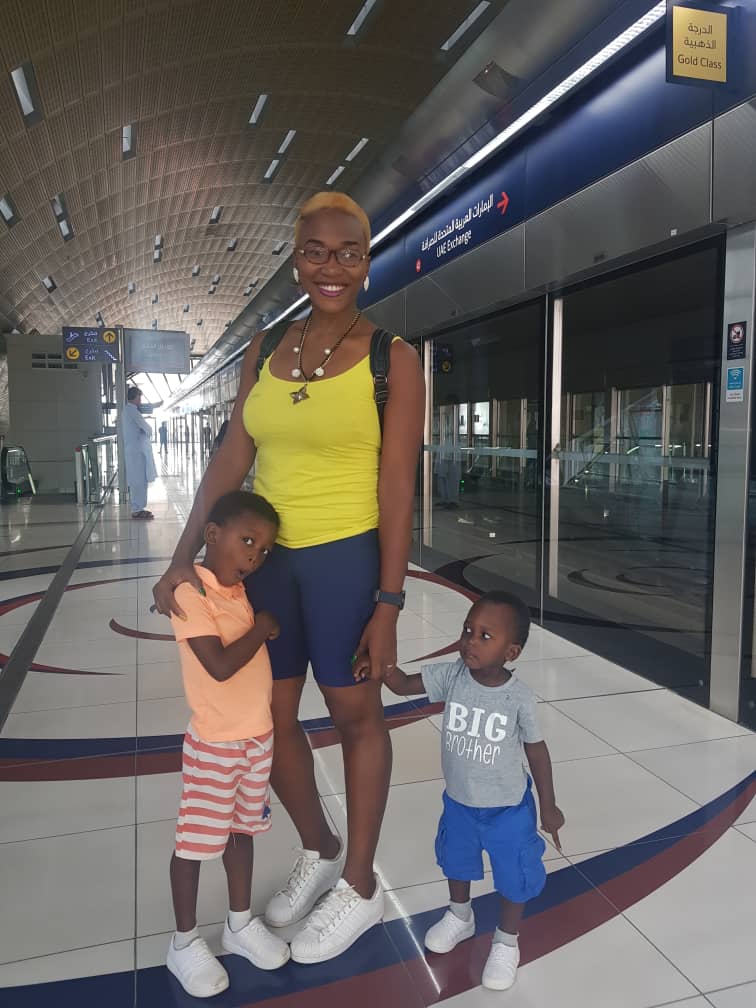 Ah Day 2 was spectacular!!! You guys KNOW I drew up a whole itinerary for this trip for every single day and I covered everything right down to the day's expenses. Seeing all my remote plans come to life has been EPIC. I didn't wanna use a tour guide for a few reasons
Heather Lindsey. I have followed and read up all her travel tips especially with kids and vacation and I knew with a little research, I could beat any tour package
My kids are not your average kids. They really are not. I would have felt really bad being stuck to someone else's plan and somehow my kids are not in the mood on this day or another. Meant the money for just waste. So, I wanted the flexibility of my own plans, that way I could adapt whatever. Like today now, I adapted a few things and I loved it
Cost, and really this was the least of my reasons. Even though I could afford it, number 1 and 2 made me not, especially number 2
Ok so how did Day 2 roll?
We woke LATE as usual lol, did the necessary morning runs, then left home at about 11.30am. The plan was 10am but hey, nothing spoil plenty cos I had some wiggle room in my plans. Something a tour guide would not have had. Took the Metro to the Mall of the Emirates and had planned according to my itinerary to take the RTAbus which goes directly to the Miracle garden,
but I forgot the timings and just as I arrived the stop, with two kids and on the main road, I couldn't bring out phone and start retrieving email to see bus timings, so I asked the taxi guys and they said they didn't know but that taxi to the Garden was just 28aed. BAD CHOICE cos bus was 5aed and takes you straight to the garden but not knowing the timing threw me off and I took the taxi. As I saw the price rise, I felt my stomach drop lol. Finally, I paid 30AED instead of what would have been 5EAD so it REALLY pained me like crazy. And of course, the taxi guys knew, Infact one said it won't come till 2pm, but they were lying cos they wanted me to take the taxi. That extra 25aed I paid really pained me lol.
Anyways, the MIRACLE garden is spectacular.
I paid for tickets at the gate as they don't let you pay in advance and both of us cost 90AED cos ElJohn is free.
Most things are free for under 2 actually so this is another inspiration to travel before kids turn 2 haha.
We had a great time there but I felt slightly bad for all the phot opps I missed.
That place is breath taking beautiful but running after kids meant fewer pictures lol.
Also got us smoothies which totalled 85AED, that is N8500, ah!!! My sisters, the truth is I'm done buying stuff like that.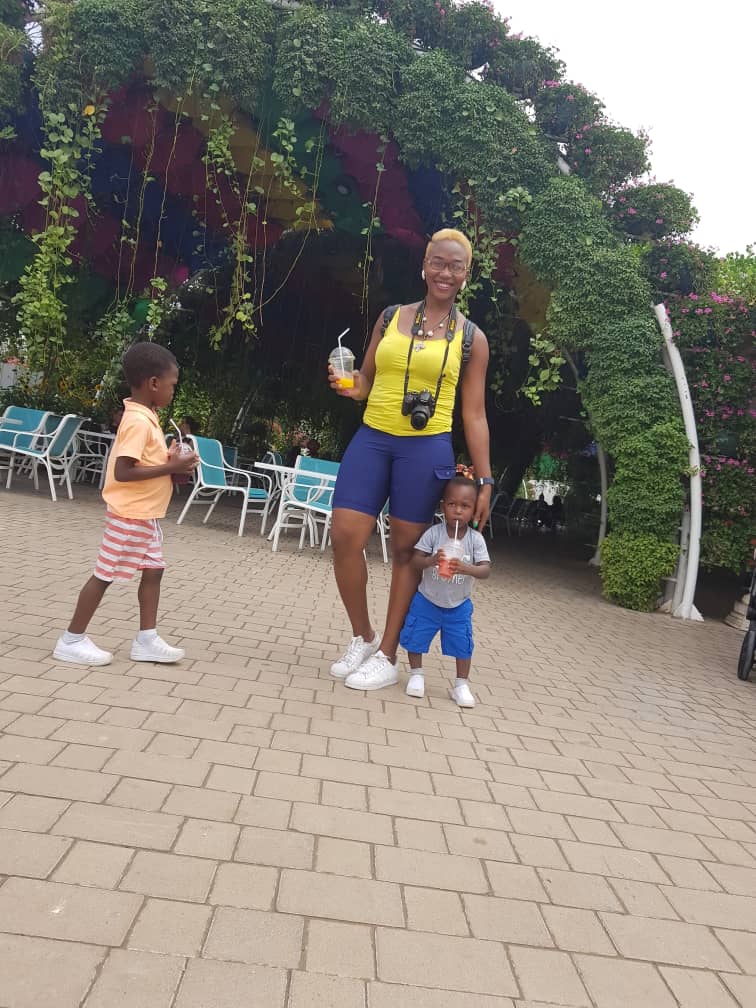 Now I have decided we take our snacks from home. Also got two balloons which cost me 40AED, that is 4k lol. Only for KingDaveed to let it fly away.
Well I didn't feel so bad though, cos kids will be kids.
There were plenty wee-wee breaks and diaper changes in between going around the garden, and then we found this nice place to just take a rest.
It was awesome. Afterwards we waka'd some more then left to hit the Butterfly garden just opposite.
I had thought that one had real butterflies but thankfully from outside I could see that they were flower butterflies too, with details on which country they came from blabla.
May be good knowledge for a teenager or older kid but not my 4year old or me, so I took a quick picture outside and vamoosed. Saved 110AED whoop. Something I could not have done with a tour guide cos the Butterfly garden is listed as kids' activities but really would have been a waste. I liked saving that cos it more than made up for the taxi cost haha.
Ok so quickly caught the RTA which btw arrives EVERY 30mins (to think waiting an extra 10mins meant I would have caught the bus instead of that taxi) and was available then, straight to the Mall of the Emirates.
I wanted to quickly grab Coldstone ice cream and maybe a bite for the kids before hitting VOX cinema for a movie, only for me to sight a HUGE super market.
You see at Dubai mall, I had absolutely NO shopping plans. That place is EXPENSIVE like crazy and I didn't see a need. So, to see this huge super market at MOE was divine. I quickly re-routed my sisters lol, and grab a cart.
Ah, if you need to shop groceries especially and even general stuff, Carrefour anywhere, is the place to go as they have a lot of affordable stuff, especially in their brand name. That is compared to Dubai price ooo lol.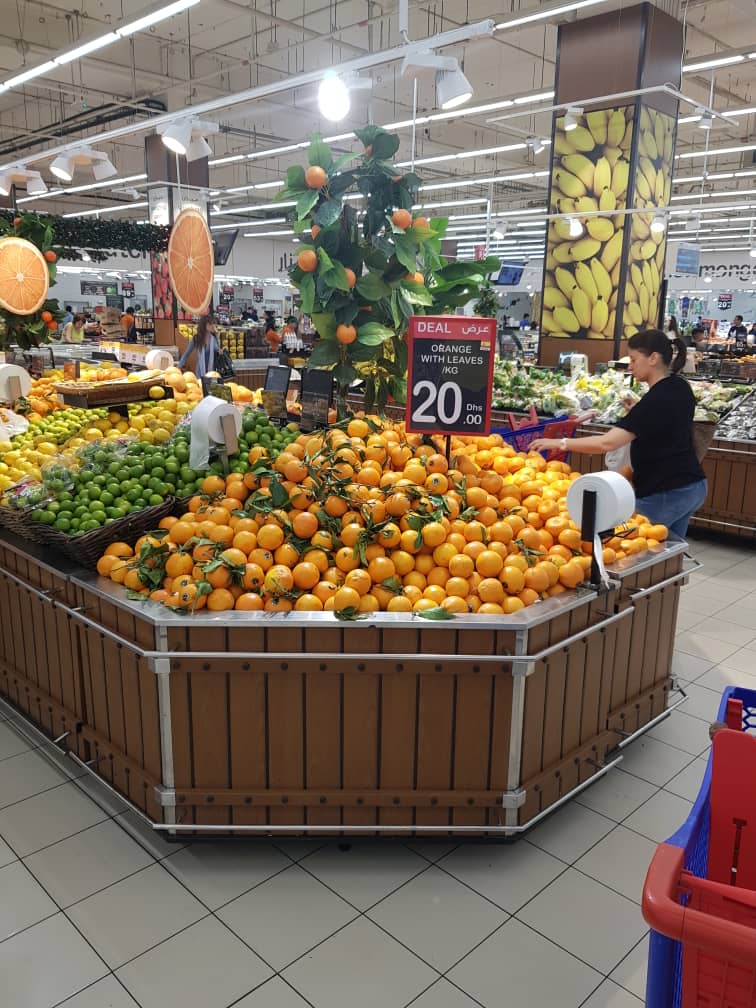 Did a bit of grocery shopping – pasta, chicken, sardines, eggs, bread, fruits (recall my 7aed banana from day 1, I found a bigger one for less than 4aed there), grapes (each cost 5aed whoop), mixed veggies, sausages (which frankly I don't recommend but hey holiday behaviour.
Thankfully my kids didn't like it yay), and more – all for LESS that the cost of my smoothie imagine.
Ah!!!! My brain reset lol. No more ooo my sisters, only Carrefour is where I will be shopping biko. So, the plan now is to leave home with bananas, grapes and cabin which I brought from Nigeria so I don't have to buy all those overpriced junks. Whoop super excited.

I also came with a smaller and bigger back pack and had been using the smaller one but now since load has increased, will start going out with the bigger one instead.

Ok so shopping over, we hit the cinema just in time for the 5.15 movie (planned on the 4.30pm one but for Carrefour shopping so thankfully I could flip my plans. Not sure a tour package would let that).
The kid's cinema is beautiful and tickets were 42aed each with ElJohn free so we paid 84AED. I am not sure if she said popcorn was 80 or 8 aed but I heard 80 and was like huh lol.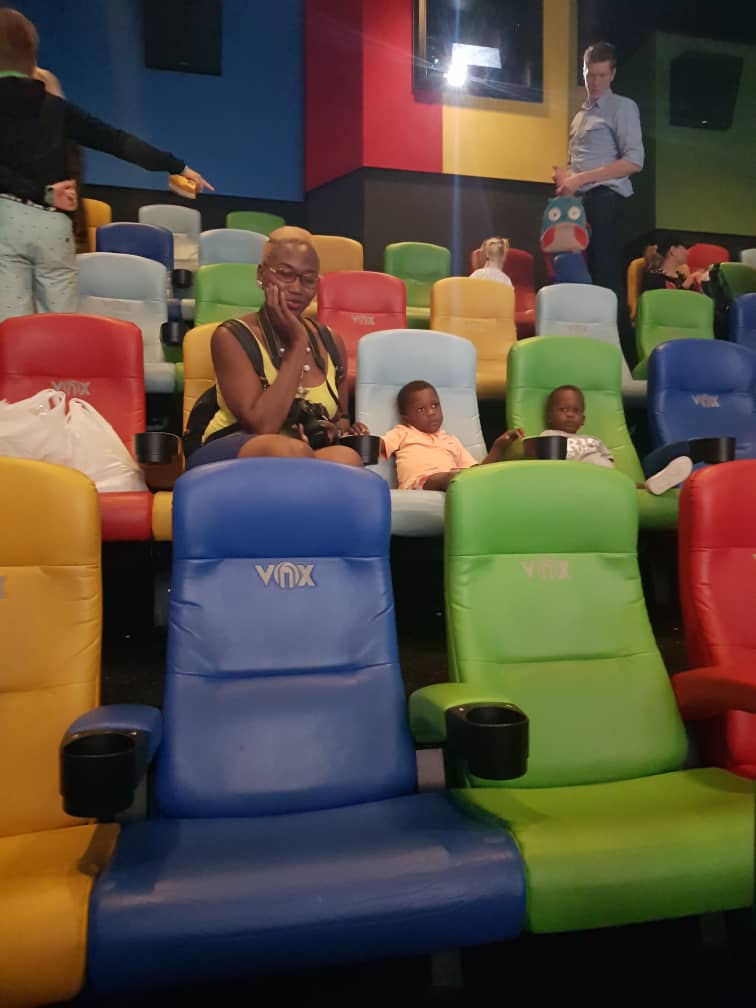 Thankfully I had a ton of good stuff from Carrefour which I knew would keep them busy in the cinema, and it did, KingDaveed asked for popcorn though but going out meant leaving with both of them and I didn't want that wahala biko so I no gree. I also managed to sleep a little in the cinema. We saw Wonder park and I thought the lesson there was deep!!! Like really deep, about a strong sense of belief and never giving up on your dreams. It was a cartoon though so kept them entertained.
Movie over,
I hit Carrefour again to top up on fruits (and they gave my kids free extra bananas yay) and we were on our way home.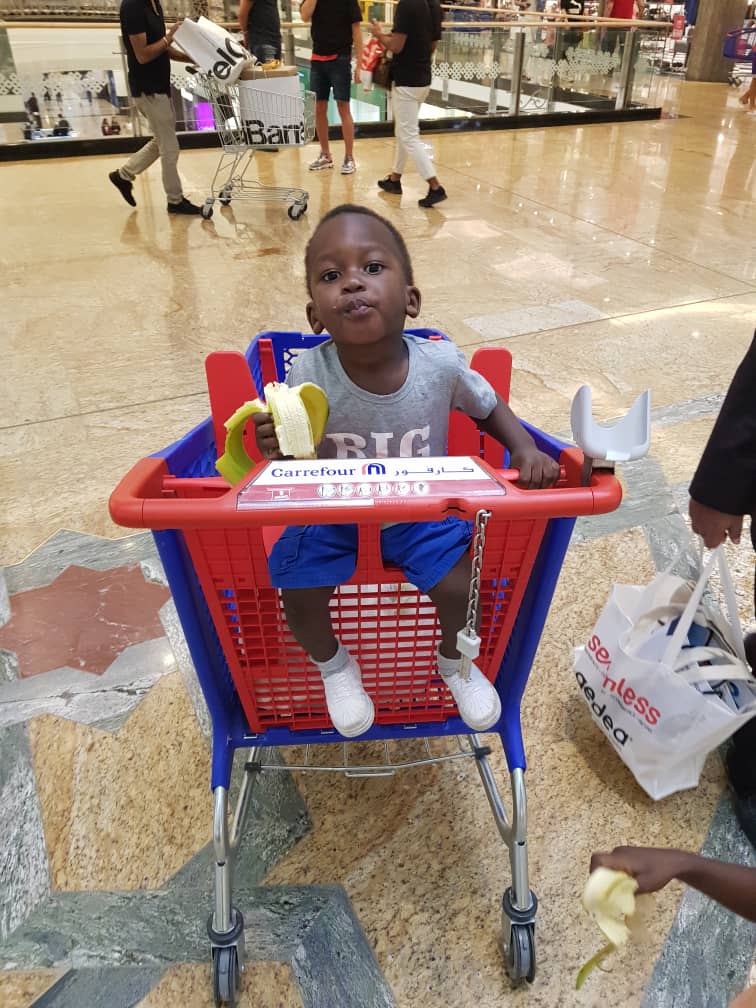 Something I also noticed is that they don't scan your goods at the gate and check your receipt, so because I had stuff I had paid for before entering, I asked if there was a place to drop it but they said I could take it in. I just put it separate from the rest, and they didn't even check. You literally just walk OUT. I mean anybody with evil motives will just steal, but then again, they probably have a way to catch you lol.

Took the Metro back home (had to top up my card though as my money had depleted) and frankly I felt like a Pro cos my journey today felt like I had been in Dubai for weeks and to think this is just day 2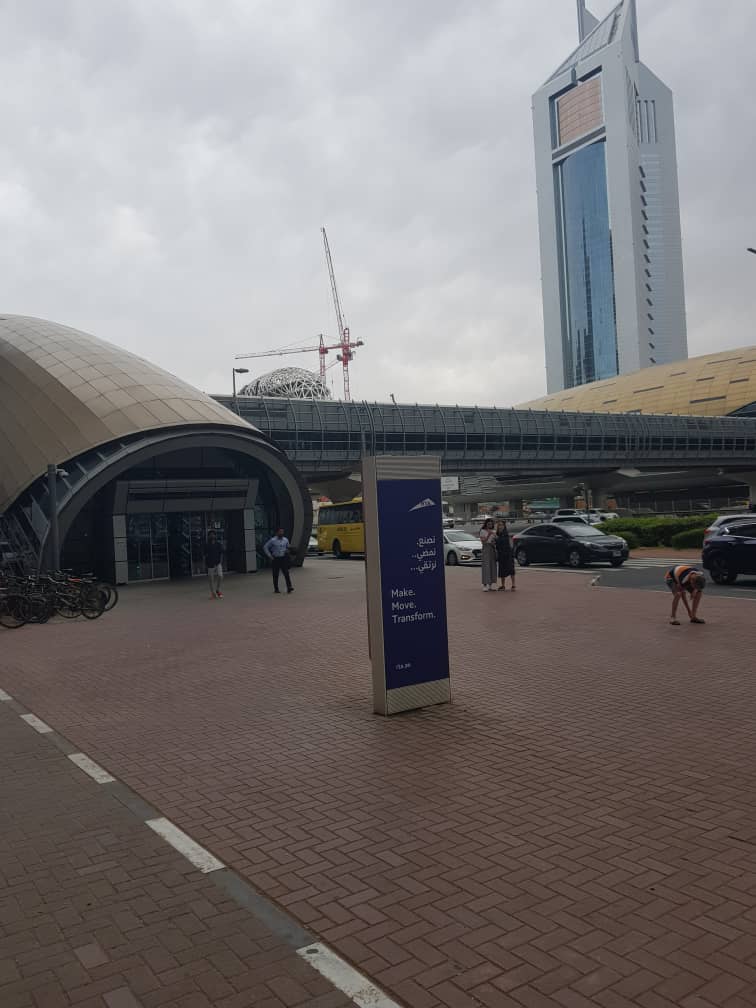 Got home and I made a richer pasta this time, with mixed veggies, sausage, sardines and eggs, bathed, brushed and the kids dropped off.
I went down to get credit (cheapest if 30aed that is 3k) and it lasted me just 10mins to Nigeria. Hmmm. Abeg I no do again. Bolaji will be calling me. Crazy stuff!!! Sim expensive and now call expensive, and then no WhatsApp voice or video calls works here. Haaaa. Even Zoom doesn't work.
Well, I also did my financial audit for the day and I was on point right to the last dirham yay!!! Feeling so proud of all the plans per the trip.
I am having fun well within my budget. Like MAXIMUM FUN plus the kids too. So glad we could do this for them.

Ok it is morning now and we have a day planned from 12.30 cos I wanted to take time to do laundry and clean the room today before leaving. Also do a bit of neighbourhood sight-seeing. It is a beautiful neighbourhood and I haven't taken it all in, so today is the day. Plus, if I feed them close to lunch, they can do fruits until we get back, thankfully all our waka today is within one location so we should be home early and it should be less stressful.

Yes, the trip has been fun and stressful which is why I really can't keep up with extra conversations. My entire body hurts having to carry Oga ElJohn MOST of the time. Yesterday I carried him PLUS load lol.
Ok see you tomorrow with Day 3 gist guys. Let me go prep breakfast.
With love from Dubai
Eziaha