Let me share a story from the behind the scenes of planning POWWOW this December.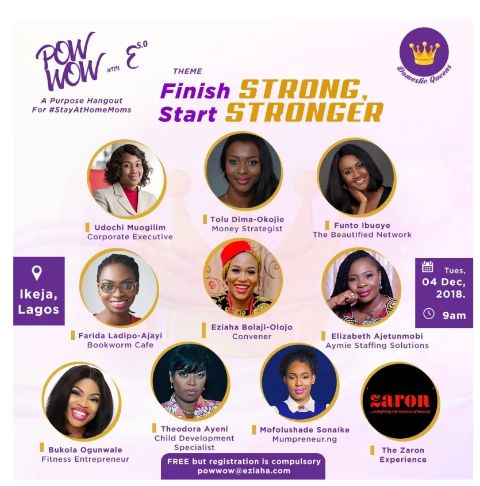 Recall I told you guys how on my flight back home from Abuja God gave me the vision for the event right down to a lot of details including 100 women and 10 speakers. I got home and wrote it all down, then assembled my team, sold them the vision, and the planning began.
That was late August.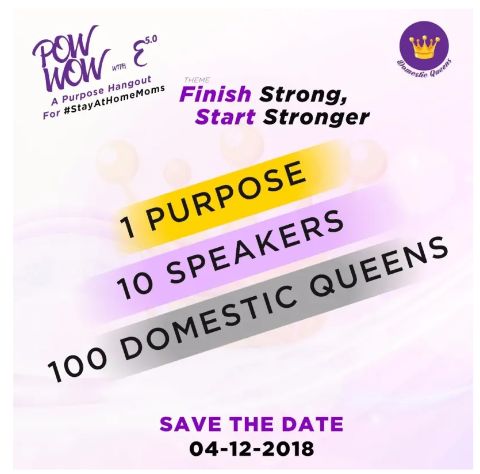 In our very first strategy session, we realized that every time I held a SAHMoms meeting, at least 80percent of the moms came with their kids.
If I was planning for 100 moms, then we just may have anything between 70 to 120kids.
Hmm.
It seemed like a lot of kids so I cut down the number of Ladies to 50. At least I could handle 50kids. As a result, everything about the plan changed…
We had to get a location that had 2 halls… One for the kids
We needed to find a mobile creche and nannies and volunteers and activities for the kids…
At some point, it seemed like we were planning an event for kids…
I was so uneasy in my spirit. Plus, we had checked with all those Mobile creches and see bill mehn. Then I broached the idea of 'how about we tell the moms to leave their kids behind' to my team
Most of them said Nah, it wasn't right, it wasn't practical, it wasn't fair, where would they drop their kids, what if they had no help, etx.
I dropped it.
The second that meeting was over, I felt a prayer burden so I went to pray.
Heavens opened
God reminded me of what He told me…
100 Moms.
Did He mention kids? How was I reducing the number and the vision to include kids?
How do I bring 10 speakers for 50women?
What was my business with crayons and cartons and toys when He gave me a clear VISION…
Help these Moms FINISH STRONG and START STRONGER!!!
Where did you miss it, Chilllleeeeee?
At that point, I knew it was done deal. NO KIDS and we would be upfront about it…
Make plans for your kids. This is about YOU and we want you to be ALL IN!!!
I didn't discus that with my team. I told them the new plan. It was a vision given to me not them so they didn't have to agree, just run with it. (A quality of a Leader is DECISIVENESS. You must make sound decisions and make them FAST)
My sisters, if you see HOW FAST we could proceed after this NO KIDS thing?
Phew.
Things happened SO FAST that even I had a spinning head. I pray I can do a post on this. God has BLOWN US AWAY!!!
I shudder to imagine what I would have been doing now if I was still talking kids and activities to engage them and all…
KAI!!! Just because I didn't wanna do something UNPOPULAR!!!
What kept me on track was THE VISION!!!
Recalling this post I talked about how God said He would make sure right here in Nigeria, I get EVERYTHING I WOULD HAVE GOTTEN IN AMERICA, even more and far wayyy cheaper?
So far, I have attended the Women in Ministry conference with Pastor Enoh Jerry, Global Leadership Conference by Willow creek church thanks to our Visionary Leader Pastor Sam, Joyce Meyer's Conference, and now ELC (Cancelled Night of Worship cos it is NOT Hillsong Worship but HILLSONG Choir in the London church. Had to dig deep to find this info cos I picked something in my spirit lol)
For everyone I have attended, I have gotten more clarity on my vision and general life purpose, and especially 2019.
I recall how after Love life Conference had closed, as I just stayed in bed and thought about Gmama Joyce,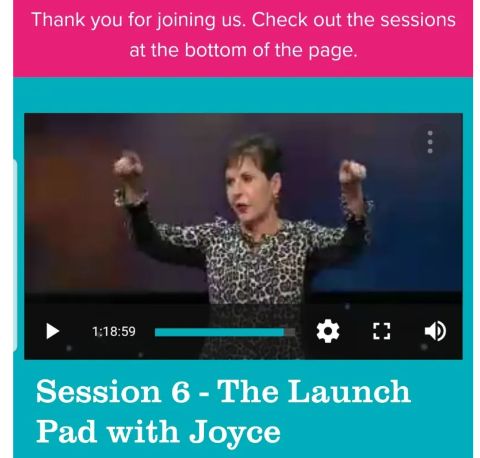 I felt the Holy Spirit tell me He needed me to cut back on some preachers in this season (yawl know I am a JUNKIE haha)
He named 3 especially… 3 of my favessss
Steven Furtick, SJR, Heather.
Are they bad?
NAH!!!
But just for this season to leave them, cos all I have learned from them so far will carry me, but He had a few people He wanted me to zoom in even deeper to and I couldn't afford to 'SPREAD THE LOVE' or my limited resource called TIME!!!
WOW!!!!
He also now gave me a very precise list of the preachers and messages and resources I was to zoom into in this season…
As the vision was getting clarity, the HOW TO was taking options away allowing me to FOCUS on what truly matters to bring the vision to pass.
Wow!!!
The vision was taking away some options in this season. That's not to say I never listen to them but I can't sit down and say I wanna join Elevation live stream when I have other resources to dig into. And I know God enough to KNOW that if i keep listening and leaning in like I used to, I WON'T GET ANYTHING
I instantly cut back to make room for THE VISION NOW!!!
Even my blog, you notice I am no longer as regular in posting…
Why?
THE VISION.
I know yawl want me to write and you tell me amazing things when I write but God will just be looking at me and laughing… And not the good kinda laugh.
Today, He told me WRITE and I have been up since 1am, and here am I after church over 2 hours now writing, till past 3pm… He graces for what He sends!!!
Recently, at Excellence in Leadership Conference DAY 1, the Lord even further cut down for me, especially per activities…He said to me…
Don't do the Sleepover this year, don't start doing XYZ (a project I had thrown in over 300k into) this year, don't do the Under-20 TFS this year, and some more…
I had so many plans to still roll out this year but He was very very clear…
DO NOT DO THIS
DO THIS…
The VISION directly impacted My ACTIONS
Both in sync
Both taking away options so I could focus on what really matters.
Wow!!!
He said to cut back and zoom in as He downloads 2019 to me in crazy detail… And if I go ahead with these plans of mine (which He had dropped in my spirit but for a later time), there would be no room or energy or capacity to fit in what He had for me FOR NOW!!!
Yawl!!!!!!!!! Phew!!!
How amazing is this God???!!!
My people, I obeyed immediately.
Told my team to stop some trains and adjust some things.
XYZ and ABC won't be happening again
The crazy part is how these things are amazing projects that would have been a blessing to people and even made me a tad more popular but GOD WOULD NOT HAVE BEEN IN IT, and people, I really am about that MAKE GOD PROUD OF ME life abeg!!!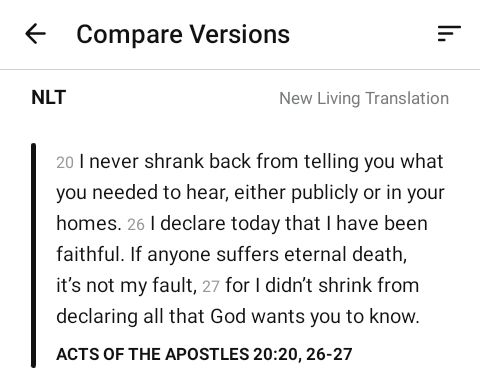 I didn't even care how I would look to my mentees who I had shared all these with. Lol. It didn't bother me ONE BIT. God speaks and we obey, retracing steps where we need to.
And He always speaks from the BIG PICTURE, the vision, and once we know what we are working toward, our decisions are sounder, even if unpopular.
Someone asked me recently what we could do to double the number of Moms attending the event so we could reach more people. I was going to be thrown off the vision for 2 seconds on that cos it is someone I respect but God says NOPE!!! REGISTRATION CLOSES OCT AND IT IS 100 LADIES!!!
The VISION guided my action even if the idea came from a BIG SIS very respected mama.
Since we closed registration, I have been getting emails to register and I can be emotional and say OK let's keep adding more, but THE VISION.
We prayed like crazy that God would float our fliers to those who NEEDED to be there. AMAZING as this event is, IT IS NOT FOR EVERYONE!!! Another reason why i don't attend every event.
Plus, God was very clear about moving on from Registration in October so I don't spend all my time on registration matters till the day of the event. There are other logistics. And God was faithful to bring us even over a 100 ladies before October was up…
I can't even go into CoachE' and CoachE'Squad Ltd. WHAT A JOURNEY!!!
INSERT REAL TEARS!!!!!!!!
That one requires a book
Things THE VISION has made me do, is making me do, and will make me do.
I have a friend who is like my personal Shrink. She just listens to me pour out all my crazy words from God and she makes me know that I am not that crazy. Haha. She listens, God bless her. I need that sounding board.
Recently, God showed me an Apostle in the Bible He wanted me to model EZIAHA after…
I was like WHAT!!!
I share with Theodora and she immediately points me to a Bible study online somewhere on this APOSTLE. Such crazy support.
The VISION constrains. The VISION takes away options.
Was telling Aijay of this time I had to turn down money in dollars. Me that I am finally building my dollar account, but that deal didn't line up with the vision
Crazy what the vision does…
CRAZY!!!
That is all that I have been meditating on and praying about in recent times
GOD SHOW ME THE VISION IN ALL AREAS OF MY LIFE SO I CAN ELIMINATE OPTIONS … I WANT TO FOCUS!!!
I don't want popularity or the accolades of men, I just want to KNOW what You would have me do and then do it in such a way that like Apostle Paul in Acts, I can say
I DECLARE TODAY THAT I HAVE BEEN FAITHFUL… Acts 20 v 26
No matter the cost I wanna obey God and be faithful to the Vision
No matter the unpopularity I wanna obey the VISION…
If you are close to me, I have probably talked to you about VISION in recent times…I have asked you the WHY behind your action
Are you sure you are still following God, that is if He sent you, and staying FAITHFUL to the vision or have you started chasing SOCIAL MEDIA popularity…?
Are you doing it for the online likes or to be liked and not ruffle feathers or are you doing it for the VISION?
This morning, I woke up and decided to cast the vision again for my ZOOM prayer and Bible study sisters, explaining why I was taking the steps I planned to take…
THE VISION was responsible for my actions…
The VISION, the VISION, the VISION!!!
Next thing I get to church and guess what Pastor Sam preached on today?
VISION and how important it is, with a focus on Daystar vision which has always guided ALL that they do.
I just about FAINTED.
He was too accurate,
I was thinking…
'What if Pastor Sam realized that teaching Leadership and Role Models and all is not popular and He went to teach relationships instead as people really like it, without God sending him?'
But no, he focuses on what God told Him is the VISION for Daystar and continues to work at it.
THE VISION GUIDES EVERY DAYSTAR ACTION…
And he shared the importance of regularly casting the vision with everyone (something I had done that morning)
Was just gisting my hubs as we drive home how my prayer these days is that people just stay on their lane and have the courage to do what needs to be done FOR THE VISION to be fulfilled. That's how we build the body, not copying what we see XYZ do that is popular and successful…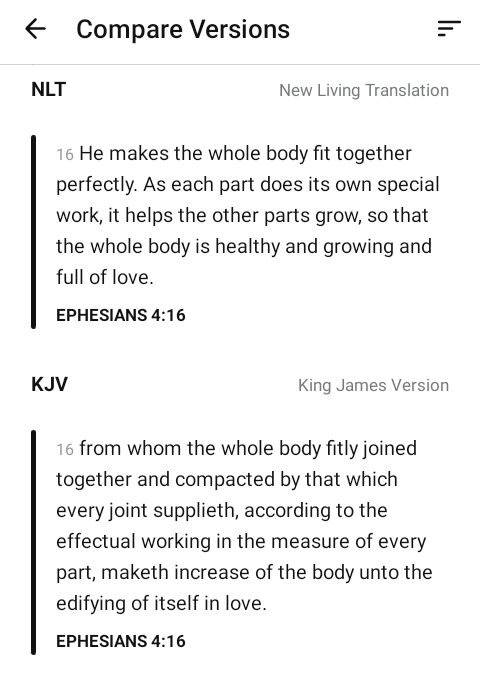 After I shared again the vision to them on the ZOOM group, and how I was going to take some people out and how no excuses are valid, NONE AT ALL, someone said she suggests I check up personally on some people to see why they didn't join the prayers and I'm like HOW??
I copied and pasted this line from the post I wrote on it and shared to the group…
—————————–START QUOTE
But please be sure you are GOOD and READY to pray. I've spelt out the commitments so if you truly can't keep up with BOTH, don't apply. Plus, sisters I beg you, this is not a mentoring session. This is not a 'mama you didn't check up on me' group. I'm not going to be your Pastor or Mentor or Mama. I have a whole mentoring academy which does that. I'll be Eziaha who will handle the flow only. Of course, your prayer points and challenges and more can be shared if you have so we agree with you, but I'm not doing the BUT YOU DIDNT CALL ME TO CHECK ON ME or EVERYDAY EXCUSES thing. Me too I need someone to call me to check on me, to mentor me, to baby me, so let's all make JESUS that someone please. Not E'.
Just clarifying the purpose here.
We are here to be sisters praying and chasing God together and EVERYONE MUST BE ACTIVE. Not later you will say how midnight doesn't work for you. If it doesn't, that's fine of course. You can pray anytime and anywhere and with anyone and still reach heaven and get answers but the purpose of this group has been clearly stated.
If defaulted, I'll delete you. In love.
I'm pretty very principled and strict about groups and participation…
Reason I'm doing this is we all draw strength from one another so if you keep being unavailable, how do we draw strength from YOU???? Worse still, what if everyone is like you and doesn't turn up every time?
Ehen I've said it ooo. And I mean it…——————————————————–END QUOTE
Even hubby was like this is a VERY CLEAR vision and gives weight to your words…
You see, if I didn't catch this vision like this, I would be spending my time babying people who maybe need to be somewhere else or just embrace a stretch.
I would have said
hey ya, sounds like a good idea. Ok I will check with them personally,
LOL
Maybe so that people don't say I am mean… (You dont even KNOW the kinda people God makes me follow and how He opens my eyes to see stuff about them, THE HARD STUFF, others don't see. I am not in this life to play ooo. I KNOW my teachers, MY TRIBE)
Image of Chris n husband
BUT NO!!! THAT'S NOT PART OF MY WORK… TO BE CHECKING WITH PEOPLE PERSONALLY
The VISION, THE VISION!!!
Do you know there are some people who God has made start up prayer groups to TEACH people how to pray and all the rudiments? Like, they will call you, check up on you and all… God has several daughters and people on various assignments…
THAT IS THEIR VISION and it has its place.
But that IS NOT MINE at least for now.So, a clear understanding of MY OWN VISION guides my actions.
That is why God won't just start something or tell you to do XYZ, He truly FINISHES A THING even before He begins so He always shows us a VISION and then gives us the steps, which always require grit, courage, discipline and more…
Guys, let's have a vision for our lives mehn…
For everything we do…
I heard Chris Caine say something yesterday in a video chat I had seen several times but it just jumped out at me
https://youtu.be/SqpY_YrzlFM
I won't quote it cos really it is too deep so just watch it, but basically, she was saying…
WHEN SHE CHOOSES HER STAFF/TEAM, SHE IS EXPECTING DEPTH, 500% AND EVERYTHING…That you have to, like PAUL say I DIE DAILY!!! Like jump out of a plane, in the middle of the night, in the middle of the ocean and find your way back to shore cos she wont even come looking for you KINDA COMMITMENT!!!
Chrystal had to ask her if people won't be offended and consider her harsh, Cos that sort of thing is NOT POPULAR ooo, and she's like…
THOSE KINDA PEOPLE WON'T EVEN GET IN
Infact, she ended with'…until then, it's just YOUR FLESH…'
The ladies doubled over cos she was saying real harsh stuff like it was the norm…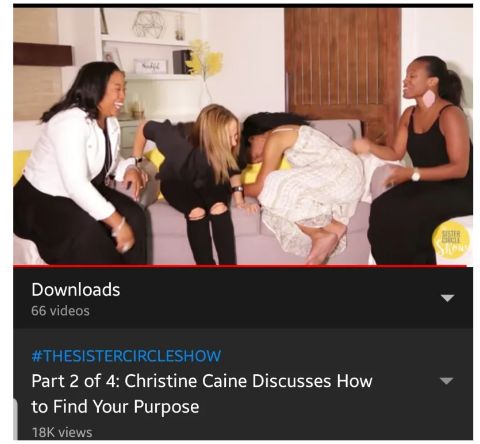 Let me tell you, I got what Chris was saying in a way MOST people won't. She had a lot of incomplete sentences and I could complete them.
Why?
She is in my vision. I am not flesh led following Chris.
In Uni, a friend introduced me to Chris Caine excitedly and said she reminded her of me and I listened to her once and was LIKE NO WAY!!! I even hate her accent…
But at the right time, GOD BROUGHT HER MY WAY cos she is not just goals for me, she is VISION!!!People, catch YOUR OWN VISION…
Without a vision, you will just be living anyhow… Perishing like the Bible says so catch the vision for your life…
Then work crazy at it, no matter what!!!
It will cut out options, take away some friends, help you manage your weight, regulate your sleep and waking times, manage your finances, control the number of kids you will have, choose your mobile network, regulate your screen time, choose the books you read, the kinda phone you use, what you post on your social media, what you do in your car driving home from work, where you live, whether to do your nails or not, channels you subscribe to on YouTube, birthdays you attend, etx.
I mean it, a VISION guides EVERYTHING from the mundane to the fundamental. It is such a beautiful thing to run with… A VISION!!! Life has more meaning and depth with a VISION.
And if people don't understand at the time, don't worry, they will get it later. But we need to be like Apostle Paul who says, I DECLARE THAT I HAVE BEEN FAITHFUL TO THE VISION…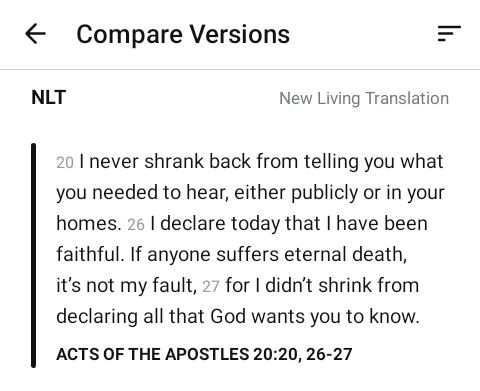 This week, I am sitting down to clarify the vision and sub-visions in EVERY AREA of my life. Grabbing a brand new journal for that, No time abeg!!!So, I leave you with one question…
WHAT IS YOUR VISION, Chilllleeeee?
And if you do not know, ASK GOD!!! He will show you. Oh my Sister, He will so show you. NOTHING SPECIAL ABOUT ANYONE. HE LOVES US ALL AND LONGS TO SHARE EVERYTHING ABOUT US WITH US!!!
Infact for a lot of us, He is speaking but the voice of SOCIAL MEDIA and YOUR PHONE is SO LOUD You can't hear Him.
My Sister, drop your phone and open your Bible!!!
Great grace to you
Love you (and I mean it even if it is a tough kinda love but you will thank me later)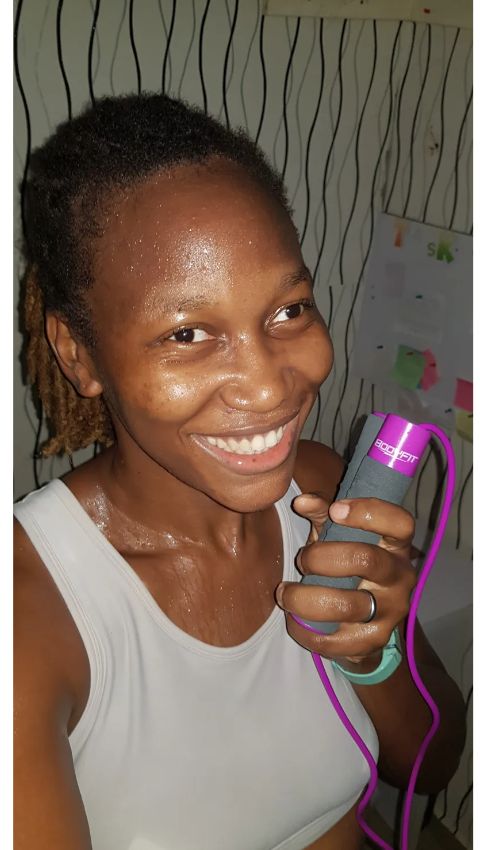 (Sorry I'm obsessed with my post workout pix. this was this morning before church)
E'
PS:My friend has a new book and I am so excited about it.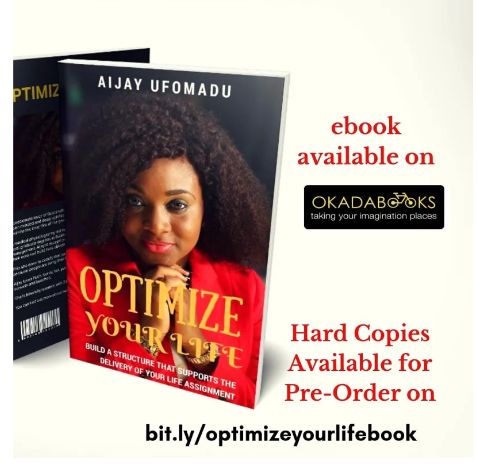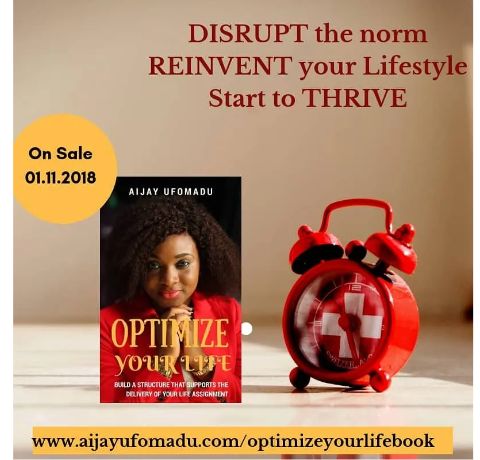 Here is a BC I just did on WhatsApp with details.
DISRUPT the norm
REINVENT your lifestyle
Start to THRIVE
Super excited about my friend Aijay's new book OPTIMIZE YOUR LIFE.
There is an abridged version of the book available…Get it here on Okadabooks via this link – bit.ly/OYLabridgedversionokadabks. Or download it here- bit.ly/OYLabridgedversion.
It will open in your Google drive.
I've read it. It's SOLID!!!
I am SO PROUD of Aijay mehn. My kinda people who are guided brutally by VISION!!! This book will truly help you clarify your vision.